Borderlands: The Pre-Sequel Review
Borderlands: The Pre-Sequel Review
Let's state the obvious: Borderlands: The Pre-Sequel is a LOT like Borderlands 2 – being built on the same engine as its predecessor, it really should be no surprise to anyone going in. The real challenge for developers 2K Australia was to somehow make the same feel different in Pre-Sequel: the foundation for kick-ass co-operative shooting and looting was already there, they only needed to find enough ways to make people (like myself) who put hundreds of hours into Borderlands 2 want to return, without destroying the game's successful RPG-meets-FPS formula in the process. And they certainly didn't mess with it: despite a few tweaks here and there, The Pre-Sequel largely feels like a space-themed expansion to Borderlands 2: unfortunately, an expansion that doesn't bring much of the series' personality along for the ride. 
What's New, Pussycat? 
The biggest change to the Borderlands formula in Pre-Sequel – aside from the game's setting, which affects gameplay and aesthetics in a number of ways – are the game's character classes, all based on characters previously seen in the series. These new classes will still serve familiar roles on the battlefield (Athena is the tank-y melee character, for example) but offer new special abilities dripping in cool factor. Claptrap's 'vaulthunter.exe' is the game's highlight, a randomized ability that grants players (and their allies on the battlefield, on occasion) a range of familiar abilities, like a deployable turret or the skills of a siren. That's not to say Wilhelm's dual support jets, Athena's powerful shield, or Nisha's dead-aim abilities aren't fun to play – but understandably, Claptrap's is the center of attention, a randomized system that will both elate and frustrate gamers throughout the 20+ hours of the game (for the first playthrough, at least).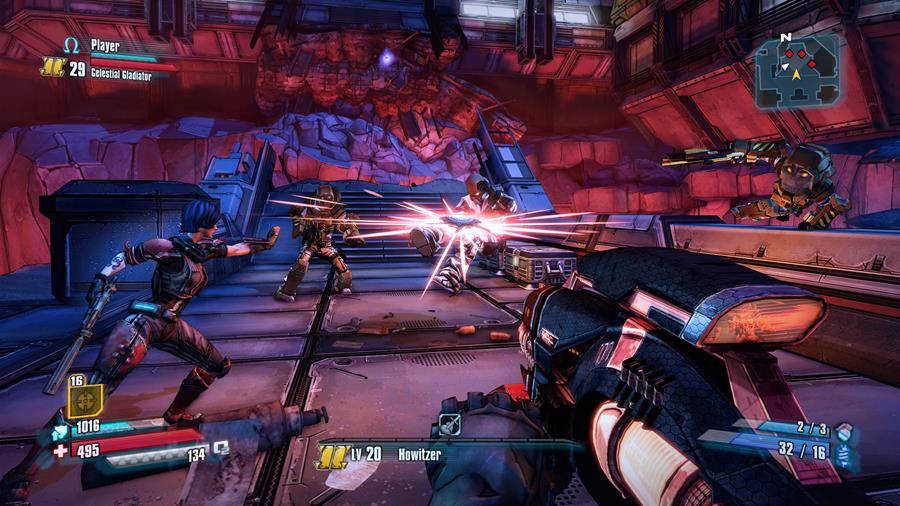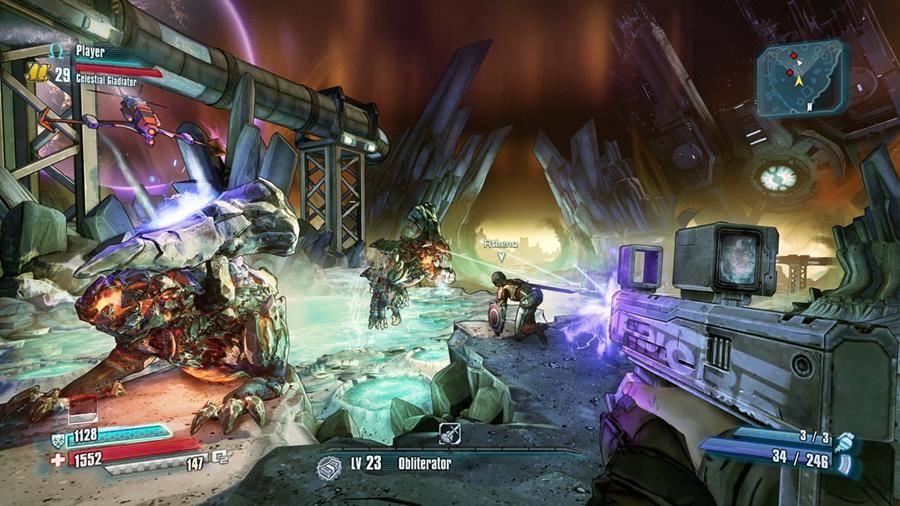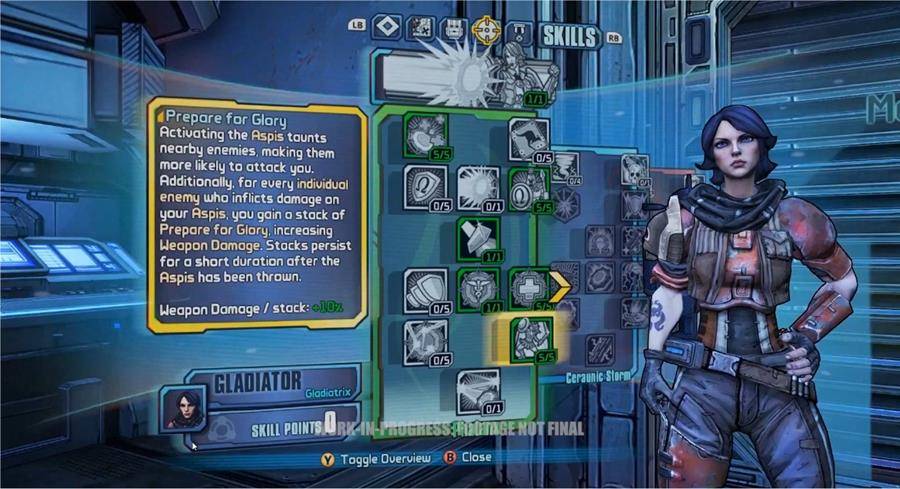 Outside of specific character abilities, the other noticeable tweaks to Pre-Sequel come from the game's setting, adding low-gravity areas and the ability to butt-stomp enemies from massive heights while traversing the moon. Shooting and looting in  can be a blast, especially with the game's new laser weapons and cryogenic elemental, freezing enemies on the battlefield and watching them shatter into numerous floating pieces. And as expected, the game certainly doesn't lack for guns; despite being smaller in size than Borderlands 2, there is more loot to find in Pre-Sequel – in part thanks to the Grinder (a machine that takes old guns and grinds them into new, occasionally better ones) and new O2 kits players equip through the game, which come with a wide-range of abilities, including buffs to shooting while in mid-air, or adding elemental effects to butt slams (known formally as "gravity slams", but that just sounds boring). 
What's Old Is Definitely Not New Again 
For all the progression 2K Australia makes in weapon variety, fun new abilities, and character customization (don't forget the two new vehicles!), it still feels like Pre-Sequel is a poor man's follow-up to Borderlands 2. I quite enjoy the floaty physics of Elpis, but the world largely lacks personality: new enemies cycle through old animations from Borderlands 2, and the environments of the moon tend to blend together, with their de-saturated surfaces and technicolor tints. Traversing the land using double-jumps and massive launch pads should feel as silly as the game's Australian-accented inhabitants, and full of moments of discovery: unfortunately, space parkour in Pre-Sequel just feels a little awkward – and thanks to the populated-but-lifeless world of Elpis, simply isn't as consistently fun to navigate as Pandora's terrain was in the first two games. 
The mission design is a major factor in this: Pre-Sequel has a bad, bad case of "And Then This" – itis, with many of the game's main and side missions amounting to a pattern of "Do this, then do this – but oh wait, these other two things got in the way". And it gets old fast: I wasn't ten hours into the game before I was anticipating progress-delaying tactics in every mission, and sadly, turning out to be right for most of them. There's no straight through-line for most missions: it's do this, go do this at this other place, backtrack to the first place, return to the third, then finally be able to move on to the mission's final section – certainly not a formula for engaging, story-heavy gameplay, turning lots of the campaign into run, shoot, hear some annoying voices, repeat (the antithesis of what made so much of Borderlands 2 fun to play through so many times). 
More Loot Hunting = Never A Bad Thing 
All things considered, Borderlands: The Pre-Sequel is still a fun, fun game to play: but the dull story and environments are unfortunate disappointments. Jack's story turns out to be pretty boring and straightforward, a tale of how a guy went from being a d*ck to being a bigger d*ck after he learned how to enjoy killing. With such a lifeless narrative behind it, it's up to the game's world and personality to keep players interested: and Pre-Sequel is barely, just barely able to do that, the repetitive missions and sterile world design being outweighed slightly by the new classes, skill trees, and loot (plus the sheer fact that it's basically more Borderlands 2 to play, which is enough for most). 
At the end of the day, there's still nothing like tearing through huge groups of enemies with three buddies in the lawless world (or in this case, moon) of Borderlands – at the very least, this quasi-sequel gives lovers of the series another excuse to do that (and in low-grav, to boot). It's that camaraderie, that same tortured experience farming and endlessly hunting for the best loot, that will keep me coming back to Borderlands: The Pre-Sequel, blemishes and all.
Positives
At the end of the day, there's still nothing like tearing through huge groups of enemies with three buddies in the lawless world (or in this case, moon) of Borderlands
Shooting and looting in space can be a blast, especially with the game's new laser weapons and cryogenic elemental, freezing enemies on the battlefield and watching them shatter into numerous floating pieces
Negatives
I quite enjoy the floaty physics of Elpis, but the world largely lacks personality: new enemies cycle through old animations from Borderlands 2, and the environments of the moon tend to blend together, with their de-saturated surfaces and technicolor tints
Space parkour in Pre-Sequel just feels a little awkward – and thanks to the populated-but-lifeless world of Elpis, simply isn't as consistently fun to navigate as Pandora's terrain was in the first two games
Trailer