Battletoads Review
Finally, the answer to the question "Do you have Battletoads?" is an emphatic "Yes!", at least if you have an Xbox One (or PC) and subscribe to Gamepass (which…c'mon man. If you've got an Xbox One, you should have Gamepass).
Anywho: 26 years after the franchise last appeared in the arcades, and 27 years after the last console release, the Battletoads have returned to kick some tail. The game tries to be a lot of different things, and mostly succeeds at all of them. Mostly, the game succeeds at making Battletoads a relevant franchise for a modern audience, while featuring enough throw-back sensibilities to make old-school gamers happy. (Well, to make this old-school gamer happy, at least.)
The last time I played a Battletoads game was likely around 1995, with Battletoads and Double Dragons. I'm quite certain I've never beaten the original game, and yet like many gamers born in the mid-80s, I still harber a certain nostalgia for the amphibians with attitudes.
Now, nostalgia is a tricky thing. A nostalgic reverence for the original Battletoads game certainly led to this revival, developed by Dlala Studios, which previously assisted with Rare's Sea of Thieves.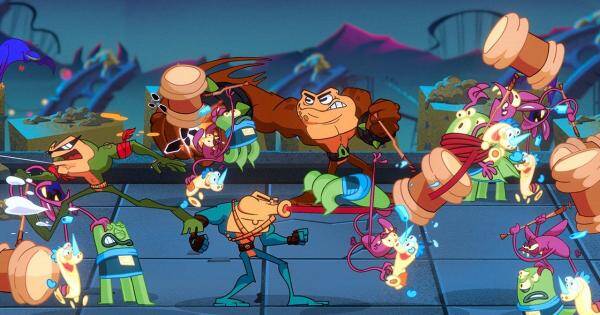 The setup for this revival is that the titular toads have been trapped in a simulation for the past 26 years. The simulation played up their egos, and allowed them to eternally save the universe from big bad guys. Their bunker is discovered, and they're in for a rude awakening, as nobody alive in the modern dystopia has ever heard of the Battletoads. 
Zitz, Pimple and Rash embark on an adventure to find out what the Dark Queen has been up to, and then eventually to try to topple the evil Topians. The cutscenes and animation are reminiscent of a late-90s or early-2000s cartoon — some of the humor gives me strong Spongebob vibes. It's a gorgeous game, even if it may not be what old-school fans of the series are hankering for. The voice acting is good, and the music fits the action, even if it's a little generic.
Battletoads offers three difficulty levels — Tadpole, Toad and Battletoad. I beat the game in about four hours on Toad, and found the challenge to be just right. I started a second playthrough on Battletoad, and the challenge is very much amped up on the hardest difficulty.
The hallmarks of the series are present. Great beat-em-up levels, as well as the requisite speeder bike level. There's a lot more, as well, from silly mini-games, to puzzle-platformers, twin-stick shooters and white-knuckled boss fights. The levels are extremely varied, all top-tier and never outstay their welcome.

At the end of the game, there's still plenty of reason to revisit levels. There are collectibles scattered throughout, and you earn some bonus points for finishing in a certain amount of time. And, of course, there are the achievements. Battletoads has a great Achievements list that is both challenging and attainable.
I played the game on my own, and switching between each toad is seamless. The 3 are also varied, with Pimple as the big, slow brute while the others play much faster. Landing combos leads to some really fun animations, as well. Battletoads only offers local multiplayer, which I was unable to try out (I only have one Xbox controller). The biggest "miss" I can think of for the game is the lack of online multiplayer. That said, if you've got a co-op partner (or two), I can imagine Battletoads would be a blast.
There are also times where controls aren't as precise as I would like. Throwing out my tongue multiple times while trying to swallow a fly, but not quite aiming the stick the right way, got a little bit old.
Really, I don't want to say much more. If you've got Gamepass, you should absolutely give Battletoads a go. Even without Gamepass, the game is easily worth its $20 price tag, and I can't wait to dive back in and try for more collectibles and high scores.