Disney Planes Review
Disney Planes – Introduction
There's a lot of mixed voices about Disney's Planes, the spin-off from Pixar's 2006 hit Cars. Whether disappointed with the quality of the actual film itself (Planes currently "boasts" a 39 on Metacritic, with a user score lower than that) or if you've got wrapped up in some of the other minor controversies that have come out over the past few months, it's unlikely you're in a rush to go out and by merchandise or games based on the IP.
Don't be too put off though. In Disney Planes, released last month exclusively for Nintendo platforms, there's a glimmer of potential.
Riding High, Flying Low
Planes has you take control of a number of important characters from the film. Each character has a number of levels to work their way through, and each level has you doing different things. Flying around various locations, lighting flares, dusting fields, collecting crops… it's interesting how much variety Disney have found within this one idea. 
Planes is a game for families that want to play together, especially if that family has very young children
Which is good, because Planes has little else going for it. The voice work is very dry, the graphics are almost painful, there's no specific story. If anybody was else looking for the definition of a companion product, you'd only need to show them this game. There's no real context to anything, to the characters or locations – you just do what you're told and do it as quickly as possible.
And as bleak as that sounds, it's really not all that bad. In fact, it's rather fun.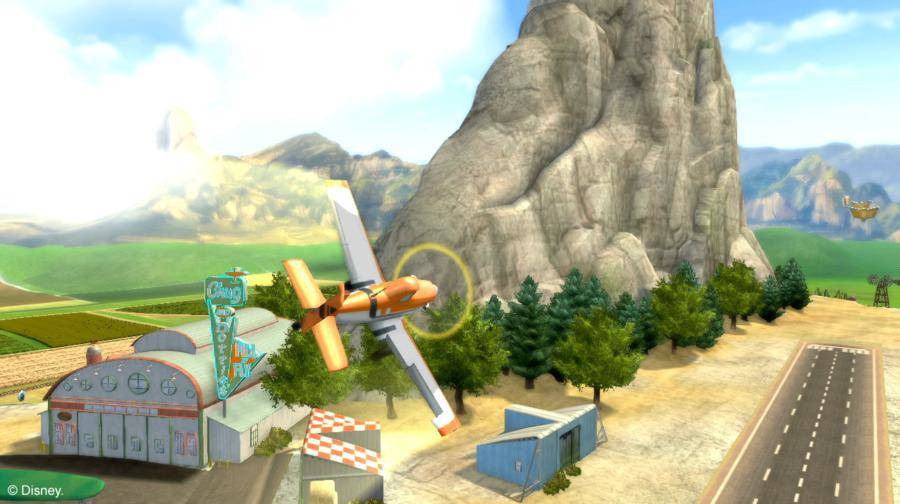 Flying in Planes feels quite smooth most of the time. A brief tutorial teaches you the basics, and after that you're let loose onto each characters levels. Each level is different. Children's games these days have a habit of being highly repetitive, with effort going more into the look of a game than the game itself. It doesn't feel that way with Planes.
Instead, you'll find yourself doing a variety of things. There were times when I felt myself getting flashbacks to Rogue Squadron, although obviously the difficulty and objective are a little more simple. If you want a gateway title to get your kid into the old Star Wars games, this is the one. 
There were times when I felt myself getting flashbacks to Rogue Squadron
That you can play with a friend at any time is a great feature, and this will be especially true for parents and children. Rather than tagging along, which you can sometimes feel like you're doing on many of these tie-ins, Planes will actually provide a degree of entertainment to both child and adult, although the adult's enjoyment will definitely be bolstered by that of the child.
Watch out for the Wall…
Although each level is wonderfully designed – very colourful and with plenty of the "flavour" of whatever nation you're exploring – they don't actually look all that great. From the beginning, you'll notice that looking too closely at anything will result in it looking flat and dull. The level design itself reminds me of the flying levels from Spryo; there's plenty to fly through and dodge, but ultimately you're in quite a closed area with only so much to do.
That probably won't matter to a six year old who will be happy zipping from location to location with little in the way of objectives, but anybody older than that will likely finish the game and be done with it. That probably won't take too long – a few days at best – but there are things to unlock and places to explore as well.
Disney Planes – Conclusion
Disney Planes probably isn't the Wii U game that you'll want to rush out and buy, and it's definitely been limited by the Wii version. It probably could have been much better, but, at the same time, I can't see the target audience actively complaining about it. It's simple, it's fun, it's clean… Planes is a game for families that want to play together, especially if that family has very young children.
It's rough, but you'll make as much fun out of it as you'd like.
Positives
Fun, rather varied gameplay
Nice level design
Easy controls
Co-op
Negatives
Poor graphics
Definitely one for the kids
Voice acting is very dry
No context to anything – watching the film will definitely help
[amazon-element asin="B00CAWFA42″ fields="title,sm-image,large-image-link,button,new-price" button_url="http://ecx.images-amazon.com/images/G/01/buttons/buy-from-tan.gif"]
Trailer