Aero Porter Review
Aero Porter Review – Introduction
I've always been fond of games that can take a seemingly dull aspect of life and make it interesting. During the Summer, Lucas Pope managed to make stamping documents thrilling in Papers, Please (one of my favorites this year), but in 2012 the hectic job of sorting luggage at an airport was turned into addicting entertainment with Aero Porter on the 3DS.
Originally part of Level-5's Guild01 game compilation, Porter is the creation of Japanese developer Yoot Saito, who's most famous for making one of the strangest games ever conceived – Seaman for the Sega Dreamcast. While Porter contains nothing as weird as talking through a microphone to a human-faced fish, it's quirky in its own right.
Not As Easy As It Looks
As a simulation puzzle game, the player's task is to sort all of the luggage on the circular conveyer belts before their flight leaves. This is done by matching the color of the bags to their correct conveyer by moving them up and down the various levels of the baggage machine. If done efficiently, then profits will increase and the airport will eventually become the best in the business.
The learning curve is surprisingly steep
This may sound simple, but Porter is the embodiment of the phrase "easy to learn, difficult to master." The learning curve is surprisingly steep. It seems like every other shift or so the game throws new features in, either by adding more conveyers, dropping a tank of fuel down to the bottom to keep the machine running, or making sure a bag full of questionable materials gets tossed into a dump truck.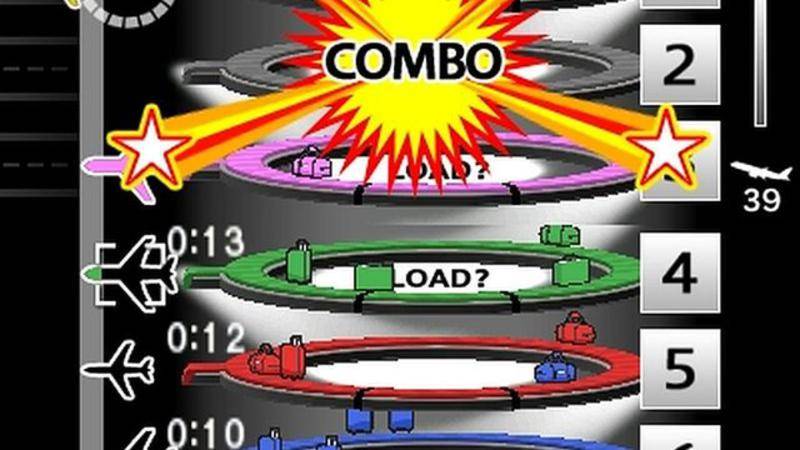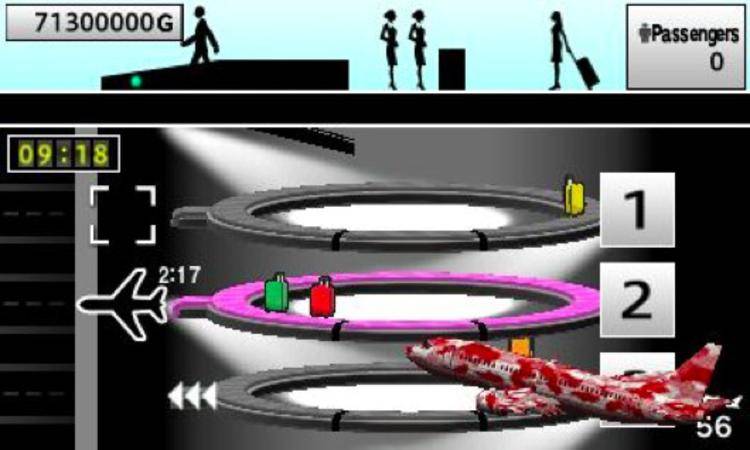 Perhaps the most challenging event that can occur during a shift is when VIPs (usually politicians or businessmen) show up. Instead of their entire bag being the same color as the belt it needs to go on, the color that needs to be checked is on the flight tag. The tags can be hard to spot, so this eats up precious seconds while waiting for the luggage to spin around to the proper angle.
Stressful Rewards
The key to actually getting good at this is by racking up combos. These are accomplished by getting two or more flights to take off within six seconds of each other. Not only does this mean a lot of cash at the end of the day, but score enough of them and new abilities are unlocked that make things a little easier, such as adjusting the speed of the conveyer belts, lowering and raising the ramps faster, and dimming the lights to save on fuel costs.
A genuinely addicting and pleasurable game
Needless to say, I failed more often than I succeeded. A lot of these additional objectives happen a few times a day, and they're top priority since screwing them up means a huge loss in business for the airport. It was especially stressful to have one of these events pop up just before I got a conveyer belt full of the proper luggage.
Conclusion
Even though the goings get too tough too soon, this is still a genuinely addicting and pleasurable game. Porter doesn't make me want to actually work as a baggage sorter, but I was certainly compelled to continue playing in order to upgrade my airport to its fullest potential. Yoot has managed once again to take something mundane and turn it into something engaging.
Positives
Easy to learn
Oddly compelling
Addicting
Negatives
The difficulty ramps up way too early
Trailer