Rivals at War 2084 Review
Rivals at War 2084 Review – Introduction
 Have you ever wanted to manage a company of interstellar mercenaries? Sure, who hasn't? Have you ever wanted to distill the act of managing that company of interstellar mercenaries down to a card game, complete with blind booster packs and rare cards? That…might be a harder sell. However, Rivals at War: 2084 does just that, and manages to be quite fun and engaging for a game that you don't actually play.
Gameplay
RaW: 2084 is made by Hothead games. They are the team behind the Big Win! series of sports games on the App Store, and RaW follows the exact same formula. You'll be given a team and a handful of cards when you start the game, and through careful (or not so careful, up to you) management you'll gain more cash to spend on booster packs and get more cards. You're also welcome to spend some real life money on booster packs if you want to try to build a really good team of rare characters with super elite weapons in a hurry, but it isn't necessary to enjoy the experience. 
Have you ever wanted to manage a company of interstellar mercenaries? Sure, who hasn't?
Essentially all of the 'play' in this type of game happens outside of the actual game scenarios. You'll be looking at your team, equipping them with weapon and armor cards you've found, swapping characters in and out depending on the make up of classes you want to bring into any particular fight, and just generally managing the various tasks you need to keep your team in fighting shape. 
Once you have your team selected and outfitted it's time to square off against an opposing team, chosen at random. You'll need an internet connection, as the game pits two players against each other at all times. After finding an opponent, you can choose up to three 'action' cards to benefit your team during the match. These cards do things like making characters do more damage or have better accuracy, and are one time use items so you'll have to decide if a win is worth blowing a great card or if you should save it for a more difficult opponent down the line.
The game compares the stats of the two teams and comes up with a winner, giving you the results of the match. Here's the part that makes this and the Big Win! games more interesting to me than similar titles like the recent Transformers and G.I. Joe releases: you can watch the match take place. You are free to just skip it if you wish, but being able to actually watch your team head into battle and take on your enemies is not only a decent bit of entertainment, it helps you to see which members are under performing so you know to swap them out or reequip them before sending them into battle again.
Graphics and Audio
Like the Big Win! series, you'll spend a lot of time basically looking at menus. You'll be familiar with this if you have played any sort of management games in the past. But unlike the Big Win! series, the matches between your fireteams play out in full 3D instead of being cartoonish little sprites. It's not the fanciest thing you'll ever see, but you will quickly grow attached to your squad members as you watch them duck into cover and return fire against enemy forces.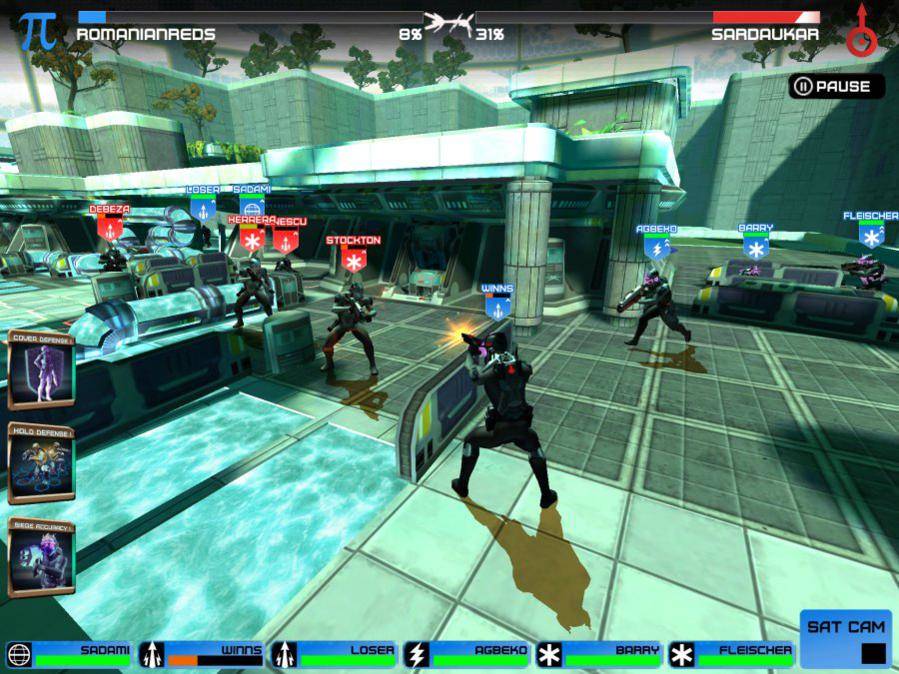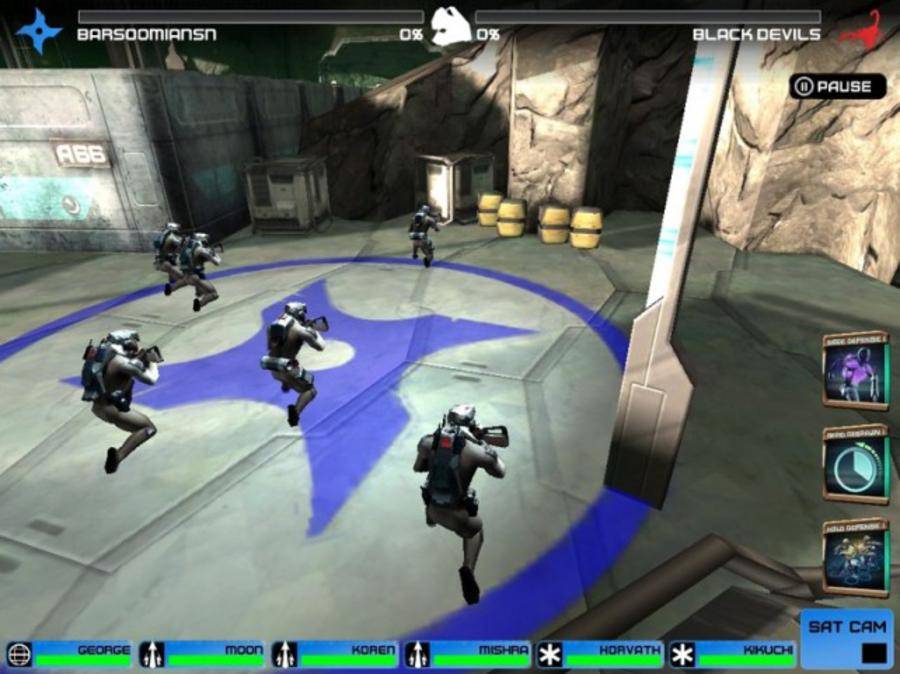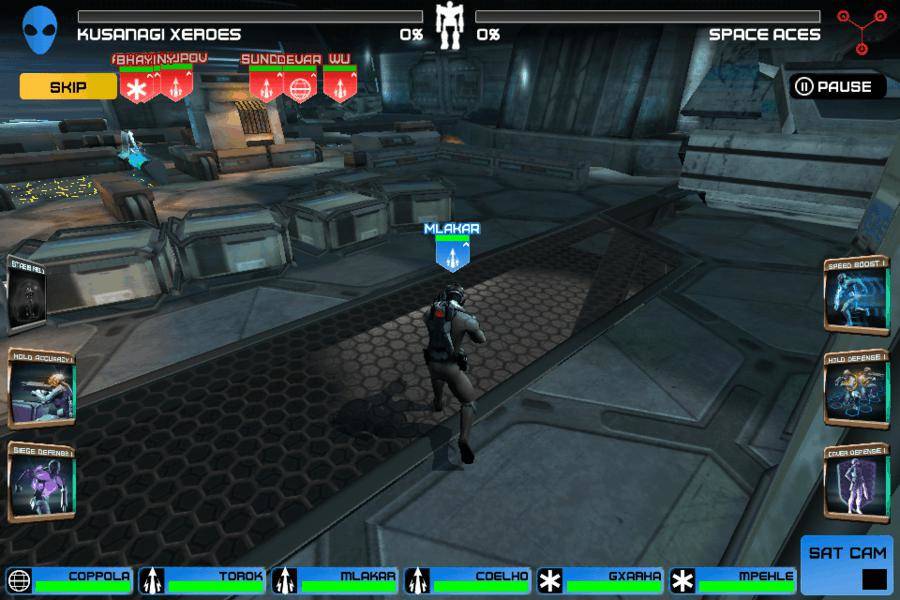 The sound effects are perfectly adequate, and they add to the experience if you are wearing headphones or are playing somewhere that you can crank up the volume. A lot of it is just the typical bleeps and bloops of clicking on things in the menus, but if you have spent a lot of time with your team you'll likely find yourself getting wrapped up in the matches when you are listening to the battlefield noise and gunfire. Just remember not to cheer out loud for your team if you happen to be riding the bus while you are playing.
It's a bit like managing a fantasy Counter Strike team in space.
Conclusion
With Rivals at War, Hothead brings another excellent little team management game to the App Store, and this one appeals to people who may enjoy the idea of a card-based team management game but have little to no interest in sports titles. It's a bit like managing a fantasy Counter Strike team in space. It's unfortunate that the very best teams will likely be the ones that have spent some actual money on the super rare card packs, but there's no reason not to give the game a try and see if it pushes the right buttons for you. Maybe we'll meet on the battlefield! Just…go easy on my guys, huh? I'm kind of attached to them now.
Positives
Using cards to represent team management works great
You'll grow attached to your team
Negatives
One could argue that you aren't really 'playing
The very best teams will probably be funded with real cash
Trailer