iOOTP Baseball 2013 Review
Introduction
For some baseball fans, the Out of the Park Baseball series appears too dense and text-based to be enjoyed. At first, it can be – managing an entire baseball organization from top to bottom is no easy task. But the beauty of the series is how user-friendly it is, allowing players to sculpt their own experience, allowing both hardcore stat heads and casual GM-wannabes to enjoy the game in their own way. The mobile little brother to the desktop version, the iOOTP series has always been a great showcase for this versatility in gameplay, scaling the experience down to be accessible on smaller screens. This year's iOOTP is no different – and although it appears and plays quite similar to previous versions, there's a number of key tweaks that make it more than worth the $4.99 price tag.
Gameplay
At its core, iOOTP is the same as the desktop version, but with the minor leagues removed for the sake of optimization and accessibility (always a key word in these mobile iterations). And like the desktop version (which we'll have a full review when it releases April 15th), there's been a lot of tweaking under the hood that pays big dividends for both experienced players and newcomers.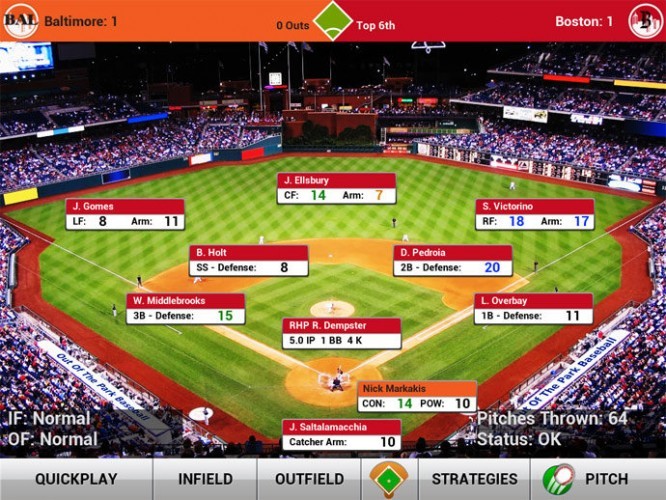 There are basically two ways to play iOOTP 13: managing the day-to-day business and playing through games every day (think Joe Girardi of the Yankees), or taking a more general manager approach, hiring a trustworthy staff while you manage the roster and player development aspects of the business (think Frank Wren of the Braves). Both types of players will notice a number of important changes: for example, the trade logic's been re-worked to be a lot more representative of what actual trade negotiations would be like, something Wren types will enjoy, along with the completely redesigned player creation and development system, which makes scouting, drafting, and developing players into major leaguers a more rewarding experience than ever.
For those who take a more day-to-day approach, there isn't a lack of new features and tweaks to enjoy, either, most noticeably in the small adjustments made to the interface and the in-game simulation gameplay. Visually, the interface is very similar to last year's version, but the slightly larger text and optimized code make moving between players and making comparisons easier than before. It can still be a tough game to play on an iPhone, but there's certainly been some more improvements to make it mobile-friendly, like organizing minor league prospects into an easy to read and analyze top 20 list.
Of all the new features, the new player creation system is easily the most noticeable, especially for those who like to build custom leagues. The game isn't locked to start every new game at the beginning of the 2012 MLB season; players can purchase any year in baseball history to begin with via IAP, or can build custom leagues completely composed of fictional players – or major league players, or a mix… it's really up to the player what kind of league and experience they create, and the new systems and algorithms driving the simulations always maintain a realistic, deeply rewarding experience.
Conclusion
iOOTP 13 is an easy recommendation for baseball lovers; but with each year, the handheld offerings have distinguished themselves more and more from the long-running desktop version, aiming for broader appeal without sacrificing the intricate qualities that make the game such an enjoyable experience – a trend that continues with this year's fantastic offering.
Buy OOTP Baseball 14 PC & Mac