Asphalt 8 Airborne Review
Asphalt 8 Airborne Review – Introduction
As one of the larger publishers in the App Store, Gameloft's recent descent into free-to-play monstrosities or thrown-together movie tie-ins been quite disappointing, especially when signature franchises take a turn for the worst (I'm looking at you, Dungeon Hunter 4). So when Gameloft announced Asphalt 8: Airborne a few months back, it was hard not to be hesitant – after all, who wants to install another racing game full of timers, paywalls, and simplistic gameplay? 
Thankfully, Gameloft's avoided slapping the F2P tag on one of their signature series; Asphalt 8 is not a free to play game: and priced at $0.99, is easily one of the best values available in the App Store right now. Not only is Asphalt 8 a fantastic step up from the enjoyable Apshalt 7 – it's far and away the best racing game available on iOS, racing or simulation.
Take to the glorious, exhaust-filled skies
Throughout the Asphalt series (which began with the Nintendo DS/Java mobile title Asphalt Urban GT in 2004), Gameloft's maintained the game's core formula as a lightning-fast arcade racer full of knockdowns, turbo boosts, and drifting at insane speeds. With Asphalt 8, they've taken that formula and turned the notch up to 11, adding a few key features that put the previous entries in the series to shame.
Realistic sound effects, addictive nitro-fueled racing, a plethora of cars and modes - what else do I need to say about Asphalt 8
The heart of the game remains, however: turbo is still the key to victory in Asphalt, gained on the course by drifting, flying through the air, or knocking over opponents and objects scattered around the track. Asphalt 8 adds a new two-tiered system to their signature speed boosts, allowing players to trigger a super 'perfect nitro' boost with the correct timing. This sends a vehicle flying way over the vehicle's normal maximum speed, turning everything into a colorful blur while racing through shortcuts and over massive, dynamic objects in each environment (look out for the giant mech hanging around the Tokyo course) – using either touch or tilt-based controls, with plenty of options to fit personal preference.
The other big on-course change is the addition of jumps: spread out over the game's courses are red jumps, which players can fly off of, performing barrel rolls and flat spins for extra turbo boosts. These jumps can also send players flying to hidden shortcuts or over treacherous obstacles, like the avalanches collapsing the bridge on the Alps course, or the low-flying jet awaiting on the French Guiana.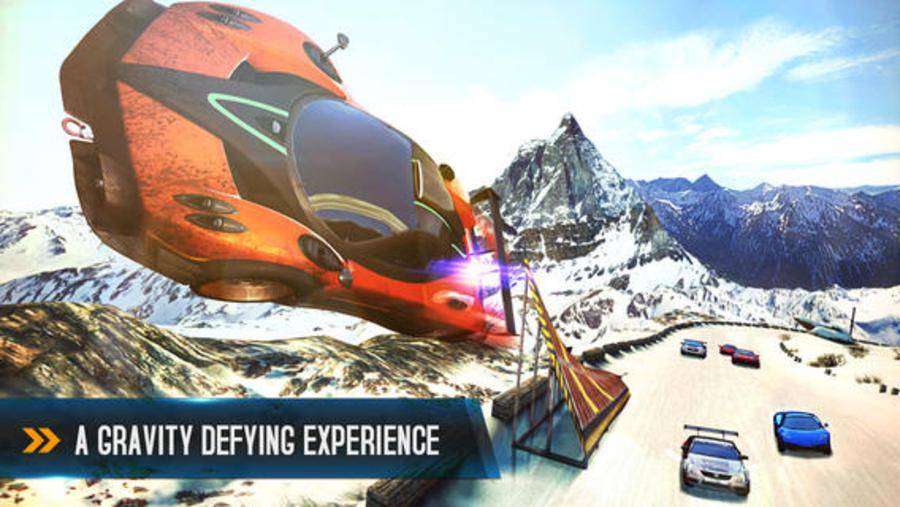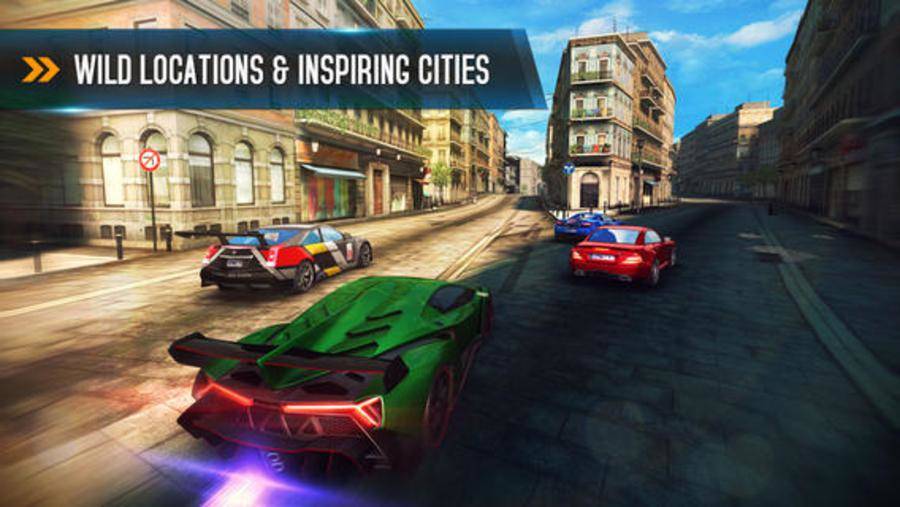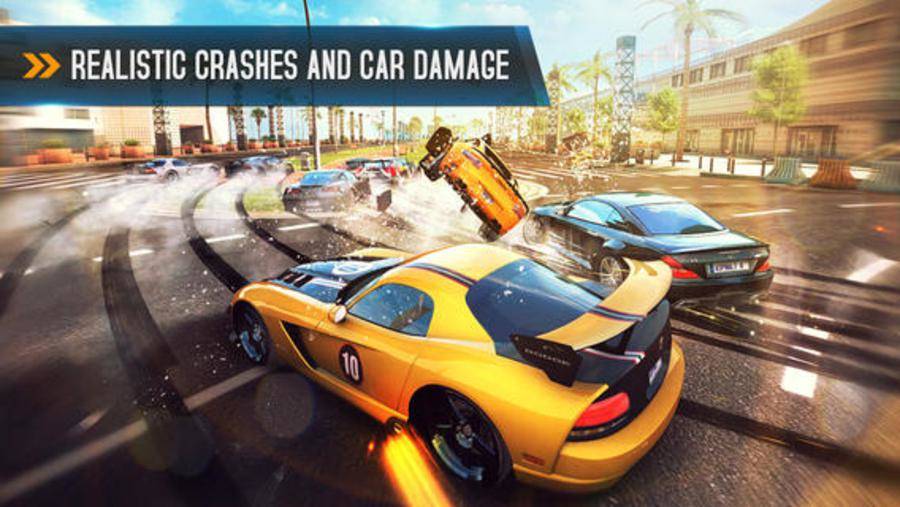 And it's all beautiful: Asphalt 8 is one of the best-looking games to ever hit the App Store, blowing away its competition on and off the race course. All of the game's nine courses are stunning, full of lens flare, colorful and detailed landscapes, and a sense of energy and detail that even Real Racing 3's life-like tracks can't compete with.40+ real-life HD car models,a revamped physics system and added effects like motion blur and particle effects (on iPad 4 and iPhone 5; previous models have graphics scaled back accordingly): Asphalt 8 is not just an improvement over its predecessor (released around the same time last summer); its a massive leap up, both in scale and detail.
Campaigning like a boss
Of course, to get on the course and win, you've got to have the wheels to do it; unlocking and buying the game's many vehicles is done through it's campaign mode, split up into eight increasingly difficult 'seasons' consisting of 180 different events. These 'events' are split up among the game's race types: classic versus (with up to 7 AI opponents), elimination, and the new Infected mode, a turbo-fueled exercise in chaos some might call a 'race'. 
In Infected, the last place racer is 'infected', turning their car green and granting them an unlimited amount of turbo to use. Becoming infected sets off a timer, and when the timer runs out, your car wipes out, putting you back on the track in a normal state for the rest of the race. That is, unless an infected car bumps into you: part of Infected is giving the 'disease' to other cars, adding bonus time to the timer awaiting to send you careening off the track. It's a turbo-smashing adventure that only gets more fun playing online, with nine other human opponents flying around corners and hanging onto the steering wheel for dear life.
Asphalt 8 is not a free to play game: and priced at $0.99, is easily one of the best values available in the App Store right now.
There are a few other event types in campaign mode (racing an AI opponent to a set number of knockdowns and a single-car event drifting through gates set up on the track) and some events that are car-specific. Each one has five stars that can be earned: three for winning the race, and two unique achievements for each event, like completing a certain number of barrel rolls or drifting for a pre-determined distance. Collecting stars unlocks cars for purchase (which can be upgraded multiple times, at increasing costs) and subsequent seasons, encouraging players to replay races to progress through the entire campaign.
Stars also play into earning cash: after each race, stars earned award cash, along with small bonuses for various tasks complete (extra cash for knockdowns, near misses with pedestrian vehicles, etc) – and unfortunately, this is the one place where Asphalt 8 can be a bit of a letdown. While its not a free game (nor does it have any F2P trappings), Asphalt 8 does allow players to buy cash and unlock future seasons via IAP – and at times the small earnings from races can feel like the developers are nudging players ever so closer to the car packs or cash packages available in their handy store.
A smashing success… online and off
Thankfully, the game is a ball to play, so replaying some courses is never a boring or repetitive task. Earning 5 stars on a course won't happen in a single run, so progression feels more natural if you take the time to master each event. There will still be moments when it feels like the cash flow is a little low, though – and in those rare moments, Asphalt 8's cash system can feel a bit restrictive.
Plus, it's worth taking the time to earn cash for the best cars in each of the five classes, unleashing them on unsuspecting opponents in the game's fantastic online 'World Series of Racing' mode. Although lobbies can take a little time to fill (and will start without filling, sometimes leaving a sparse four or five racers on the track), all of the game's modes and cars are available to play over Wi-Fi against friends and strangers like, complete with leaderboards ranked by XP earned on-course. There isn't really any benefit to the career campaign by playing online, but it's a great way to test out souped-up vehicles, or dominate Game Center and Facebook friends in a variety of events.
Conclusion
Realistic sound effects (like the Tesla S's electric whir), addictive nitro-fueled racing, a plethora of cars and modes – what else do I need to say about Asphalt 8? For the price of a dollar, it offers hours and hours of nitrous burning, fender smashing arcade action, all wrapped in an impressive audio and visual package – an easy recommendation for just about any iOS owner.
Positives
Gorgeous graphics, especially on current devices.
Variety of events and achievements keeps career mode fresh
Intricately-designed, beautiful tracks
New Infection Mode races are a ball
Smooth, entertaining online multiplayer
Negatives
 Post-race payouts are low, requiring a bit of grinding
Trailer