Mikey Hooks Review
Mikey Hooks Review – Introduction
Upon releasing Mikey Shorts in 2012, BeaverTap Games suddenly found themselves at the forefront of handheld platforming, perfecting the speed run formula with impeccably-designed levels and controls in their debut iOS title. It was hands down one of the best iOS releases of the year – and as I often do these days with games and movies, I prayed the inevitable sequel, later revealed to be Mikey Hooks, didn't ruin my fond memories.
Hooked on Hooks
Smartly, BeaverTap didn't try to reinvent the wheel with Mikey Hooks (or replace it with a different, lesser wheel): Hooks is built on the same running, jumping, and sliding foundation as the original, with brightly-colored levels full of traps, coins and hidden golden shorts. What's new is the 'hook' part of the game; as a nod to how the developers met (competing on Super Quick Hook leaderboards in the early days of iOS gaming), Mikey Hooks finds our hero swinging from platform to platform, dodging new arrays of enemies and traps throughout its 24 story levels and 12 'race' levels (which pit players against ghost opponents.)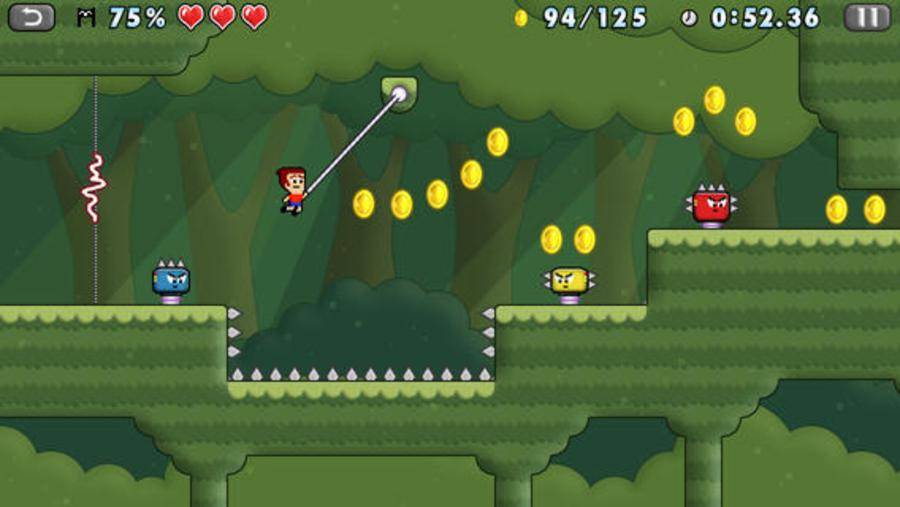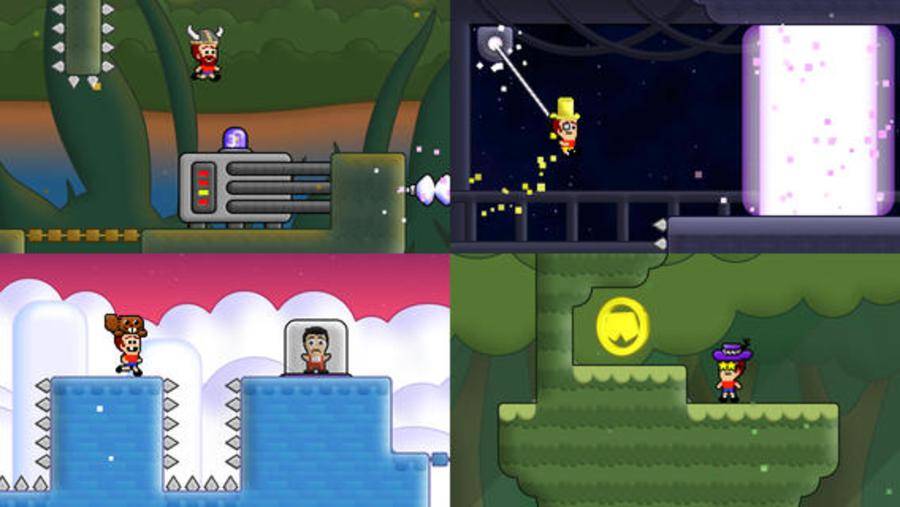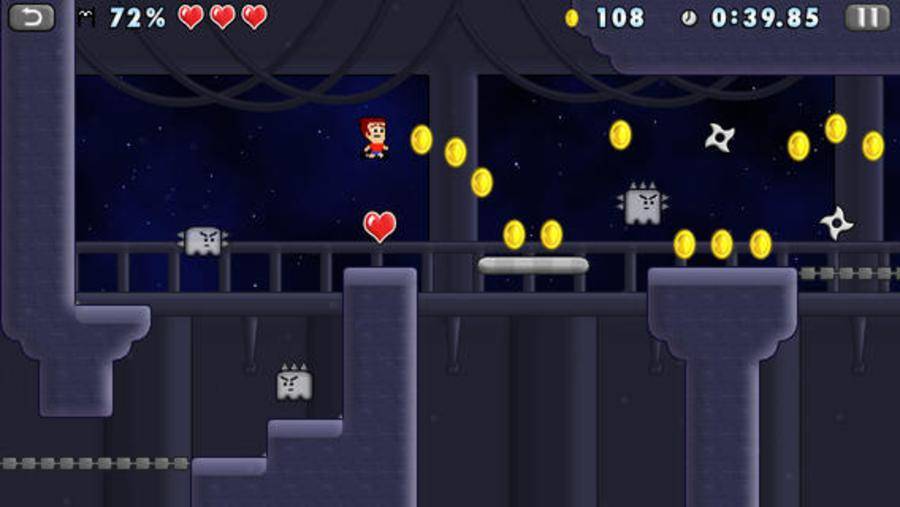 It's really a seamless transition from Shorts to Hooks; the grappling hook mechanic is integrated into the level design and "perfect line" that speed runners are always referring to. In all honesty, it feels like its been there from the beginning; there was really no new learning curve when I started playing Hooks. All it took was the introductory level to get the rhythm back, and I was flying through the levels without a thought. The addition of the hook mechanics just feels so natural, it almost makes Mikey Shorts feel like it's missing something.
The various costumes return as well, littered with thousands upon thousands of goofy costumes that Mikey can adorn as he catapults around the world. The coins found during each run are copious, so finding enough coins to open all the various costume elements takes a few hours – and since they're only cosmetic changes, don't have any effect on the gameplay. Plus, each costume is extremely low-priced, instead of the commonly-seen system of outrageous prices for valuable in-game tools, encouraging or pushing players towards buying coins through IAP.
Trust me on this one: Mikey Hooks will be the best dollar you spend this week, the best platformer of 2013
There is one bit of IAP in the game – for a buck, players can unlock some 'cheat code' like features to help them along the way. These include a coin doubler, a coin magnet, extra hearts – and my favorite, an option to remove the high-res assets and color schemes, reverting the game to a retro-styled, very late Atari-age graphical style. 
Welcome back, Mikey
Simply put, BeaverTap Games didn't disappoint with Mikey Hooks, a game that manages to retain its original, addictive formula and actually make it better, adding in new elements, enemies and achievements to conquer throughout. If anything, I just wish the game had more levels – though this may only be a temporary issue; by the time it was finished, Mikey Shorts had amassed a total of 84 different stages. Trust me on this one: Mikey Hooks will be the best dollar you spend this week, the best platformer of 2013 (mobile or otherwise).
Positives
Grappling hook mechanic fits naturally into gameplay
Pixel-perfect graphics and controls, the hallmarks of a speedrun platformer
Game Center leaderboard competition
Negatives
Trailer