Riptide GP 2 Review
Riptide GP 2 Review  – Introduction
When Riptide GP arrived on iOS in late 2011, it brought with it a flood of beautiful memories from the early days of 3D and polygons. It was like a mix of Jet Moto and Hydro Thunder, a balls-to-the-wall aquatic racer with impressive wave physics and a fantastic sense of speed. It wasn't perfect – a little too lean on content, missing any kind of online/Bluetooth-enabled multiplayer option – but it brought back a genre I'd thought long forgotten by game developers, if only for a moment.
Turns out Vector Unit wasn't quite done with futuristic jet ski racing yet: last week, Riptide GP 2 arrived in the App Store, promising more speed, water, and high-flying acrobatics that made the original such a fun racing game to pick up and play. With more tracks, vehicles, and game modes, it's certainly a bigger game – but is it a better one?
Riptide GP 2: More of a Great Thing
The core formula for Riptide hasn't changed with GP 2: the core game is a single-player career mode, where players race in various events to earn money for better jet skis. However, 2 takes some of these ideas a step further, adding a fairly robust progression system: along with the ability to purchase upgrades with cash, every race awards experience points towards skill points. These skill points open up a number of different things: from small buffs to various attributes or unlocking new tricks to pull off during races.
Right now Riptide GP 2 is the king of arcade racing on iOS
It's not a super deep system, but at it's core, Riptide is an arcade racer – and a great one at that. Where GP 2 shines is on the course. Vector Unit continues to push the limits of iOS graphics with 2; from motion blur to advanced water physics and lighting effects, Riptide GP 2 is a beautiful game on iPhone and iPad. Thankfully for those with older devices, there is a settings menu that allows for graphical effects to be toggled, and the quality of textures and the like to be lessened. When they're all turned up and the game's running on at least an iPhone 4S and iPad 3, it's simply gorgeous.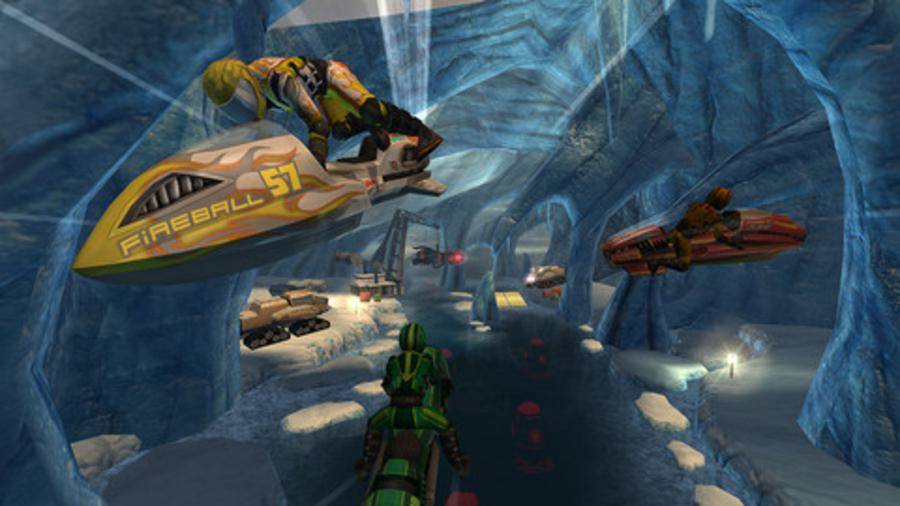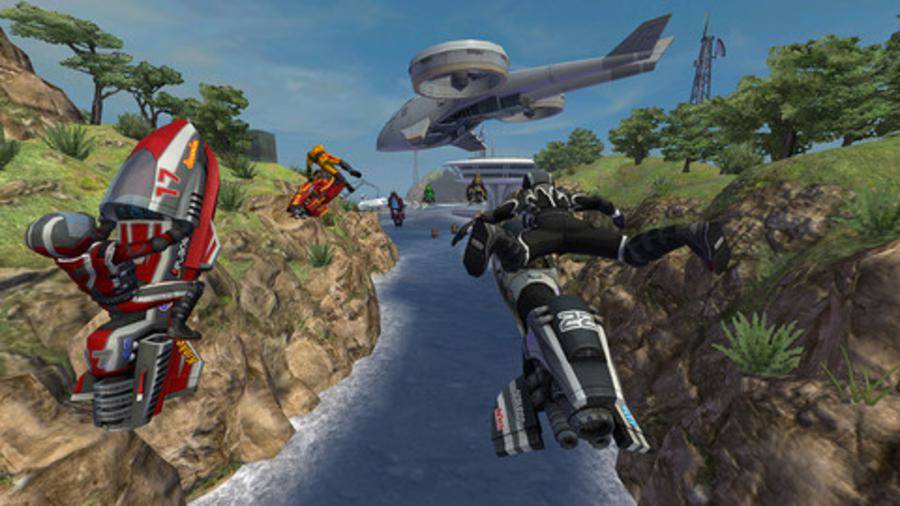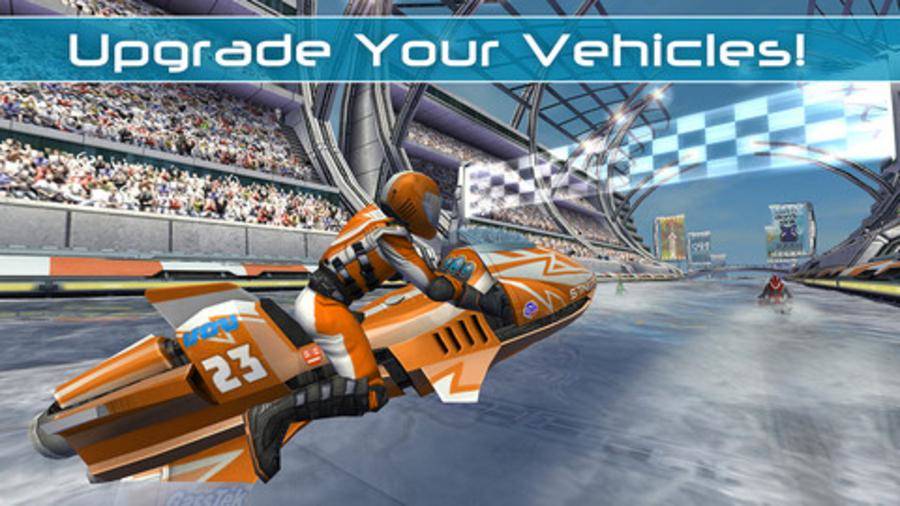 And it doesn't sacrifice its sense of speed for graphical fidelity: Riptide also retains its kinetic sense of accelerated madness, as players and CPU opponents thrash around in the huge waves, whipping around corners and activating turbo boosts in straightaways. There's definitely a bit of a curve at the beginning of the game until players get a grasp on how the water affects momentum and how to time tricks (pulled off by various two-finger swipe gestures on the screen), but it's only a matter of a few races before it becomes second nature.
… With a Few Drawbacks
The one peculiar thing about Riptide GP 2 is the AI in career mode. It's definitely challenging, but the kind of challenging that gets frustrating in a racing game: every AI opponent rides the same basic driving line, without any regard to what the player might be doing around them. It's wooden at best – and combined with the sharp difficulty curve from the word go, it can be a little off-putting to grind away at the same races to earn the requisite upgrades to pass through. At times, it feels less like a battle of skills, and more like the game quietly nudging you to grab a little in-game cash via in-app purchase to help speed up the progression a bit.
The core formula for Riptide hasn't changed with GP 2
If there's anything frustrating about the game, it's that. The high cost of new jet skis (the first few levels of upgrades for each kart are fairly priced, though they quickly get costly) compared to how difficult races are and the rewards for winning them, can turn the career mode into a bit of a grind. And while the online multiplayer is a fantastic addition (allowing for play through Game Center, either by inviting friends or hosting/joining a quick match), it's not much more than a brief distraction. Races are only a lap long (save for one short course, where there are two laps driven), and there's no real incentive to play, except for a minute-long race followed up by fifteen to twenty seconds of waiting for the next minute-long race to load. I love that it's included, but it's so bare bones (up to four players only; career mode races have eight) and doesn't feed into the other aspects of the game in any discernible way.
Tip: Bring a Wetsuit
At only $2.99, Riptide GP 2 is an easy recommendation for racing fans: it brings the fast-paced, exotic feel to racing lost with the downfall of arcades and the popularity of hyper-realistic racing games. Riptide GP 2 is pure, adrenaline-laced fun with hours of content to play through; Asphalt 8 may be waiting in the shadows, but right now Riptide GP 2 is the king of arcade racing on iOS.
Positives
RPG-lite progression system
Plenty of content to play through
One of the platform
Negatives
Dumb, often overpowered AI
Cost of upgrades
Barebones multiplayer
Trailer