Ratchet & Clank Q-Force Review
Introduction
Everyone's favourite lombax is back, along with his sidekick Clank in Ratchet & Clank Full Frontal Assault / QForce. The Ratchet & Clank series has always delivered thoroughly entertaining single player action, but Insomniac likes to mix it up every so often by giving us more of a spin-off title; Ratchet: Deadlocked and Ratchet & Clank All 4 One for example. Similarly to All 4 One, Full Frontal Assault / QForce is engineered more towards multi-player action; which isn't what the series is renowned for. It's like Manchester United quitting football to concentrate on tiddlywinks. Many series veterans will be disappointed with the lack of an expansive single player galaxy to explore, so how does this addition stand up against the other titles in this famous franchise?
Gameplay
Unfortunately, there is little story to the single player mode. It centres on a returning character called Stuart Zurgo, who our heroes first met in Ratchet & Clank 2. Once a die-hard Captain Qwark fan, he has now become alienated by the man who was his idol; due to Qwark's frequent failures as a galactic superhero. Now Zurgo has gained control of the Grungarian army and vows to take down Captain Qwark and shut down all his planetary defences. Captain Qwark returns as a playable character as do Ratchet and Clank. Other familiar faces, such as Cronk and Zephyr, also return as unlockable player skins.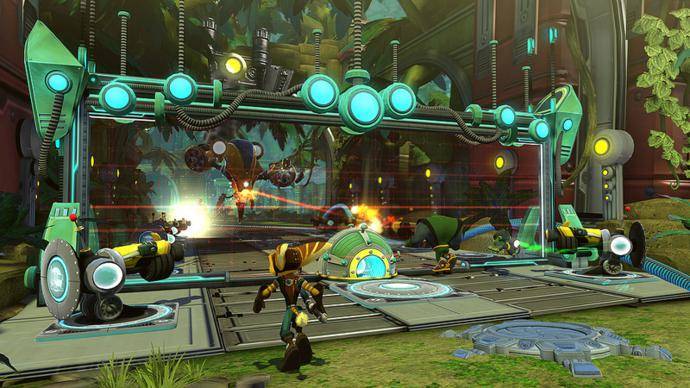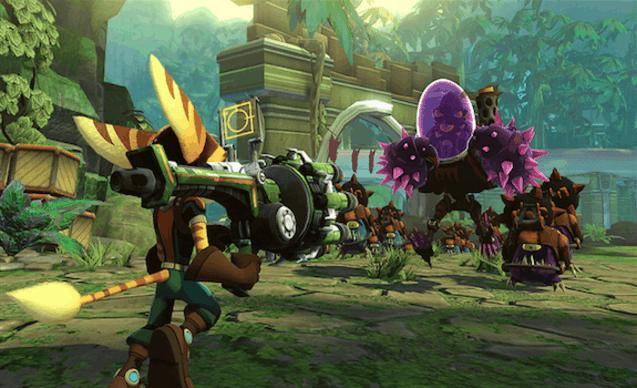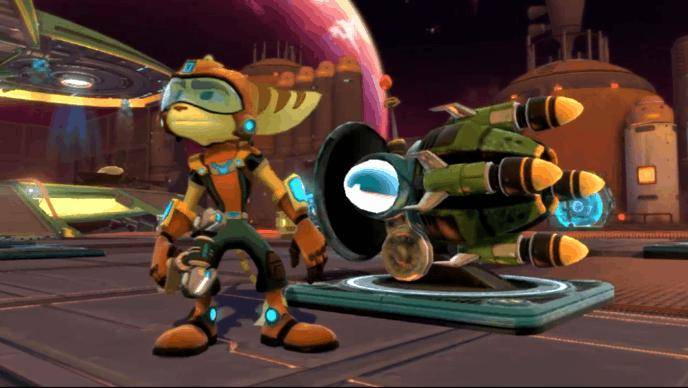 Defending your planetary defenses is what you'll be doing half the time. This involves spending bolts on improving your defences by planting mines and drone weapons to combat waves of enemy attacks. For the other half of the time, you'll be attacking the enemies' bases, which is what's required to finish a level. Our favourite collectibles Gold Bolts return, but it's a shame that they're now much easier to locate than they used to be in the early Ratchet & Clank games. Searching for gold bolts does add some much needed variety, but it's not quite enough to stop the game from feeling repetitive after a fairly short period of time. There are also Skill Points and Time Trials to aim for, both of which adds replay value, but there is a lack of a puzzle solving element to the gameplay; which has been a fan-favourite and a recurring theme of the series for many years.
But one thing that does make you want to destroy base after base is the fantastic controls that the Ratchet & Clank series has always been famous for. Jumping, shooting and running all come with ease; you may find that this is enough to keep you entertained. The fantastical planetary design has also been a main selling point of the series, and once again Insomniac does not disappoint. The best viewings are found at the tropical temples of the Hidden City of Balkai, where historical ruins meet futuristic technology.
There are plenty of weapons to unlock and upgrade – including returning favourites such as the Warmonger and the Sonic Erupter. Oh, and in case you're the sort of person who likes to tease their enemies before destroying them; there's the Groovitron Glove which forces your enemies to disco dance for a certain period of time. Just long enough for you to switch to something a little more destructive, and kill them whilst they work their moves.
And as far as I can tell, there's no RYNO. Now, let me just take a minute to explain why this is such a big deal. The RYNO (Rip You a New One) is the most powerful weapons in the whole of the Ratchet & Clank universe and is absolutely essential if you want to decimate everything in sight. There has been a different incarnation of this legendary weapon in every game in the series; Full Frontal Assault / QForce being the first game not to have its own version. A Ratchet & Clank game without a RYNO is like having James Bond without his PPK, or Scorpion without his spear and "Get over here!" shout. Hopefully Insomniac will rectify this with some downloadable content.
Video
Graphically, the game is a success. All of the PlayStation 3 Ratchet & Clank games are a supreme demonstration of how a game can look brilliant without necessarily straining to be as lifelike as possible. Everything in the R&C universe has a gleam to it that really helps to bring it to life, and this works especially well with metallic structures that are present on all planets. It's not just the scenery that has received special attention. All the characters – playable and non-playable, look great and Ratchet's fur is eye-catchingly well detailed.
Audio
From the rumble of a Grungarian tank to the sound of bringing up the Map screen, the game's sound effects are largely pleasing to the ears. The soundtrack is solid, though it lacks any real stand-out tracks such as the Pirates of the Caribbean style 'Pirate Base Theme Song' from Tools of Destruction. A theme so epic, it would leave John Williams thinking; "I don't remember writing this…" The voice acting is good, though it is a little bit tedious when your chosen character keeps reminding you to destroy generators or finish the level, especially when you're exploring the level for those precious Gold Bolts.
Conclusion
Ratchet & Clank Full Frontal Assault / Qforce is definitely a game that's geared more towards online multiplayer action more than anything else; but that's not what the Ratchet & Clank series became so well-liked for. If you live for online multiplayer action then you will definitely have a lot of fun with this game, but I wanted to review this game from a single player perspective because that's what I always loved about the series. There are some aspects of the gameplay that entice me whenever I think about playing it; mainly the control, and the ingenuity of the level and weapon design. But this is now the second time in a row after All 4 One that Insomniac has released a spin-off title, rather than a worthy successor to A Crack in Time. Let's hope that the next game in the series is a Grand Theft Auto San Andreas or a Dynasty Warriors 3; truly a sequel that thoroughly exceeds our expectations.