FlowDoku Review
FlowDoku Review – Introduction
Sudoku is one of the most popular puzzle games on earth, with endless amounts of variations, apps, books and even competitions dedicated to the "ancient" mindbender. FlowDoku hopes to stand out amongst them, offering a simple variation that uses shapes instead of numbers.
Circles and Squares
You have a 6×6 grid, split into six sections, which are, themselves, split into another six squares. Some of the squares have shapes in them. From the information available, you must fill the remaining squares, making sure that each vertical and horizontal line, as well as each section, has within it so many circles, so many triangles and so many squares.
It works every time. There's no need to guess, no need to poke randomly and hope for the best – the solution is hidden somewhere in the square.
The right sort of mind will see infinitely more enjoyment from this than from the traditional Sudoku
FlowDoku takes Sudoku and shakes it up a little. Using coloured shapes instead of numbers feels slightly less organized, but it's also less intimidating. The right sort of mind will see infinitely more enjoyment from this than from the traditional Sudoku, so it's worth taking a look if you've always had an interest, but it's never managed to click.
Controlling the game is as simple as its premise. Tap an empty square until the right shape appears and then move on. Fill the entire grid and you win. A timer tells you how long you've taken, but looking might not be advisable. Entire mornings can slip away and you still may not be any closer to finishing your puzzle.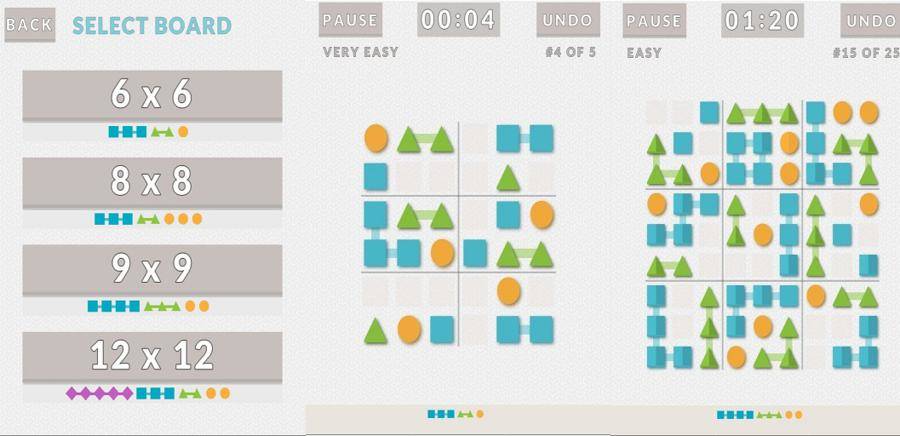 The music that plays behind your puzzle is pleasant enough, and the graphics are as basic as you'd expect. There are no bells and whistles here, but there doesn't necessarily need to be. This might be underwhelming for those that expect "quests" or "lives" to spice up traditional games they've been playing for years, but for FlowDoku the fun is in the game itself.
Adding Up
The good news is that the game itself is huge. There are a couple of hundred of puzzles, and you can expect anywhere from five minutes to hours and hours for each puzzle. This isn't helped by an occasional lack of information in the puzzles. A level that should end is instead blocked by "box group is invalid," a statement that says little about why you can't progress.
It helps that you can roll back moves and hints are available, but they're not always a solution to the problems you might come across.
FlowDoku – Conclusion
For a free-to-play game, FlowDoku represents excellent value, and you can pay to add more puzzles if you choose to. It's a fun game, but no more or less fun than any of the other Sudoku games. Different, yes, and enough to renew your interest in the puzzle if you're tired of the number version, but no more entertaining. 
If you're after something to stretch the old brain during a long trip or to while away a few hours of an evening, FlowDoku is a very good example of the Sudoku "genre" and is incredibly good value. It does almost everything right, but a few minor issues and a general lack of pizzazz may prove a little dry to those used to the polish and bright lights of Candy Crush or its ilk.
It's definitely worth a download.
Positives
Great variation on Sudoku
250 levels to play for free
Additional levels available at a low cost
Varying difficulty, but features in place to help beginners on harder levels
Negatives
A little dry
Some problems finishing puzzles, little information on what the problem actually is
Trailer