New Soccer Star Review
Introduction
New Soccer Star has been around for a long time, but its jump to mobile devices has rocketed the franchise to new heights. Not only did its creator, Simon Read, win a BAFTA over other, more established franchises like FIFA and Forza, but sales have been high and critical reception seems to have been very positive as well. With great reviews, a place in award show history and a renewed interest in what is bound to be a bigger hit than anyone involved in the project could have imagined, New Soccer Star is a game that you absolutely have to try out.
Gameplay
It's difficult to put New Soccer Star into a genre. It hardly feels like a sports game, more like Football Manager meets a band management game. Although you do have a degree of control over the matches, you influence the game rather than dominate it. You control your character at specific points of the match – when you can intercept an opposition's pass, when you're in the box – and only to a certain degree (you can aim and shoot). This certainly means that a talented NSS player will be able to rack up the goals, but as important is the relationship with the fans, the boss and the other team members.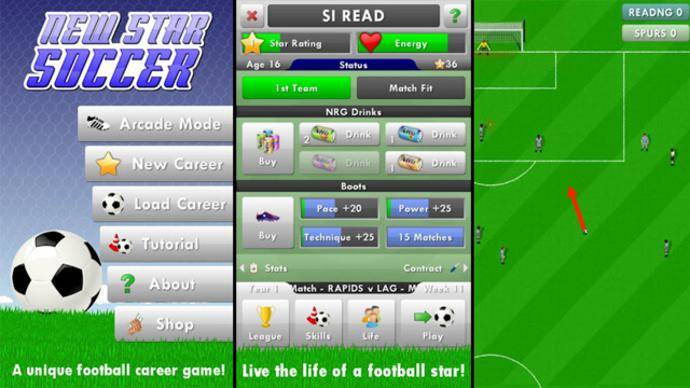 This is where the RPG elements come in. A decent game in which you've passed regularly, shot a few goals and won will make everybody happy with you, but focus too much on only a single faucet of the game – shooting, for instance – and your teammates will stop passing to you. Play badly and the boss will stop playing you, or annoy the fans and the sound of their boos will distract you from the game.
Control of your character's life doesn't end there. Out of the match you'll be in control of relationships with your girlfriend and sponsors, of buying shoes to enhance your game, of the amount of training you do and much more. You might spend more time gambling your money in the game's casino than you will on the pitch.
Although very simple, New Soccer Star makes you invest entirely in your game. Like Football Manager, Read has created a game that will no doubt keep you hooked. With a variety of mini-games making up each part of your player's life, things don't get boring quickly and, when they do, you'll find yourself coming back anyway. It'd be nice to see slightly better AI and a little more variety, but with a major patch in celebration of the BAFTA win on its way, I find it hard to believe the 69p purchase isn't completely worth it.
Graphics
Graphics in New Soccer Star are more than passable, although the animation of the players and parts of the pitch you'll see regularly can get a little samey. For the most part you'll be looking at menus, which are all fairly smoothly laid out.
Audio
It's difficult to suggest anything that could improve the audio for New Soccer Star. There are generic football crowd noises, of course, and the sound of the ball being kicked across the pitch. It makes for an expected but ultimately suitable experience.
Conclusion
New Star Soccer is a game that's well worth checking out. You can play 10 matches in career mode for free, and that's more than enough time to tell if you want to continue or not. There's something very addictive about it, and while little issues will become increasingly annoying as you play, having to balance absolutely everything is something not many games manage to capture successfully.