Asphalt 6 Review
Introduction
Asphalt 6: Adrenaline continues the Asphalt series with new cars, new tracks, and more intense racing action on mobile devices. Visually, this game is as close to Triple-A as it gets on Android and iOS, but the title reveals the design challenges inherent in creating a racing game for mobile devices. Asphalt 6 is fun and compelling enough to have kept me interested all the way through, but there are a few blatant and nagging drawbacks that keep the experience from being as polished as it could be. Despite its weaknesses, this game is definitely worth a try for fans of racing games. Featuring 15 locations and seven race types, the game presents hours of fast-paced gameplay and continual car upgrades that keep races exciting.
Gameplay
Asphalt 6: Adrenaline clearly makes an effort to present tight, responsive controls, but the gameplay feels less than satisfactory compared to similar titles on consoles. The game uses always-on, peddle to the metal acceleration to propel cars at top speed down twisting tracks, and players have only an E-brake to slow them down around corners. The absence of pedal control makes cornering in top tier cars increasingly difficult as they constantly blast ahead at full speed. Drift mechanics leave something to be desired, as well, as they seem more arbitrary than natural. Rather than using momentum and smart steering to glide out of a drift, players simply have to tap the left- and right-turn buttons several times in a row to avoid making a 90 degree turn in the opposite direction and smashing into a wall. The issues with control don't come into play heavily until the later game, where the speed and power of the cars requires a bit more control than the game provides.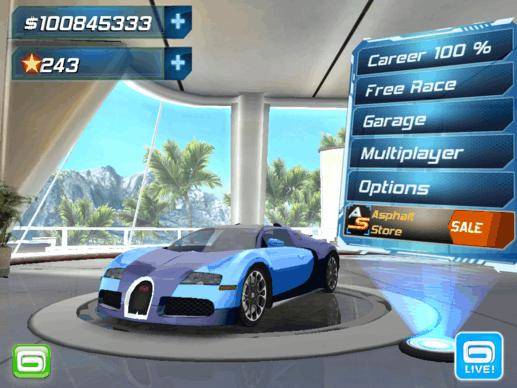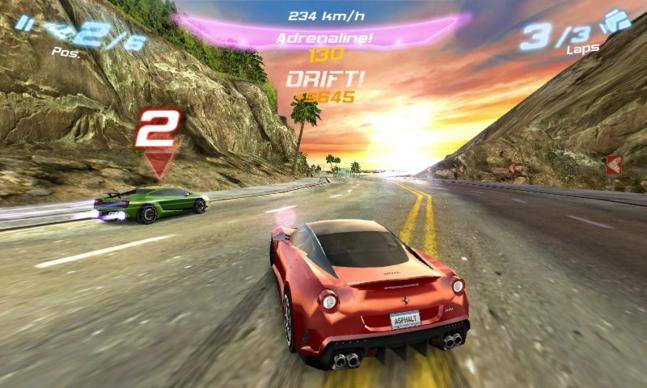 Graphics and Audio
The game includes an original score, but the limited and loud music quickly becomes repetitive and a bit annoying. Sound effects are crisp and well done, but they do not stand out as exceptional.
The graphics are a major strength of the title, and the entire Asphalt series. Asphalt games are some of the most visually compelling mobile titles I've seen so far, pushing the limits of mobile processors with gorgeous backdrops and graphics that could stand alongside PS2 or XBOX titles. Races are set in recognizable locations around the world, including Tokyo, the Alps, and Havana. Each location features unique visual details and far-reaching cityscapes, ensuring that players never get bored with their surroundings.
Conclusion
Despite the game's technical drawbacks, Asphalt 6: Adrenaline is still fun and exciting. Its weaknesses might not be acceptable on a console or PC, but it stands above other mobile racing titles. Overall, the game delivers a great value for the current $0.99 price tag.
Trailer