Tintin Match Launches on iOS and Android – Our First Impressions
While I love busting out my Nintendo Switch, Xbox One, and PS4 for lengthy games that take me to real and fictional worlds, I also like a simpler experience, one I can quickly play on my phone for a few minutes to scratch that satisfying puzzle itch. Enter Tintin Match, the latest match 3 game from Planet Games, which follows the loveable character Tintin, his dog Snowy, and a host of other popular characters from the books, shows, and movie.

"Tintin Match is a story-driven, match-3 switcher game for all ages starting age 9, where you progress through colourful puzzles built around the universe of Tintin. As you follow the famous reporter on his adventures you will take on puzzle challenges to unlock and collect iconic Tintin locations and characters known from the books."
We have been playing Tintin match for about a week now, and have been fairly impressed with the game play and story progression. Each level is 'timed' based on your moves, not a countdown timer. So, each level will have a maximum number of moves you can make before 'time' expires. As you beat levels, you will be graded on a three star scale. One star for completing the level requirements (either a certain number of gems, or a certain number of a specific colour, or even a certain number of powerups), one star for finishing the level with a specific number of turns left, and one star for using enough power-ups overall.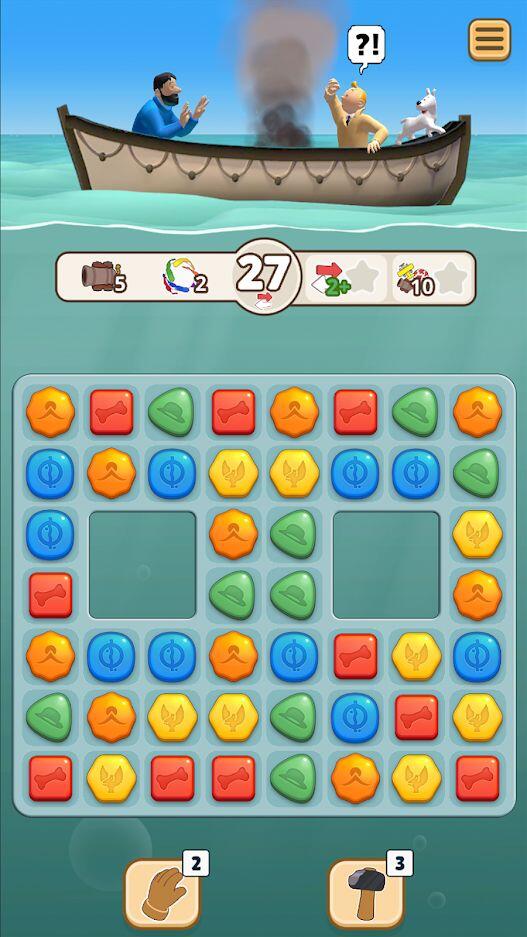 When beating levels and earning stars, you will unlock items for the diorama of the level you are on. Like in other games, there are no fancy characters to collect or fish aquariums to create – instead, you are finalizing pieces of art that match iconic (I think at least) scenes from the Tintin universe. But you always feel like you are solving a case somehow, and that was what really kept me moving forward.
Splattered throughout the regular levels of Tintin Match are special levels that need to be beat multiple times, with a slight increase in difficulty each time. These levels provide bonuses and characters unavailable in regular levels, which can then be turned in via the crafting menu to get power ups and more.
We plan to spend more time with Tintin Match in the near future, and will report back as we beat more worlds and levels. For now, though, we highly recommend Tintin Match on iOS and Android!