SteamWorld Dig Review
SteamWorld Dig Review
If you want to be a huge hit in the indie world, your best bet is to move to Sweden. At least it feels like that is where all the good games are coming from right now. This week will be no different, as SteamWorld Dig, already available on multiple platforms including the 3DS, will receive an additional release on Nintendo's Wii U console.All I need to tell you is that it is worth it.
SteamWorld Dig is a platform mining adventure with strong Metroidvanian influences
It was worth it when I purchased it on the 3DS, and it was still worth getting now on the Wii U. Developer Image & Form have done an excellent job with this re-release on the Wii U, and because of the gamepad, there are some added bonus not available in the other version.
What Is It?
So what is SteamWorld Dig? According to Image & Form, "SteamWorld Dig is a platform mining adventure with strong Metroidvania influences. Take the role of Rusty, a lone mining steambot, as he arrives at an old mining town in great need.
Dig your way through the old earth, gaining riches while uncovering the ancient threat that lurks below." The game boasts upgradable items such as your light and satchel, as well as fun abilities like being able to jump really high using water you collect from watery pools or water orbs. Traversing the mines and trying to decide which path to forge is only a fraction of the enjoyment this game offers. Avoiding or fighting numerous enemies in the depths of the mine also adds to the excitement. Fight the enemy, or avoid it. The choice is (almost) always yours.
The best part about SteamWorld Dig is that it is short enough to complete in a reasonable amount of time, and it prompts multiple playthroughs since the mines are randomly generated each time. That's right! No two games will be the same. Since receiving my review code last week, I have played through the game multiple times, and each time was as wildly different as the last, making Steam World Dig one of the most re-playable games I have made it through in a long while.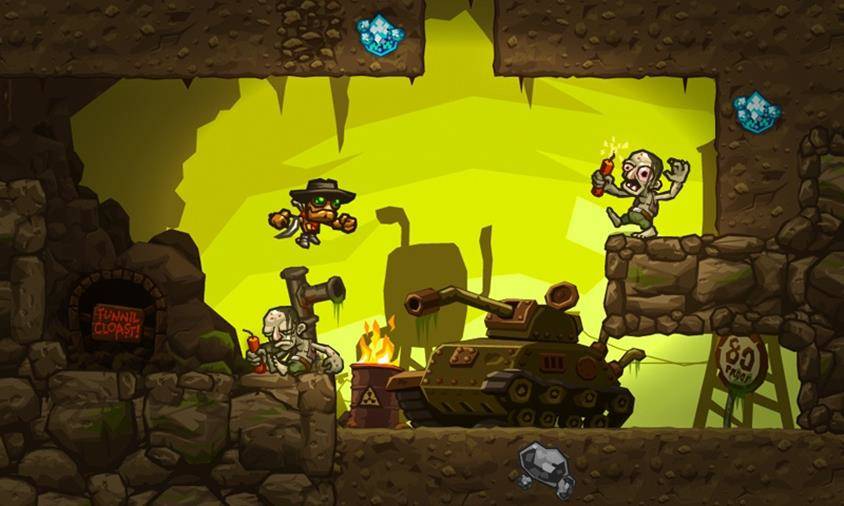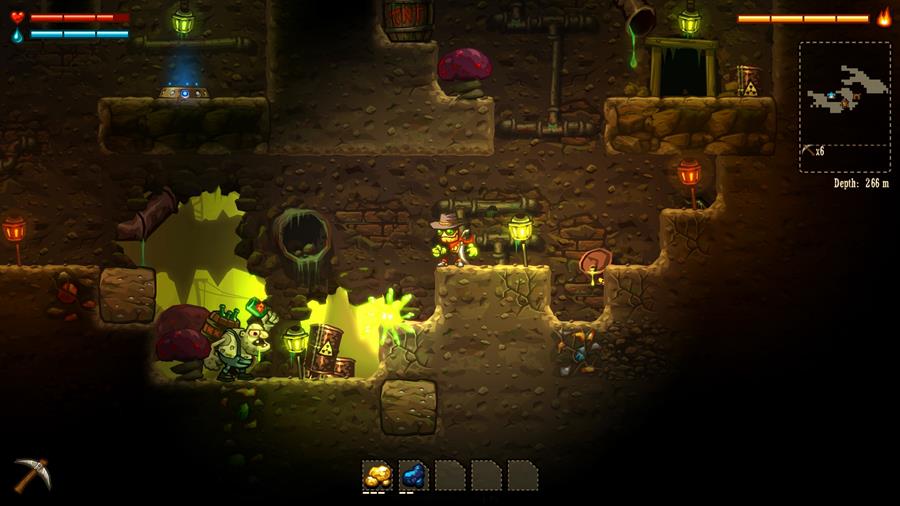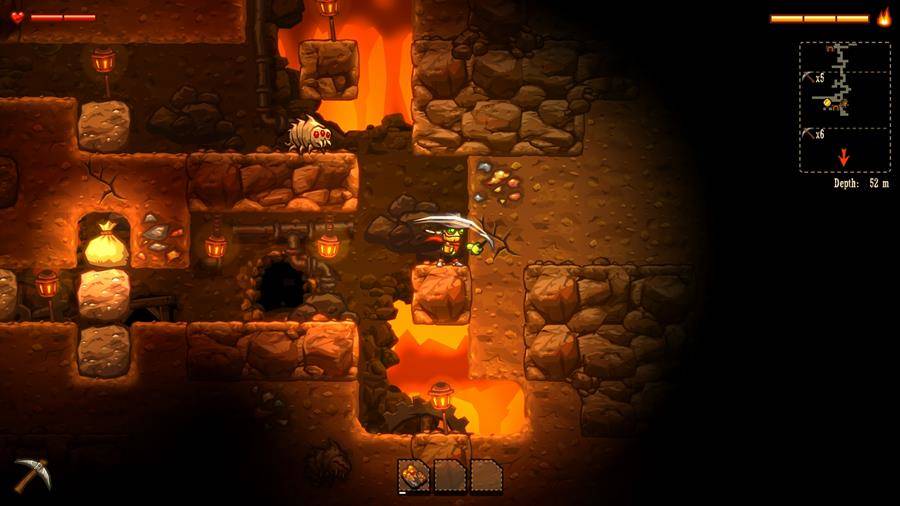 While some may say the price (low in my opinion for the quality that you get) is too high for the length of the game (7-8 hours), I would argue that the ability to play through again and again makes it more than worth it.
Why Choose This Version Over Other Platforms?
The Wii U version boasts a number of improvements over the 3DS release, including 1080p resolution, customizable screen options, and the ability to play in multiple languages. The main reason why this release is much better than what is available on other platforms: a clutter free TV screen! All your information, including items and the mini map, are displayed on your gamepad, freeing up space on your TV to show players more of the mine they are attempting to explore. Of course, there is also off-TV play. While I enjoy the off-TV play for many titles on the Wii U, I felt this was one better played on a TV.
SteamWorld Dig Review – Conclusion
Buy it. That is really all that needs to be said. Usually, my reviews end with a line like "if you like genre 'x' than you will enjoy this title." However, this time around, I think this game has universal appeal. Metacritic scores, both from media and those that have purchased the game, are incredibly high.
Very few people have been critical of SteamWorld Dig, and that's not surprising. It helps that there really is very little to be critical about, especially since the title doesn't promise anything it cannot deliver.
While you are waiting for your next anticipated Wii U release – whether that be Hyrule Warriors in late September or Super Smash Bros around the Holidays – do yourself a favor and grab a copy of SteamWorld Dig from the Nintendo eShop.I doubt you will be disappointed.SteamWorld Dig comes out this week. Those in Europe can take advantage of a cross buy promotion. If you own the 3DS version you will save 25% on the Wii U version.
Positives
Great platforming adventure, Metroidvania Influences!
Colorful and Vibrant!
Less clutter on the main screen as opposed to other versions
World automatically regenerates for each play through
Negatives
Trailer