Papers Please Review
Papers Please Review – Introduction
While many indie developers are attempting to make old genres relevant again, there are those that are trying to create new ones. One such dev is Lucas Pope, with his latest game, Papers, Please, being labeled as "A Dystopian Document Thriller".  The word "Document" will no doubt throw some people off, but after spending some time cross-referencing passports and work releases as an immigration inspector in the fictional country of Arstotzka, I can safely say that stamping papers can definitely be thrilling.
Glory to Arstotzka
The premise is pretty straightforward: The year is 1982, and Arstotzka just won back half the city of Grestin from Kolechia after a six-year long war. Working at a border check, it's up to the player to examine everyone's documentation and either approve or deny them entry to Arstotzka.
Papers, Please proves that any vocation can be compelling if given the proper spin
Papers, Please's concept is basic, and so is its point-and-click gameplay, early '90s Sierra adventure game visuals and minimalist presentation. All of the "raction" takes place in the border patrol booth, and the screen is split up into three different panels: a first-person view of the counter, the table where all of the documents are inspected, and the top frame depicts the throng of people standing in line as well as the armed guards.
A Red Tape Nightmare
I was impressed with how natural the tutorializing felt. At the beginning of each shift, a memo containing the list of the days regulations and snippets of local news is found on the desk, with a rulebook right next to it. The regulations instruct on what valid forms of identification are allowed, and the rulebook outlines how to check for authenticity, like making sure their photo and vital statistics are accurate.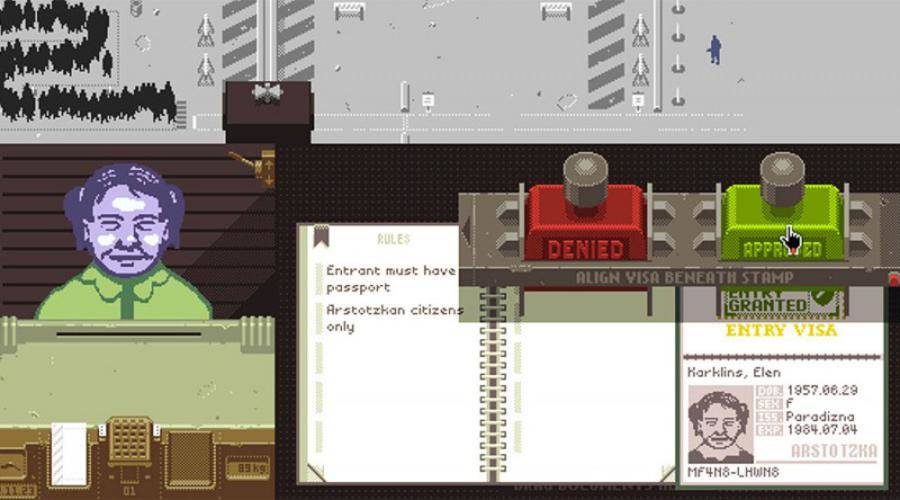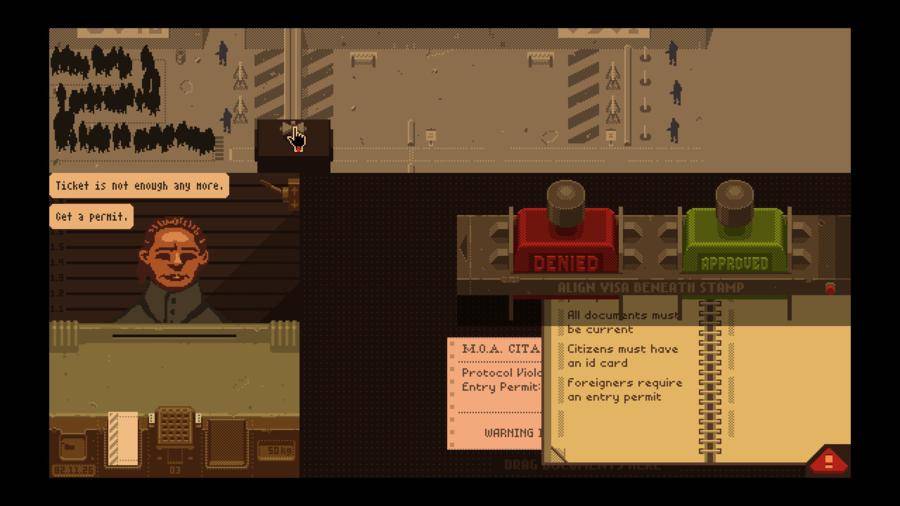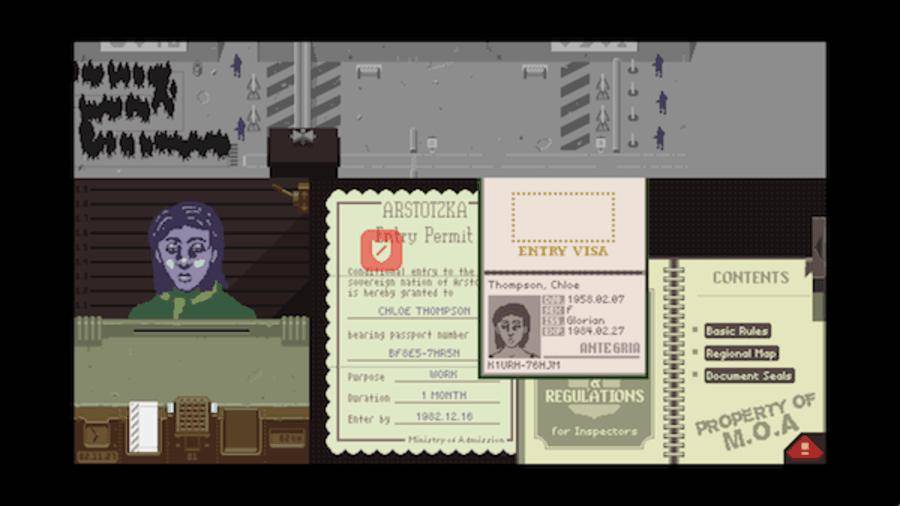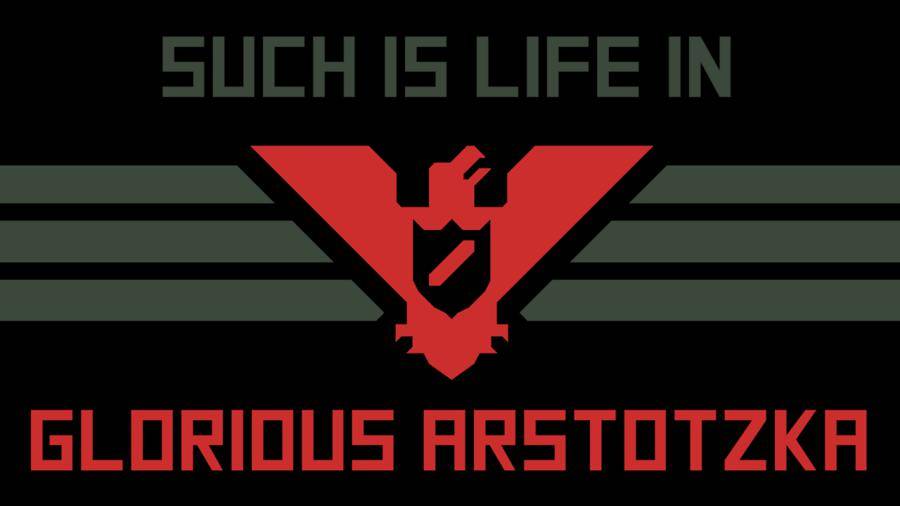 The first day is simple enough as the only rule is that Arstotzka citizens are allowed to pass, but all foreigners are denied. The next day, however, was a little different since now all non-citizens had to carry a travel pass to go along with their passport. It continued on like this, too, with each passing day bringing stricter policies, including fingerprints and full body searches, due to terrorist attacks and continuing political turmoil.
With amount of documents to scan increasing, I felt a sense of urgency as the game progressed since every successful "DENIED" and "APPROVED" meant more money to spend on food, medicine and housing. If too many citations for letting people enter illegally are racked up, that means a cut in pay and the odds of losing family members increases, which means game over if they all die.
A Matter of Morality
There are plenty of other ways to lose, as well. Around a few days in, I was approached by a masked figure who slipped me a card with a secret message on it, a message that asked to let in spies even if they didn't have the right documents. Another person later came by with a folder intended to go to a government official, but then handed me a separate folder to use as a ringer to give to the authorities.
I had a hard time denying a man's wife entry after letting him go through
It's this kind of intrigue that makes Papers, Please engaging, not to mention thoughtful. Despite it being a fictional story, the job being simulated is something very real, and something that has a major impact on people and their families. I had a hard time denying a man's wife entry after letting him go through, especially when she informed me that she'll be killed if she goes back home. However, for every moment like that, there were moments of justice, like when I detained a fleeing murderer, and a man allegedly running a human trafficking operation.
The only issue I ran into was that the amount of papers I had to sift through almost became overwhelming, and having to click and drag them around on the table become a little tedious. Of course, this is kind of the point, and in the end it's entirely manageable, but how hectic things can get makes the story have slightly less of an impact.
Conclusions
Papers, Please is moody, addictive, thought-provoking and proves that any vocation can be compelling if given the proper spin. This is a game where those that are looking for a meaningful experience and people up for intense puzzle solving will find something to enjoy, and it's easily one of the best indie games this year. Glory to Arstotzka.
Positives
Strong writing
Easy to grasp gameplay.
20 endings give it a high replay value
Addictive and challenging
Negatives
Amount of papers is almost too much to handle as the game goes on
Trailer