The Wolf Among Us Episode 5: Cry Wolf Review
The Wolf Among Us Episode 5: Cry Wolf Review – Introduction
The finale for Telltale's noir-inspired game series The Wolf Among Us is a marked improvement over its predecessor, In Sheep's Clothing. This 90-minute episode is viciously paced, offering well-written and thought provoking dialogue choices, with some of the best fight sequences in the series thus far. There's also a welcome, but surprising sense of ambiguity in Cry Wolf that further cements The Wolf Among Us as one of Telltale's more interesting and refreshing works. 
A Fairy Tale Ending 
What Cry Wolf gets perfectly right is making returning main character Bigby feel exclusive and special to the player. This is made possible by the deluge of intense, branching dialogue trees thrown at the player – a feature that was absent in the penultimate episode. Not only is Cry Wolf littered with said choices, but it takes advantage of all the past choices I've made in the series so far – making me both suffer and revel in the consequences that ultimately follow. The episode begins with a handful of characters citing Bigby's actions throughout his agonizing crime case – toying with my emotions and making me think twice before choosing my every move. Telltale has been known for having a series turn full circle in its final episode, perfectly showcasing its obsession over story details and choices, and Cry Wolf is no exception. It felt both gratifying and exhilarating being reminded of what type of experience I chose to have in this series thus far. 
Cry Wolf is more of a character and societal study than a mystery-filled experience
This intense tone introduced in the beginning of Cry Wolf trickles all the way down to the last bit of dialogue and scene. Past characters play important roles in solving the main conflict that has been plaguing Fable Town, and everything they have to say cannot be taken lightly. You'll have to question each character's motives behind your every decision. It was also made perfectly apparent that Telltale wanted to leave a bit of mystery in the series, of which I won't get into here, that will reward the more attentive players. 
Excellent Fight Sequences, Less Emotion
In terms of art direction, it's the same, but excellent neon-noir theme. The excellent score and aesthetic serve as an excellent back drop yet again, with the cel-shaded look bursting with color. Cry Wolf also displays Telltale's growth in offering energetic and fierce action sequences. They're the best in the series, boasting incredible scope and inventive choreography and in the case of one of them, unfiltered visual splendor. I'll just say that you'll get to experience Bigby Wolf in true, legendary fairy tale fashion. Telltale also opted to offer choices within the fight sequences themselves, which also end in certain consequences depending upon how you performed. The only problem here is that I never felt emotionally tied to these sequences, a complete contrast with The Walking Dead's finale. It felt as if Telltale were forced to top themselves in an action sense here, failing to add any sort of depth. They're more for show than anything else.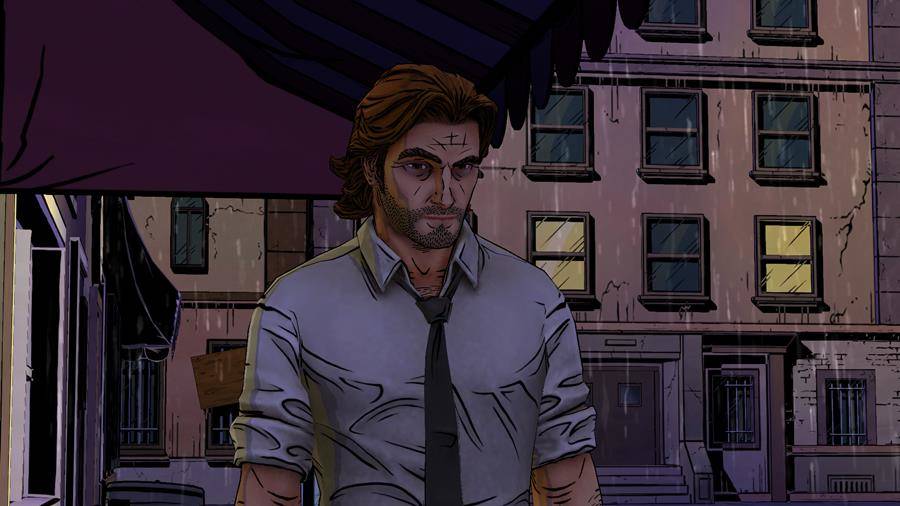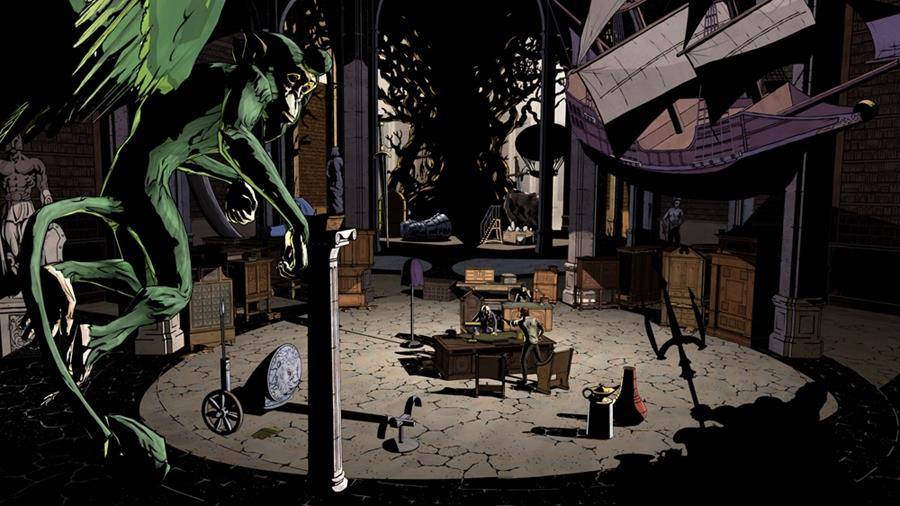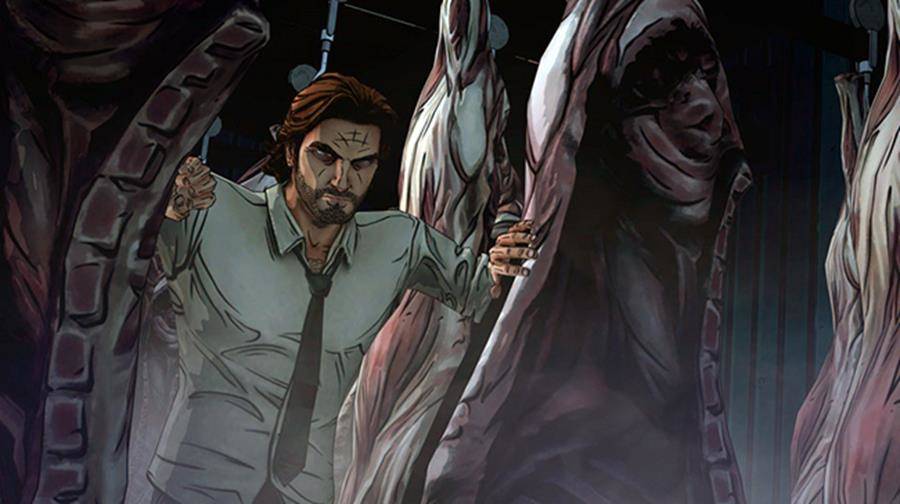 As you could have probably already guessed, there's no real detective work to be done in Cry Wolf. The interesting investigations featured in past episodes are absent here, replaced by the aforementioned fight scenes. The only excuse could be that Cry Wolf is the finale, and Telltale probably did not want to break up the pace of the episode all that much. But some of those investigations were the best bits of the entire series so far, and I really would have welcomed them as they further add to the feeling of a playing a noir-inspired piece of entertainment. 
A Simple End
Which leads to the biggest complaint I had overall, the big payoff. The pilot episode, so to speak, promised a great range of mystery and intrigue awaiting the player in future episodes. Though I obviously won't give away the conclusion, everything felt a bit too clear cut and simple in the end. The subtle ambiguity that was perfectly placed right before the credits, as I've mentioned several times already, is the only time where I felt that same mystery and intrigue, and even then it doesn't play that large of a role in the main conflict. Cry Wolf is more of a character and societal study than a mystery-filled experience, and even though that is far from a bad thing, it just felt a bit lacking for me. 
But the most important part of Cry Wolf, however, is that it does indeed offer multiple endings, which are all influenced by how I choose to play the game. Certain characters can die, while others live, which can both leave out certain story details and answers, and provide them entirely. None of this feels as dramatic as The Walking Dead's finale, but it was still great to witness Telltale's excellent writing and, as I've said, fastidious nature yet again. 
The Wolf Among Us Episode 5: Cry Wolf Review – Conclusion
Everything comes full circle in The Wolf Among Us' finale, Cry Wolf. While it has had its ups and downs, Cry Wolf yet again shows that Telltale is still the best at making your every decision feel important, with all of them affecting every aspect of the overall story. But more interestingly, this finale is also the step in the right direction when it comes to pure action gameplay. It's evident that Telltale is learning its trade in this department, which makes it even more exciting to see what the studio does next. Though Cry Wolf isn't the same emotional masterpiece that was The Walking Dead's finale, it further cements Telltale as being one of the best storytellers in the industry.
Positives
Great action
High-stakes choices
Past choices matter
Negatives
Too simple of a payoff
Lacks emotion
Trailer