New Releases this week | July 29th – Aug 4th 2013
Releases this week include a Call Of Duty wannabe, a HD remake of a 90's classic, an unacceptably hard platformer and a cute baby eating rice. With the next seven days being so light on releases, it feels like the middle of summer… oh wait it is. Pikmin 3 may just be the cream of the crop from this bunch, although the Superfrog HD remake probably has me more excited than I should be. 
As always this list was correct at time of publishing. Dates may change at short notice.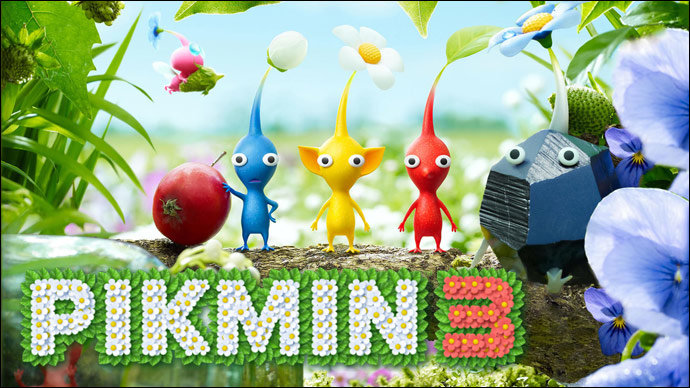 Pikmin 3

Three space explorers embark on a mission to find food before their home planet Koppai is depleted of all its resources. After crash landing on a lush green planet known to them only as PNF-404, the adventurers get separated. Can they find each other and fix their ship? How will they survive on this strange planet millions of light years from home? And who, or rather, what are these tiny creatures roaming around with seemingly magical abilities? Put those Pikmin to good use and take advantage of their abilities to find your way back to the ship.
Developed by Nintendo, Pikmin 3 is both beautiful and clever with engaging characters, cute gameplay and some interesting puzzle mechanics.
Releasing on August 4th in the US to the Wii U console.
Pikmin 3
Release Date:
Aug 4th (US)
Developer: Nintendo
Platform: WiiU
Current Metacritic Score: 88
Click to Watch Trailer
Click to buy from Amazon
---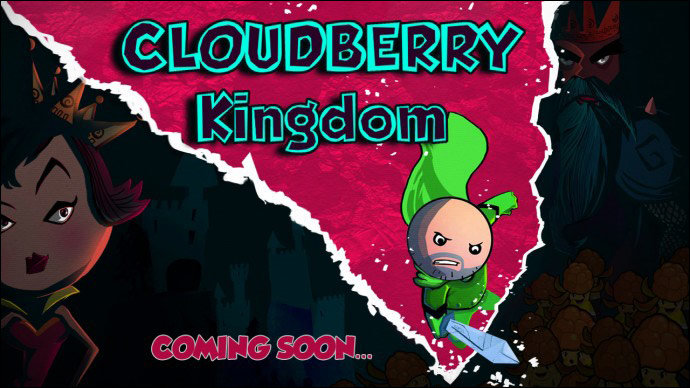 Cloudberry Kingdom

A truly challenging platformer is a rare sight these days. In fact, I'm struggling to recall the last time I couldn't beat a platforming section in any game. That may change this week however with the release of Cloudberry Kingdom by up and coming developers Pwnee. Pwnee have spent the last 2 years building and fine-tuning an AI that can adapt to the players' skill. No matter how good you become at Cloudberry Kingdom, the game will always be at your skill level. Be bad at platforming and the game will go easy on you; be good, and the game will learn from your play style and create levels to keep you on your toes.
Each level is randomly generated and tailor-made to your skill. Levels are infinite. There's literally no end to this game. The only thing holding you back from advancing is how well you navigate each level. Watch the trailer in the link below and see for yourself just how ridiculously hard this game becomes if you show it you're worthy.
Cloudberry Kingdom releases for PS3 on July 30th, 360 and Steam on July 31st and WiiU on August 1st.
Cloudberry Kingdom
Release Date:
July 30th (PS3)
July 31st (360 & Steam)
Aug 1st (WiiU)
Developer: Pwnee
Platform: PS3, 360, WiiU, PC
Current Metacritic Score: No score yet
Click to Watch Trailer

---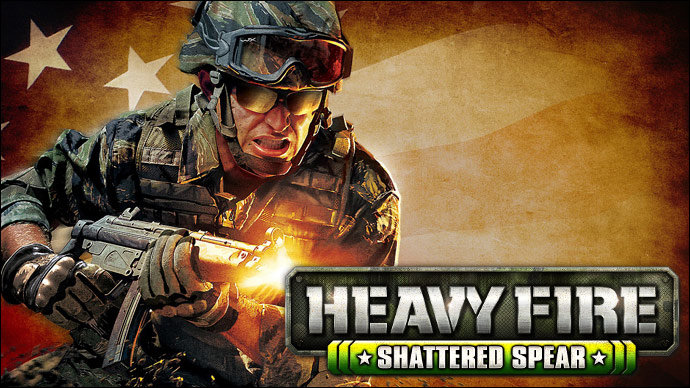 Heavy Fire: Shattered Spear (UK)

While this COD wannabe is probably sitting in most bargain bins around the world by now, UK gamers have yet to see how bad it is first hand. Released back in January pretty much everywhere except UK/Ireland, Heavy Fire: Shattered Spear was met with poor reviews by critics.
Heavy Fire frequently looks like a last-gen leftover – Official Xbox Magazine
As an on-rails shooter, Heavy Fire is more akin to Time Crisis than any of the Infinity Ward/Treyarch offerings. Reportedly taking on average under 2 hours to complete and the four player split-screen doesn't really improve the game's longevity either. Still, it's only £20, and it supports the Move controller on PS3. 
Heavy Fire: Shatter Spear releases on August 2nd in UK and Ireland on PS3, 360 and PC.
Heavy Fire: Shattered Spear
Release Date:
Aug 2nd (UK)
Developer: Mastiff Games
Platform: PS3, 360, PC
Current Metacritic Score: No score yet
Click to Watch Trailer
Click to buy from UK Amazon

---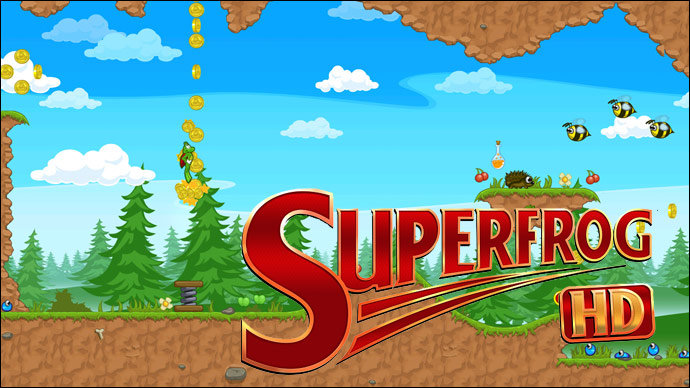 Superfrog HD

Team17 are bringing a 90s classic back to life with the release of SuperFrog HD for PS3 and Vita. This critically acclaimed old-school platformer was much loved back in the day. Now 20 years old, Superfrog hops back onto the scene in stunning updated HD graphics.
The talented people behind the Worms franchise have done more than just update the visuals however. Cross-controller support allows you to use your Vita as a PS3 controller to uncover secrets PS3 exclusive players will never uncover. Hop into a portal on your TV and Superfrog will appear on your Vita ready and willing. Additionally, save your game on your PS3 and continue playing from where you left off on your Vita thanks to Cross-Platform Continuation Play.
With 24 brand new levels, 24 classic levels, a level editor and the new Frog Trials (endless runner mode), Superfrog HD will appeal to the older generation of gamers and those experiencing this platformer for the first time.
Oh I almost forgot, this is a Cross-Buy title. Buy it for PS3 and get the Vita version free and vise versa.
Superfrog HD
Release Date:
July 31st
Developer: Team17
Platform: PS3 and Vita
Current Metacritic Score: No score yet
No official trailer but click to watch original Amiga Superfrog Gameplay

---
---

PC/Mac releases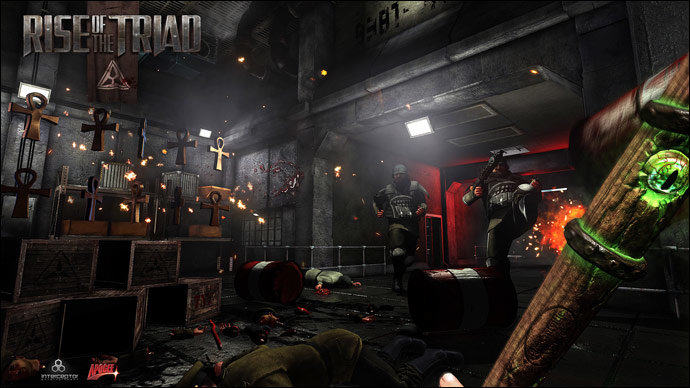 Rise Of The Triad

With a trailer emphasising its over the top, gory, bird-flipping, eye-ball splattering and limb dismembering action complete with pumping hard rock music, it's clear developers Interceptor Entertainment are taking the not so subtle approach with their marketing strategy. Rise Of The Triad is a remake of one of the classic PC shooters of the Doom/Quake era. From the official website:
ROTT is bloodier and more ludicrous than ever, with full character and enemy dismemberment.
Featuring a full single player campaign and a more than adequate multiplayer mode, ROTT may just be a fun game to play for some mindless action fun with friends on Steam. Use crazy weapons such as Flamewall, Firebomb, Split Missile, Drunk Missile and the ever so popular fan favourite, the Excalibat!
ROTT also includes a level editor, over 100 Steam Achievements, and a plethora of secrets, collectibles and hidden areas to find.
Rise Of The Triads releases on Wednesday on PC and Mac.
Rise Of The Triad
Release Date:
July 31st
Developer: Interceptor Entertainment
Platform: PC/Mac
Current Metacritic Score: No score yet
Click to Watch Trailer

---
---

Handheld & Mobile releases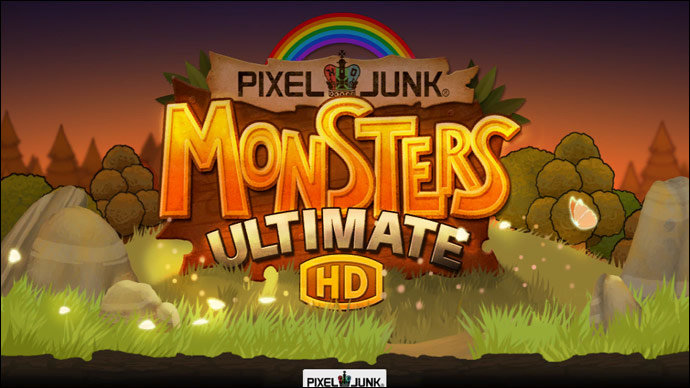 PixelJunk Monsters: Ultimate HD
Released in 2007 as part of the PixelJunk series, developers Q-Games have passed the torch to upcoming developers Double Eleven to release Pixeljunk Monsters on the Vita. Hailed as one of the best tower defence games in recent years, this handheld remake shows interest in the game hasn't waned just yet.
In PJM you play as Tikiman and are forced to protect your babies from a constant barrage of enemies by building towers to stop them in their tracks. Collect coins dropped by enemies to convert nearby trees into arrow-shooting guard towers, catapult towers, fire towers and even AA towers to stop incoming attacks on your hut.
It sounds simple enough, but don't get lazy. One weak link in your chain of towers can bring hell down upon you.
PixelJunk Monster: Ultimate HD releases for the Vita on Tuesday in North America and Wednesday in Europe.
PixelJunk Monsters: Ultimate HD
Release Date:
July 30th (NA)
July 31st (EU)
Developer: Double Eleven
Platform: Vita
Current Metacritic score: No score yet
Click to Watch Trailer
---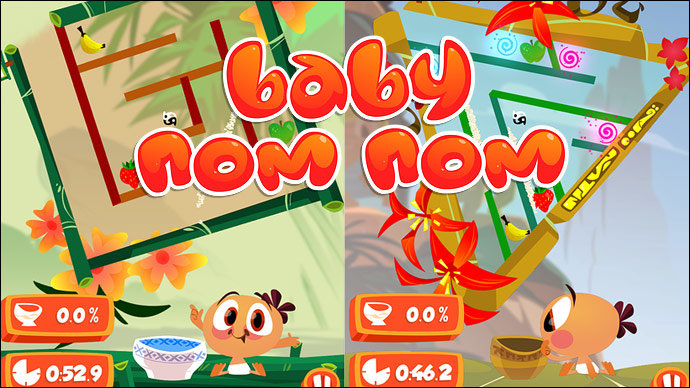 Baby Nom Nom
Spin a maze to guide a flowing stream of rice into a babies' mouth. Sounds like child's play to me.
36 increasingly difficult mazes await you in this fun pick up 'n play game by Playrise Digital. Rotate the maze while avoiding traps and hazards to guide the rice into a temperamental baby mouth. The longer you take, the more irate the baby becomes. Crying and whimpering as he awaits his daily feed.
Baby Nom Nom doesn't have an exact release date. All sources simply say it'll be released in July. With this being the last week of July I can only assume it's arriving on iPhone in the coming days.
Baby Nom Nom
Release Date:
July
Developer: Playrise Digital
Platform: iPhone
Current Metacritic Score: Not listed
No trailer found


---
---
That's it for this week. Come back next week for a new list of releases.
If you see any mistakes in this article or know of a release not listed here feel free to email us or contact me directly on Twitter. @SteveVanEekeren