Family Guy The Quest for Stuff Review
Family Guy The Quest for Stuff Review – Introduction
So it's come to this. The Simpsons Tapped Out was a huge hit, and Fox have decided to double dip, bringing the idea to another of their hit animated shows. Family Guy The Quest for Stuff begins when Peter Griffin, hopeless sap and generally terrible person, accidentally burns down the city of Quahog while fighting with a giant chicken. It's up to you to rebuild it, but not without helping Bonnie dance on a stripper pole, Quagmire release a certain type of farmyard animal from a bottle and Chris masturbate. Get to it!
Family Guy: The Game
The Family Guy team has always tried to bring the spirit of the TV show to their games. Like interactive outings involving The Simpsons, the original voice cast is always involved and, when appropriate, the writers and animators. The Quest for Stuff continues that tradition, successfully capturing the show's humour and style while also offering a distraction for fans of the MMORTS genre.
The opening cutscene offers a few minutes of fully voiced animation – a mini-episode summing up the events leading to the game – and then you're thrown into the deep end. Rebuild Spooner Street, the iconic row of houses in which Peter, Quagmire and Joe call home. Only Peter is around after the fire though. Finding everybody else is part of the objective of the game. 
The Quest for Stuff is going to entice you in, use you and then disappoint you
You'll do this by completing quests. This largely consists of one of two things. You'll either click a character and order him or her to perform a specific action, or you'll buy a certain thing, click on a character and have them interact with that new thing. There's not a huge amount of variety in the gameplay. Every action takes a certain amount of time to run through until it can be considered complete. Building a house in the early part of the game might take ten seconds, but a flower bed later on could stretch to two hours. This swing happens far earlier than it should.
If you're looking for something to play in a single sitting, this isn't it. Within an hour of play you'll find yourself rapidly running out of objectives. You can walk away and watch for push notifications when your current actions have been completed, but you can't actually carry on playing. That's if you play for free. The alternative is to shell out on in-game currency which, unsurprisingly, speeds up your Quest for Stuff quite sizeably.
The Quest for Clams
Money, money, money. Family Guy: The Quest for Stuff wants your cash, and it's not very subtle. It'll make it difficult to earn Clams, the in-game currency that you can use to skip long waiting times or purchase Quahog's most famous landmark. It'll push you to the real money store every chance it gets, even going so far as to make buying currency a quest.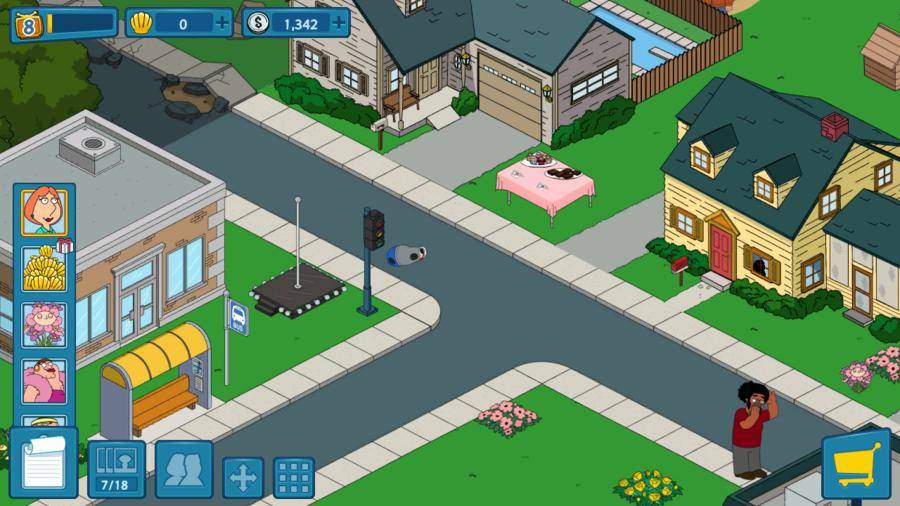 There's also coins on offer which, at first, seem to be in plentiful supply but soon start to look pretty rare when you realize how few you receive in return for long character actions. You're given one "undocumented worker" with which to build, and you're forced to buy more if you want things to speed up. It costs $1.99 for each of them although, as I'm sure the developers would be quick to point out, "it's possible to earn clams in-game." Yeah, it's possible, so long as you are happy to spend years playing.
As Funny as the Show
On the bright side, the game managed to be as funny as the show's recent seasons. If you laugh out loud every time you see a black person acting like a "black person," or a Jewish person "jewing it up," you're going to chortle away for hours. The occasional character interaction that'll raise a smile in the TV show is ruined with text delivery and a reliance of self-reference (something they've borrowed from the reference material anyway).
There's not much room to be clever here, and so you're left with only occasional amusement, mostly at the expense of people who will actually shell out money to continue playing.
Quahog Returns
The more you play, the more your city begins to look like the one from the show. The visuals are fantastic, and the animations are quite impressive as well (if short). The things you can get characters to do are all character-driven, and that includes reactions to one another. As much as the developers have tried to turn the city of Quahog into their own little cash printer, they're equally fans of the show.
If you laugh out loud every time you see a black person acting like a 'black person,' or a Jewish person 'jewing it up,' you're going to chortle away for hours
The voice work is generally very good as well, and when you get to something more than just a grunt you'll appreciate that this really is a Family Guy game.
Just not a very good one.
Family Guy The Quest for Stuff Review – Conclusion
The Simpsons Tapped Out worked because it was fair. It was possible to do so much in Springfield without ever having to pay a penny. Quahog is different. Family Guy: The Quest for Stuff is interested in only one thing. and it's not even going to call you afterwards. It's going to entice you in, use you and then disappoint you.
Positives
True to the TV show
The video and audio work is great
Negatives
Not especially funny
Wants your money
Giving the developer money is actually a quest
Endless waiting
Trailer