BlackBerry Motion Review
I've been using the BlackBerry motion for a good 2-3 weeks now, and I'm thoroughly impressed with the product in my hands. BlackBerry gets a lot of flack and hate, some deserved and some not, but with their latest two cell phones – the BlackBerry KEYone and the BlackBerry Motion – they are letting the cellphone marketplace know they are still alive and well, and ready for business. Whether a classy businessman, or someone who enjoys having phone and data security a key priority, you shouldn't look past the BlackBerry Motion for your next everyday smart phone.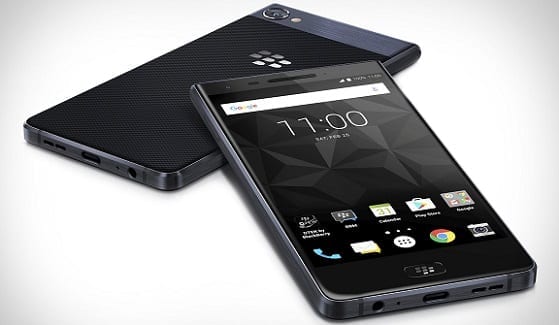 In the Box
Your BlackBerry Motion will ship with all the standard cell phone products in the box, including the reams of paperwork almost nobody actually looks at! Inside you will get a USB-C connector and USB wall outlet plug, a set of headphones – which are a step up from previous BlackBerry models in my opinion – and the sim card eject tool.
Phone Feel and Display
There is a lot to love about the look of the BlackBerry Motion. It's got a bit of chunkiness too it to let the user know they are using a quality phone, but also works well to incorporate a sleek, professional appearance that should be the envy of all cell phone manufacturers. The device is roughly 155.7 mm x 75.4 mm x 8.13 mm, making it one of the larger, more hefty devices at market right now. The display itself is a 5.5 inches, with a resolution of 1920 x 1080, perfect for all your favorite games and movies on the go. The DragonTail Glass LCD screen coated in a Nano-diamond anti scratching agent. Although it is odd to get use to at first as it doesn't feel like your traditional cell phone screen, the coating definitely works; for those interested, there are more than a few reviewers with YouTube videos on this phone, running butter knives over the screen with some considerable pressure, and not leaving a mark!
No matter what I'm doing on my BlackBerry Motion, I've never once second guessed myself on whether or not this was the device I wanted o use. For sure, there are features in the $1000+ competitors phones that I would probably enjoy, but for roughly 600 Canadian, almost half the price of the competitors, its doing a lot more than I thought it would! The phone feels great in your hands, and has a professional look about it that will be attractive to business people.
One of the better features, where it dominates the competition, is in its finger print scanner. This scanner has never failed me, even if my finger was damp or dirty, I was still getting from my locked screen to my home screen in less than a second. So foten on my other phones I've had to dig out my password and type it in because the scanner continually failed me. I've only even had to put in my password on the Motion when rebooting from dead, or from a complete power down.
Gaming and Video
We are a gaming website first, and a tech website second, so obviously my first trip upon loading it up was to the Google Play store to see what games I could download. $30 dollars later, I had some of the most graphically demanding titles currently available on Android devices; as I had seen in many reviews of the BlackBerry Motion, I fired up Asphalt 8: Airborne, the most technically and graphically demanding game available on the Google Play store. I was floored. The BlackBerry Motion handled the game almost flawlessly. Sure, there were a few hiccups when moving between loading screens, but the graphical output was rivaling most, more expensive, smart phones currently available.
Netflix and YouTube really showed off the quality of the screen that BlackBerry put into this device. With the capability to display at 1080p, I could not notice a difference between this device, and other more expensive cellphones I've looked at over the past year. Pictures also look great on the device, however using the camera itself in low light is not ideal as it seems be definitely lacking in this department.
Android OS, but BlackBerry Security and Features
I'm always an honest individual when publishing my reviews, so I won't spare any punches on this statement: the BlackBerry OS operating system as a whole was really bad, with only a few of its many features something you would want on your own phone today. Thankfully, I think BlackBerry has also come to this realization, with all their phones now supporting Android 7.1.1 with integrations of some of BlackBerry's best features: BlackBerry Hub and the security.
The BlackBerry Hub was a much bigger deal many years ago when not every cellphone company had integrated a notification hub into their operating systems, but despite ever company doing it now, BlackBerry still seems to have the edge in this department. The hub on BlackBerry is phenomenal, allowing me to take quick stock of all my social media channels, work emails, and personal appointments, all with a quick swipe down from the top. For me, BlackBerry Hub allows the opportunity to take a look at my day, what has been finished, what needs to be finished, and what can wait. It's a great feature on the BlackBerry that is carried over and integrated into Android 7.1.1. For long time BlackBerry fans, this will definitely give them a sense of comfort knowing their favorite BlackBerry features are still available on this Android phone.
Alongside the hub, BlackBerry users are generally very concerned about the security of their phones, which is why BlackBerry was such a popular cellphone for business and governments around the world. However, a poor OS has always held the company back, with limited app support and lack of features that other companies were bringing to the table. The trade off for many companies and governments was more phone flexability, but less security. Its a tough choice to make.
With the Blackberry Motion, that choice is no longer hard. All the same great security features found in previous BlackBerry devices are found here again, despite the Android OS. Knowing their phones are as secure as ever will bring a number of people back to the BlackBerry brand, and getting your hands on the Motion is a great place to start.
Conclusion
There is a lot to love about the BlackBerry Motion, and very few things I didn't like. We are in the early days of this phone, but I've already found obtaining accessories from local retailers a challenge, meaning everything I purchase had to come from online retailers, which doesn't allow me to personally browse and feel the cases I'm interested in buying. Outside of that and the lackluster camera and video options, it is hard to find a fault here. The Battery in this device will push you multiple days without needing a refresh – and that was me using it heavily to play games and watch Netflix – and the USB-C connector will provide you with areliable, FAST charge, no matter where you are. If you are in the market for a new cell phone, look no further than the BlackBerry Motion. You will not be disappointed.
Trailer