PES 2018 Review
This is the second consecutive year that GamesReviews is reviewing the yearly Pro Evolution Soccer title, and although we hate to sound like a broken record, the game again is the paramount soccer experience available on console, but is again sorely lacking the features and licences content that is available in FIFA 18. That being said, for those looking for that ultimate experience, PES 2018 is a must own!

Improvements to this years PES title are evident from the moment you launch the game, and for lifelong PES fans, the changes just push the series towards a more accurate, pitch experience. The biggest changes this time around are dribbling and player characteristics.
Slower Pace, Tighter Dribbling
Sports titles are generally fast paced to allow players to finish more matches in a shorter period of time; this has been common place across all titles in recent memory, but Konami is working to create the ultimate soccer experience, and in reality, soccer is not a fast sport.
Konami has slowed things down considerably in PES 2018, giving players more time to strategically work their way down the field, utilizing all 11 players on the pitch. This not only removes the tendency to hammer that sprint button all match, but also allows for more precise one-on-one moments during the game.
Walking around players in soccer titles has always been almost as exhilarating as scoring a good goal, especially when how you get around the opposition can create some highlight real moments. Konami has upped the dribbling and movement game by literally slowing everything down, and putting more control of the player into the controller. Precise moments are now the name of the game here, and slight touches left or right on the joystick while utilizing those close dribbling mechanic will have a big consequences on screen.

Getting a handle on this new dribbling technique will take a bit of time, especially as the pace of the game slows dramatically, but once you master it, and learn when and where you should use it, it will make your entire experience much more enjoyable! The handling hasn't just been limited to players feet however, as Konami has also increased a player ability to bring the ball down from a cross, using more parts of his body to accurately and smoothly bring the ball to his feet. This has been sorely missing in all soccer titles to date, so to see quality players – as a players ability is based on his own personal stats – bring in crosses that aren't necessarily perfect is incredibly satisfying.
Shielding the Ball
Konami has also improved ball reception mechanics. Players who accept the ball with their back to the goal, will now be able to use their bodies to shield the ball, allowing them time to execute a quick turn for a quick dribble or shot, or allowing them to accept and then lay the ball of nicely to teammates. It is a strategy often used in real soccer matches, and Konami is bringing that quality to Xbox One and PS4.
Don't expect it to work every time, mind you, as Konami's next improvement to PES 2018 could decide which players can pull of these new moves, and which cannot.
Characteristics and Quality Matter
Konami has put a huge emphasis on player quality this year, meaning only the best will launch bombs from outside the box, and be able to utilize the close dribble to their full advantage. And so it should be, as not all players in the soccer world have been created equal.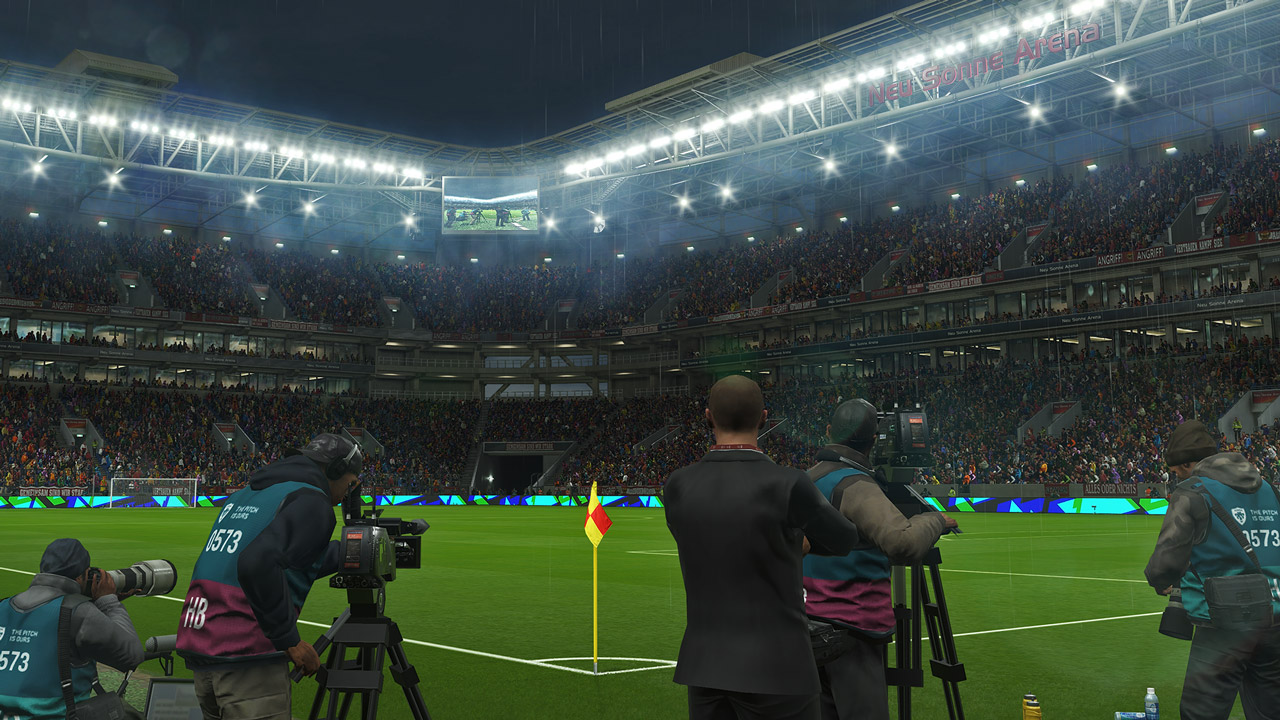 When playing through the Champions League mode with the handful of licences teams that are available, lifelong soccer fans will quickly be able to pinpoint the superstars on the field, whether by their name, or by their abilities in PES 2018.
Who you use in each situation really does matter, and understanding the strengths and weaknesses of your players will go a long way in PES 2018. And all characteristics matter. A large defender, for example, will easily out-battle a small forward for a 50-50 ball, or a ball in the air, but should that defender make a mistake and allow the forward to grab the ball, the foot race to the goal is likely over, favouring the faster, smaller forward.
The closer you get to the goal, the less skill has to do with anything, especially when an 18 – or perhaps a six – yard box scramble ensues. For the most part, skill goes out the window and players are left smashing that shoot button as the ball pinballs around the box, either getting cleared or ending up in a goal.

Conclusion
PES 2018 does continue to build on the system has that need developing over the last number of years, and things do continue to get better. As always, the franchise lacks the licences content available in FIFA 18, as well as the game modes.
That being said, PES is still the paramount soccer experience on console, and for those who love the realistic experience – myself included – I never pass on a match or two, either with friends, online, or even against AI. If you know what you are getting before buying, PES will not disappoint!