Out of the Park Baseball 14 Review
Introduction
Unlike most iterative sports game series, the Out of the Park development team never rests on their laurels in the off season, making it one of the only sports titles worth purchasing on a yearly basis. Out of the Park Baseball 14 is no different: where OOTP13 received a number of cosmetic changes and feature additions, OOTP14 is about refinement, reworking a lot of the game's code and adding another layer of depth to its core gameplay mechanics – in other words, it's a completely different, new experience, something many other sports titles can't boast (simulation or not), especially in the last year or two.
Gameplay
There's no easy way to explain the breadth of gameplay possibilities in Out of the Park 14. Essentially, it's a text-based baseball simulation where a player assumes the roles of general manager, scouting director, and coach of a Major League Baseball organization. It sounds like quite a bit – and it is – but one of the beautiful things about Out of the Park is the ability to customize the experience.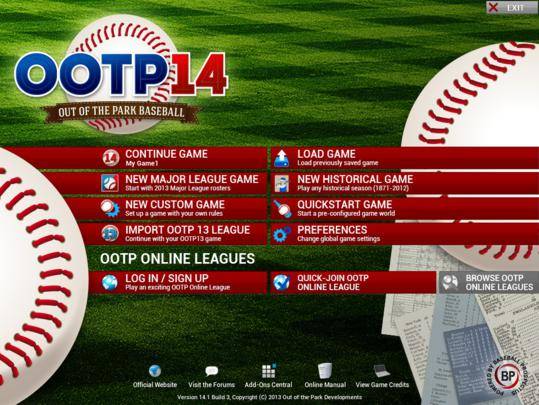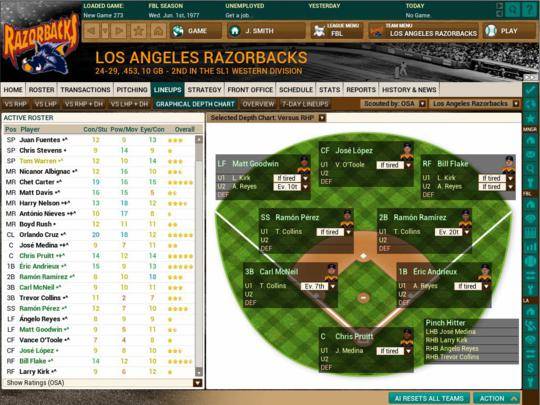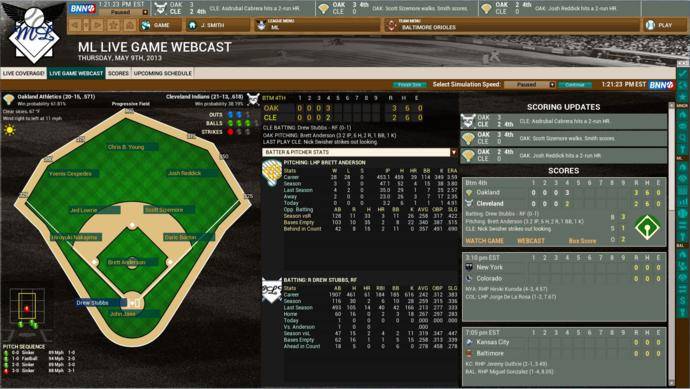 On the most basic levels, OOTP 14 can be played by a single player offline, controlling one team at a time or managing an entire league as the commissioner. The game can also be played online, in full-fledged leagues with all the same features as its offline component. Deeper than that, players can fully customize the experience they want to have: using current 2013 MLB rosters (rosters that are updated numerous times throughout the season), historical, fictional players, or a mix of all three, playing in the MLB, the minor leagues, or just creating your own world of baseball, with multiple major and minor leagues in multiple countries.
Once you've selected all of those factors (done through a handy, fluid game set up screen that controls everything from team names and locations, to league size, stat modifications, and custom playoffs), then the customization is parsed further to a management level. Players hire their coaching staff, and delegate tasks. Want to control every single roster move and scouting decision in your 120-man organization? It's all there, from free agents, to Rule 5 drafts and waiver wires – OOTP 14 even adds a few twists like the International Amateur pool, which allows teams in the league to add promising prospects mid-season outside the drat (though it will cost a pretty penny to get that 16-year old shortstop from Venezuela, and develop him into an All-Star).
Things like signing players from independent leagues and negotiating draft bonuses certainly sounds steered to the dedicated sim fan – and for good reason; hardcore stat heads (like myself) can get lost in OOTP 14 for hours. Over the years, however, the OOTP team have continued to develop their AI and streamlining the experience, which makes a lot of the complexities of organizational management more accessible to someone who might not understand the lengthy set of rules that apply to any roster-related situation – and included the ability to automate it all, with the game's assistance.
A very important component of the OOTP series is player development, something the team really focused on this year's edition – and it really shows. With ever-restrictive rules by MLB on signing draft picks and international amateurs (rules that can of course, be turned off if desired), developing talent has become more important than ever in baseball, and the re-coded player creation and development systems reflect this really well. There's no better feeling than signing a sixth-round pick and watching him blossom from a two-star prospect into a five-star super stud, thanks to a careful balance of talented coaching and career progression.
Another new feature that really enhances this is the detailed Player Development Tracker, which keeps concise records of how a player's growing (or regressing) through their entire career. Previously, knowing if a player was improving could only be parsed out by basic ratings assigned by scouts and careful examination of statistics. With this new page added to every player's scouting report, it becomes easy to see what the player's progression has been like, right back to the day he was drafted.
Of course, there are multiple ways to actually play Out of the Park. Like every other non-simulation game, it can be played on a day-to-day basis, manually managing each and every contest your major league club plays on. If there's a disappointing aspect to the game, it's there, where the only evolution to the actionless in-game simulation screen is some more lively commentary text – which is nice, but can't really replicate the tension and excitement of actually watching the simulation play out on screen (as in the Football Manager series, for example). Even for a game like Out of the Park baseball, there are some things too complex.
Personally, I've always preferred to play Out of the Park by simulating days/weeks/months at a time, investing less time in the micro management of rosters and development, and focused more on the financial aspects: managing payroll, team expenses, signing extensions, and negotiating arbitration amounts in the off-season. But this is merely by preference: Out of the Park baseball encourages you to play the way you want to, constantly throwing in variables like injuries, trade offers, and new owners (who may have different priorities than the previous one) to keep gameplay feeling fresh, even after playing through 70-80 years in one league.
Graphics/Sound
As a text-based game, there aren't a lot of graphics (or sound) to discuss with OOTP 14. The new menu arrangement and visual style from last year largely carries over, with a few tweaks to text size and the color scheme to keep it from feeling completely stale. OOTP 14 doesn't necessarily strive to be gorgeous: created player pictures are simple for the sake of optimization, and there's nothing gaudy about the in-game presentations or any of the many menus and screens you'll come across in the game.
This isn't to say it's ugly or hard to look at – the game is created for those who love statistical analysis and projection, and Out of the Park's visual design does everything it can to maximize functionality, both accepted and welcome in a complex game of intricate business simulation (which is what Out of the Park baseball is, at its core). And while OOTP doesn't have an offical MLB license, there is a thriving modding community on OOTP's website that provide easy to add image files that add the correct colors and logos of MLB teams, right down to historical player faces for retired players of the late 1800s.
Conclusion
I've been playing Out of the Park baseball since 2004 – and in each of the last 10 years, I've consistently logged more hours with OOTP than any other game. It's a business simulation built out of a love for baseball, the only sports franchise I wouldn't hesitate to pay full-price for on a yearly basis, because I always know I'm going to get a fresh new experience with handfuls of new features to enjoy. This year is no different: OOTP 14 is another polished, evolutionary entry in the best yearly simulation series around. Replay Value: 10.
Buy OOTP Baseball 14 PC & Mac