TOP-3 Gambling Themed Video Games You Might Have Missed
Can't imagine your life without computer games and online casinos? We have found a way to combine both! Video games and gambling activities have much more in common than you may expect from afar. Let's break from bombing, endless shooting, and fighting with monsters. In this article, we will look at some computer games where you can visit casinos, spin a wheel, and find some other form of gambling.

Image source: Pexels.com
The Witcher 3
The Witcher 3: Wild Hunt is an exciting open-world RPG. You play as Geralt of Rivia, a professional monster hunter. His main task is to find the Child of Destiny. The hunter's path runs through dangerous mountain passes, islands with pirates, abandoned caves, and trading cities. Since childhood, witchers have been preparing to fight monsters. Through enhanced training and mutation, they acquire superhuman abilities. Their strength and speed of reaction will be the envy of every superhero.
Destroy enemies using upgraded weapons, magic potions, and combat spells.
Make deals with witches, warlords, and common people.
Hunt various monsters that hide in the dark. With the money you earn, you can improve weapons and buy armor.
There are many other ways to spend money in The Witcher 3. For example, you can bet on horse racing or play a game of chance called Gwent. It can be the perfect way for visitors of ruby fortune online casino to have a good time and get away from monster battles. Gwent is a fun card game based on both strategy and luck. Some gamblers even bought The Witcher 3 just to enjoy Gwent.
Fallout: New Vegas
Fallout: New Vegas is a beautiful RPG from Bethesda Softworks that opened the door to the world of post-apocalyptic America. The main character of Fallout: New Vegas is a simple courier who needs to deliver a package. Halfway through, the courier was shot by an unknown person. The hero was accidentally found by a robot who took him to the doctor. From that moment on, the courier steps into the path of a fighter and tries to find those who want to kill him.
Compared with Fallout 3, the new part of the game has received richer character customization options. While exploring the world of Fallout, the player can install special implants that improve the characteristics of the main hero.
Fallout: New Vegas is a spin-off to the Fallout series, featuring several elements from Fallout 2. This is one of the most entertaining computer games that features gambling. During the game, players can move through the Mojave Desert and dilapidated Las Vegas and visit some land-based casinos. But do not forget that you can meet dishonest players and dealers who will try to cheat you. So you should avoid playing unfair slot machines and roulette. Keep in mind that theft attempts may also happen inside casinos, so remain vigilant all the time.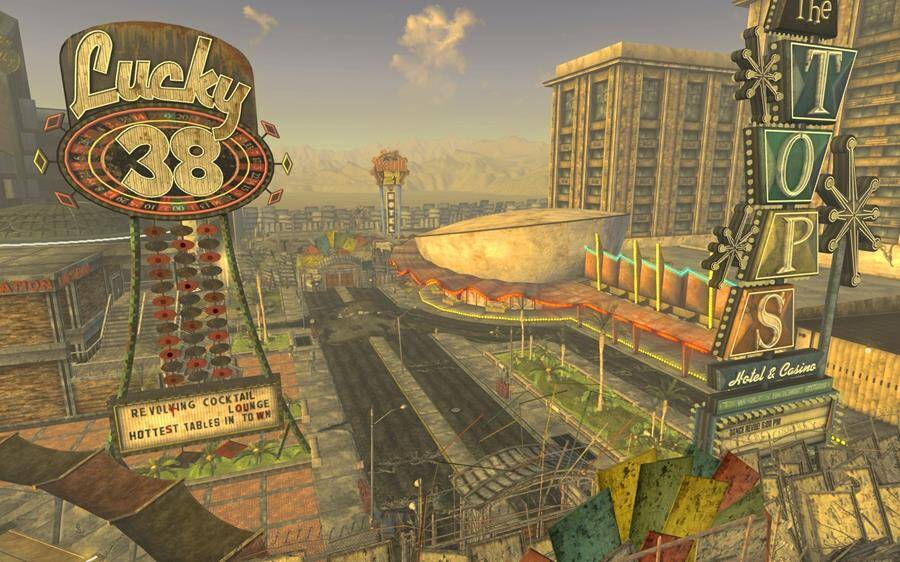 Image Source
GTA: San Andreas
Now it's time to go back in time and try one of the best video games with gambling. GTA: San Andreas is the fifth sequel of the GTA series. Five years ago, Carl Johnson left Los Santos – a city of drugs and corruption. He returned home to find his mother killed and his friends in trouble. Carl needs to restore justice and earn money for a luxurious life. He has only one choice left – to conquer the streets of San Andreas.
The gameplay of GTA: San Andreas is reminiscent of previous games in the series. The game combines the genres of action and car simulators into one huge game world. Now the hero can swim and climb stairs – previously, these functions were unavailable. You can use cars, helicopters, and even a jetpack to move.
While playing GTA: San Andreas, players have the chance to participate in casino table games, including Roulette, Blackjack, Video poker, etc. Various slot games are also available inside the casinos. High rollers can borrow money from the casino and get their luxury penthouses.
Conclusion
The distance between gambling and computer games has never been that far apart. Many popular games, including GTA: San Andreas, Fallout: New Vegas, and The Witcher 3, provide interactive casinos for avid players. We found the most beloved games, but the list is not exhaustive. PC, Play Station, and other consoles offer a new world of opportunities, so it's a great time to grab them!