2023 is Set to be the Year of the Slot Games
As we head into a brand-new year, the team here at GamesReviews are incredibly excited about the upcoming year in the world of online slot games. Online slot machines are expected to be one of the most played online games in the world in 2023 and, if one looks closely enough, it is pretty simple to see why. Online slots games are very sophisticated, can payout lots of cash and are quite addictive.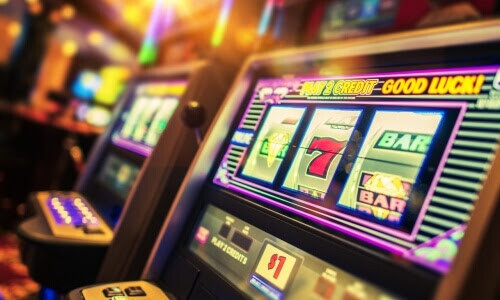 This article will take a look at and review the top five slot games released in 2023. However, before that, we will go through some basic information regarding what to look out for in new slot games including the features available and the RTP and payout factors. Following on from the reviews, we will inform you of where you can play these slot games. Please bear in mind that these games are available to be played in the United Kingdom and at online slot sites in the United Kingdom.
Online Slot Games: Separating the Wheat from the Chaff
There are literally tens of thousands of slot games available to be played. The majority of online casinos have stocks of over 1,000 slot games in their library, so you can play a different slot game every day for over three years! However, let's just say that not all slot games are created equally. What we mean by this is that some are far better than others. But what makes one slot better than another slot? Let's delve a bit deeper into it now.
The Greater the Features, The Greater the Fun, But Don't Forget the Theme
A slot game's features are what generates excitement and the theme is what gives the game heart and character. In 2023, there are dozens of features which developers are able to add to their slots. These features are inputted in order to help generate bigger wins. Cascading reels, increased multipliers and a variety of others all do this job. However, the way players fall in love with a slot game usually revolves around the theme.
Slot themes come in lots of different shapes and sizes, so to speak. Whatever theme you can think of, we can pretty much there has been a slot game made out of it. From space and god themed slots to online slots based on Ancient Rome, Ancient Egypt and Hollywood movies. A slot's theme helps to bring the game to life. There is a good reason why developers spend so much time and money developing and perfecting a theme.
Playing Online Slots to Win: Return to Player and Maximum Payouts
Of course, whilst there are plenty of gamers who play online slot games for the aesthetic and excitement, there are also many who play in order to try to win as much money as possible. At the end of the day, online slots are gambling machines and are designed to get players to invest their own money in them. The two most important factors to look out for for any gamers who play slots solely to win money, are the slot games return to player (RTP) percentage and the maximum potential payout which can be won.
Return to Player (RTP)
Eever online slot machine has a return to player level which is commonly known as RTP. This is the theoretical payout of the slot machine over a prolonged period of time. For example, if a slot game has an RTP of 96%, this means that for every £100 put into the game, the user will win back £96, in theory. Of course, this does not take into account the luck factor involved.
Maximum Payouts
Pretty self-explanatory, but the maximum payout factor is the maximum amount of money which can be won on any given slot machine. This is usually in the form of an amount multiplied by the wager. For example, if an online slot game has a maximum payout value of 5,000x, this means that the player can win a maximum of 5,000 multiplied by the amount they bet.
Top Five Online Slot Game Releases in 2023
Below, we have listed what we believe to be the top slot game releases so far in 2023. We have worked together with SlotsHawk.com to bring to you the best UK online slot games in 2023, we hope that you enjoy.
Rise of Atlantis

Developed by Blueprint Gaming, Rise of Atlantis is based on the mythological ancient underwater city of Atlantis. Blueprint is one of the best and most well-known of all slots developers. Blueprint slot games usually come with great graphics and offer competitive RTP. Features in RIse of Atlantis include a free spins round offering up to 20 bonus spins as well as a scatters pay feature where scatter symbols unlock both the bonus game and count as multipliers.
Rise of Atlantis was released in January 2023 and is likely to be one of the most popular slots of the year.
Slingo Golden Envelope

Slingo slots are a cross between online slot games and Bingo. They offer the best of both worlds and are extremely popular in the UK. The Chinese themed Slingo Golden Envelope offers a maximum prize of 216x the wager as well as a competitive RTP of above 95%. The part of this slot game we enjoy the most though is certainly the theme and the quaint Chinese soundtrack which goes along with the game.
A perfect mix of slot machine gameplay and online bingo, Slingo Golden Envelope is one of the most played online games in 2023.
Deal or No Deal Bankers Riches Megaways

With a grand prize of £5,000, Deal or No Deal Bankers Riches Megaways is based on and themed around the Deal or No Deal television show. This is a new Megaways slot which means it utilises the Megaways engine. Megaways slot games offer more chances of winning as the engine adds an extra reel to the game which can increase the total number of paylines to well over 100,000.
There are several different slot games themed around Deal or No Deal, but this one might be the best all round one released yet.
Blood Hunters

Horror themed slot games are popular and Blood Hunters is one of the newest. Created by Leander Games, Blood Hunters is themed around a team of vampire hunters. This low volatility slot game offers a maximum payout of up to 7,500x the wager as well as an RTP of 94%.
Horror slots are fun to play and can often be rather creepy to play through. We expect Blood Hunters to be one of the top UK slots in 2023 due to its great theme and high max payout.
Rex The Hunt

Online slot games themed around dinosaurs are surprisingly uncommon. Fortunately, Thunderkick released Rex The Hunt in 2023, which has quickly become one of the best Dinosaur themed slots ever. With an exceptional number of great features, a competitive RTP of 94% and a max payout of 4,000x, Rex The Hunt is a great choice for any online slots player.
Several different Dinosaurs feature on the game reels, but it is the TRex which is the one offering the biggest payouts.
Where to Play Slots in 2023
As aforementioned, this guide was written with UK gamers in mind. All of the slot games listed above can be played at UK online casino sites. Of course, you must be at least 19 years old to play them as they all revolve around gambling. You can also play the games for free, you still have to be 18 but it means that you can play for enjoyment rather than for money. In order to play for free, simply head over to the website of the slots developers.
Just ensure that you check the games library of the online casino you are thinking of playing at. All online casinos offer different games, so it would be a shame if you were to register an account and deposit money and then find that the slot game you want to play is not available!