Nintendo Direct for 3/3/16 Announced
Nintendo of America announced the first full Nintendo Direct for 2016 today! When is it and what can we expect to see? Read on to find out!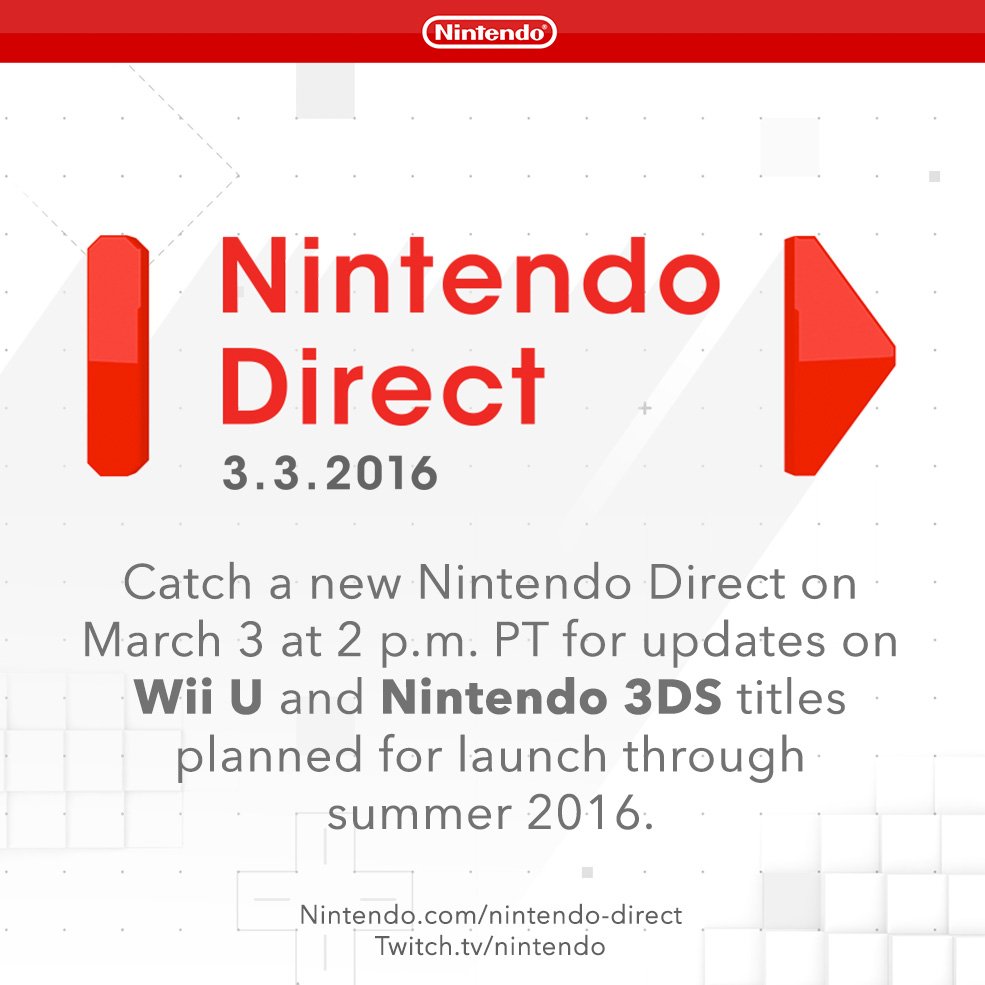 Nintendo of America announced a Nintendo Direct for tomorrow (3/3/16). The Direct will be focused on Wii U and 3DS games from Spring until Summer. We can look forward to watching the Nintendo Direct at 4pm central time.
So far, we know that Nintendo is releasing three games this month: Twilight Princess HD, Hyrule Warriors Legends for 3DS, and Pokken Tournament. All three of these games should be featured in the Nintendo Direct tomorrow. Nintendo has previously announced that Star Fox Zero is coming out in April and we should see that game talked about too. Square Enix will be bringing out Bravely Second in April also and I'm sure that game will get some time in the spotlight.
After that, though, things get a bit murky. Nintendo has no announced titles for May, June, or July. We do know that Dragon Quest 7 is supposed to be coming out this summer and that should be in tomorrow's Nintendo Direct. I think that Nintendo will announce a game for May and June. Usually, Nintendo skips July and releases something in August. I don't think we'll get any announcements for August though. So the Nintendo Direct should just feature titles from March until June.
That said, Nintendo could possibly tease a title or two for later in the year. Nintendo does like to throw in some unexpected surprises. Personally, I'd love to see more of Zelda Wii U, but I doubt we'll see that title tomorrow.
There are two things we know we won't see tomorrow for sure: the NX and mobile titles. Nintendo UK has said that there will be no mention of NX or mobile titles tomorrow. And Nintendo of America has plainly said that tomorrow's Direct is all about Wii U and 3DS. I'm very happy about this. I love my Wii U and 3DS and I'm not ready to move on.
What do you think we'll see tomorrow? Please share your Nintendo Direct predictions with us in the comments!
Free To Play Games:
Like what we are doing? Support our writers and website.Thanks!