Saints Row IV How The Saints Saved Christmas
Saints Row IV How The Saints Saved Christmas Review
Twas two weeks 'fore Christmas, the calendar did say,
And nerds wanted new video games to play.
Their hard drives were packed with ancient DLC
Like Battlefield maps and Burial at Sea.
They craved new content, with more missions to do.
Seriously Ken Levine, where is Part Two?
Something new they wanted, with a price that's low,
Then Deep Silver released more stuff for Saints Row!
From the future came Cyborg Shaundi, so fierce! Not the worst homie. Seriously, f@ck Pierce!
The Dominatrix was entered weeks before.
It was fun, but too short – the fans wanted more.
Then down through the net new content was loaded,
And Steelport civilians en masse exploded!
It was just in time to spread holiday cheer.
And earn a few bucks 'fore the end of the year.
The Saints were back, they answered their fan's calls.
In a new mission right out of Bedford Falls.
Three new quests with a certain jolly old elf?
"The stupidest thing ever" I said to myself…
But stupid is smart when made by Volition,
So I praised Christ and stocked up ammunition.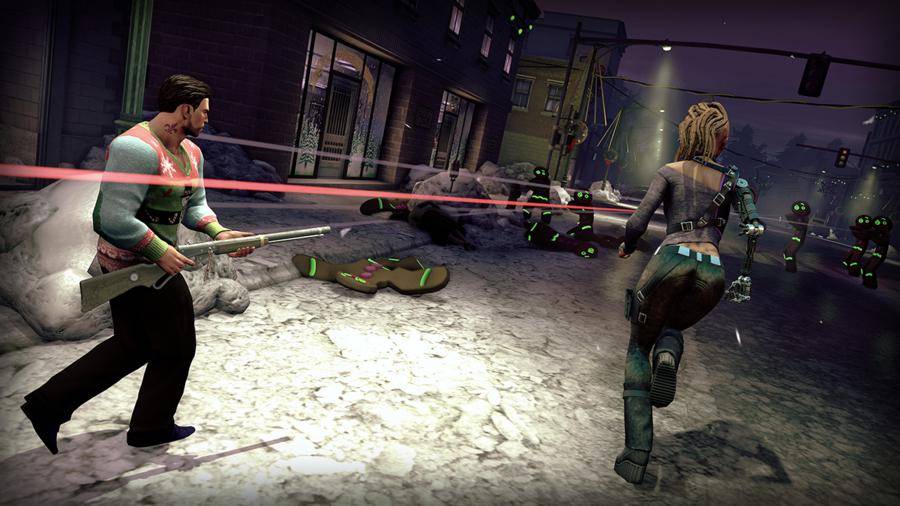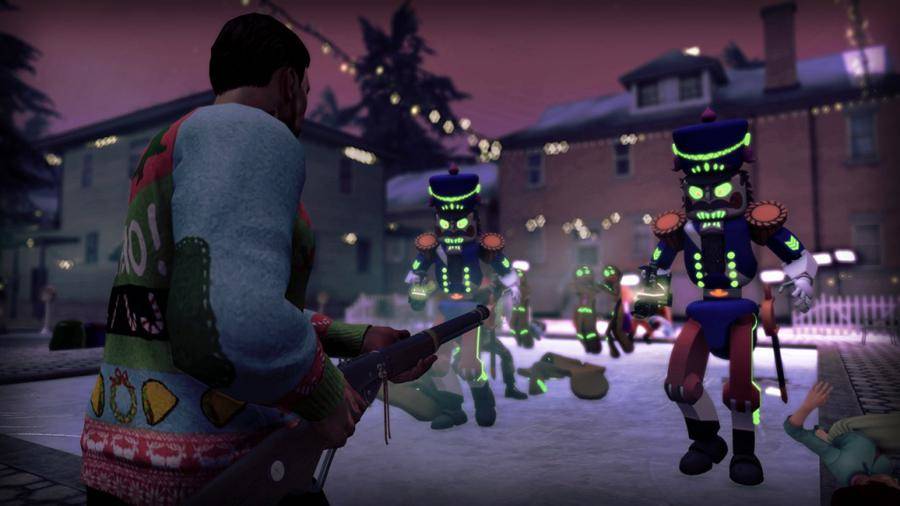 From the future came Cyborg Shaundi, so fierce!
Not the worst homie. Seriously, f@ck Pierce!
Her goal was to stop Santa's twin, or some such.
But the plot really didn't matter that much.
What mattered was that she came to save the past,
And she's a hot cyborg, so I acted fast.
I joined her, and a fellow named Kringle.
With swarms of bad guys we began to mingle.
New villains appeared and we shot them with guns.
Including a new one- Oh boy so much funs!
Armed at last with Ralphie's Red Ryder carbine,
I shot out their eyes until vengeance was mine!
He pulled out his sack a single entendre, and spewed bonus items, more guns than Contra
One mission was set at Santa's new snow fort.
But like most DLC, it was kinda short.
Collectible letters to Santa were found,
but they don't warrant a second time around.
The one new gun is hardly an arsenal,
But the new dubstep skin adds in an earful.
Two hours of mayhem, is not very long,
But mayhem with Santa can never go wrong.
A recruitable homie with gifts to spare,
A new robot reindeer that flies through the air.
He pulled out his sack – a single entendre,
and spewed bonus items, more guns than Contra.
Plus costumes and cars, a club-like North Pole
A new activity shooting lumps of coal.
A stocking stuffer for fans of the series.
About Santa it has some goofy theories.
This new pack is silly, for brows that are low,
But what do ya expect – hey, it's Saints Row!
With this pack the Season Pass is completed,
So stay in Steelport 'till Zinyak's defeated.
A touching finale filled with Christmas cheer,
For a good contender for Game of the Year.
Although many innocent victims here burned,
The true meaning of Christmas was quickly learned.
It's not presents, or feasting, or even prayer,
It's showing off your loot in multiplayer!
But deep within, a message can be perceived.
Christmas is about what's done, not what's believed.
Good deeds can be done by anyone, and thus,
Remember that there's a Saint in all of us.
Positives
Tones of new items, homies and vehicles
Teaches the true meaning of Christmas
Actually get kind of sweet at the end
Negatives
Short
Not much replay
Probably not much fun to play when Christmas isn't coming up
Trailer