Diablo III: Eternal Collection – Nintendo Switch Review
Diablo III: Eternal Collection launches today on Nintendo Switch, and fans who have only ever owned Nintendo products are about to get their first taste of the long running, and incredibly successful franchise. Released back in 2012 on the PC, and in 2013 on Xbox 360 and PS3, Diablo III has had a long, successful run, with new updates and 'seasons' still rolling out for longtime fans to enjoy. All of that great content is now coming to Nintendo Switch, with no restrictions and no need to purchase additional content. This is Diablo III: Eternal Collection, and it's far exceeded by expectations.

While I've only had the game for a mere 48 hours – which some would deem not enough time to properly launch a review – I need to preface this review by saying I've played and reviewed Diablo III multiple times in the past, including when released in 2013, and when relaunched on Xbox One again a few years ago.
What I've come to realize is that I need to stop being sceptical of companies abilities to bring big AAA titles to the Nintendo Switch platform, citing lesser graphics capabilities compared to the current generation competition in the Xbox One X and the PS4 Pro. I was sceptical and pleasantly surprised by Skyrim, Wolfenstein, Doom, and now this. It might be time to stop the scepticism and expect great things. The Switch is a phenomenal system, which can handle phenomenal games!

Does it look as good as the PS4 or Xbox One? Definietly not, but once again Nintendo fans can pull into the conversation one major asset the Switch has that others don't: portability. That's right, once again we reach back into our hip pocket and play the "we can take this game anywhere" card, and instantly feel like we've got the premier version of Diablo III. And in many ways, I'd argue that this fact is true, and had the game launched as a brand new title across all platforms, it wouldn't have surprised me if the Switch version trumped all.
Insane graphics aren't why you play Diablo III, an seemingly endless dungeon crawler with loot, more loot, and even more loot…you get the picture. Moving through varying environments, killing infected demons and monsters, taking down big bosses is as good on the Nintendo Switch as it ever was on other consoles. The environments in particular hold up really well compared to what I've experienced in the past, with character models taking a minor hit in quality, which is a tad unfortunate.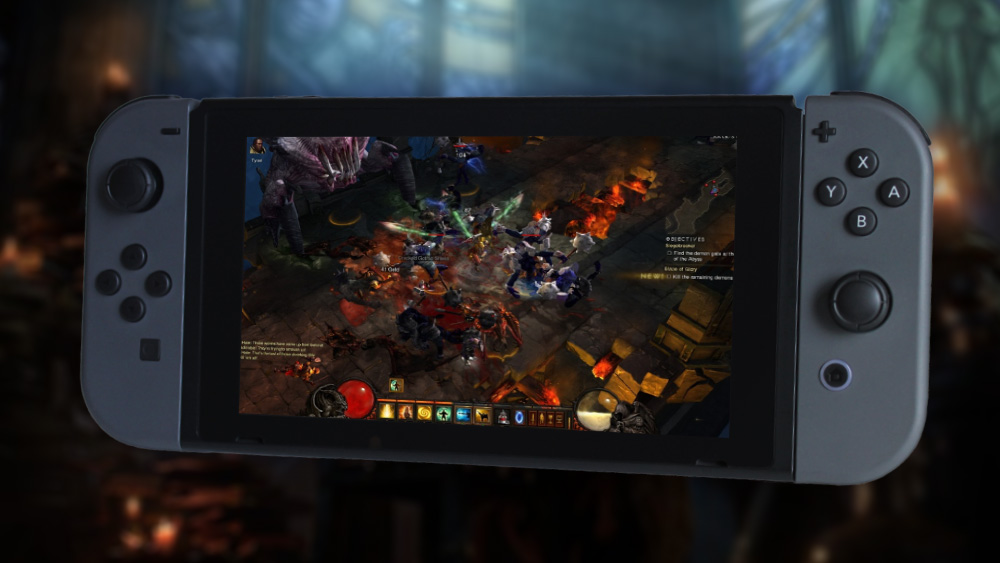 But ultimately, I just wanted Diablo III to run well on the unit, both when docked to my TV and out and about in handheld mode. And thankfully, the game maintains a solid frame rate, with little-to-no-dips throughout the 15 or so hours I've played so far. That's phenomenal, as outside of the graphics inferiority on Nintendo Switch, frame rate is always a primary concern for gamers. While everything isn't perfect – I've had objects in the game flicker like a light bulb flickering on and off as if someone was constantly flipping the Switch, because the game couldn't decide whether the light from a nearby torch should illuminate the object or not.
That lighting glitch was a constant for me, and although not game breaking, it can take you out of the experience for a while. The first few times I actually mistook it for am interactive object, which obviously these large clumps of dirt, or broken boards, were not.

Along with including all the DLC, the Nintendo Switch version of the game also has a few special additions that are unique to the Nintendo version of the game, including a Ganondorf armour set, and the ability to scan amiibo into the game to drop chests and loot for you to open and use. On top of that, it was announced that there would also be a special Diablo III amiibo launching alongside the game, exclusive to Gamestop and EB Games!
Diablo III doesn't do anything crazy, and hasn't for the past 6 or so years. It's a typical dungeon crawling experience, with lots of different character options – I've opted for the Crusader! – tons of loot to collect, and hundreds of randomly created dungeons to explore. With great loot drops around every corner, it's easy to get lost in this game for hours upon hours, and even more so with the ability to take it on the go.
If you've played an RPG or dungeon crawling game before, everything will feel very familiar, and it's never been easier than in Diablo III. You'll equip armour, power it up, unlock special skills for combat, buy and sell items, and so much more. It's a shame if anyone hasn't played it yet, but with it now being available on all major consoles and PC, there shouldn't be an excuse any longer. When you factor in all the DLC included in this release, there are dozens, if not hundreds of hours of game play at your fingertips, so you better get cracking before Pokemon Let's Go and Super Smash Bros Ultimate launch later this year!