Nintendo Shocked Us at E3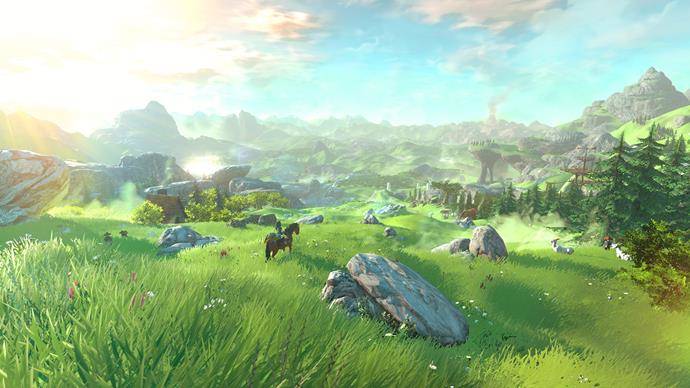 A few members of the GamesReviews staff, along with myself, made a number of E3 predictions for Nintendo. In general, our predictions were pretty safe. But that doesn't mean we cannot ridicule those that were far off the map. Unfortunately for myself, I think I take the brunt of the ridicule. Regardless, here is how things worked out. I put a score on each category to see how well I, as well as the staff, did.
What We Could See (0/2)
I failed here. A new console for the Chinese market has been discussed for months, and the unwearable, quality of life device has been talked about for years. I figured we would see something, or at least hear something, about these two things. Nintendo was quiet. They did state, however, that new console information would be available before the end of the year. E3 just wasn't the time for it.
What We Will See
These were the predictions I was most confident with. Too bad I overestimated my knowledge of where Nitnendo was at currently. Off the top, I felt we would definitely see a Mario Sports title. Outside Mario and Sonic at the 2014 Winter Olympic Games, I thought the Wii U was lacking that marque sports title. With the success of Mario Sports Mix on the Wii, I totally felt that Mario Sports Mix 2 could be coming. I was wrong. 0/1
The Legend of Zelda: Wind Waker HD was insanely popular. Those that didn't buy it when it came out more then likely used their free download title courtesy of Mario Kart to snag it. I thought this was a guarantee. In fact, outside my Wii U Zelda prediction, I thought this was my safest prediction. However, no HD Mario Sunshine or HD Mario Galaxy was announced, meaning I'm still losing. 0/2
Success! I knew we would not be getting any lengthy Zelda Wii U videos, but my prediction that we would get at least a teaser trailer was spot on. That title looks fantastic; the second half of my prediction – that we wouldn't see the game until after E3 2015 – will have to wait. 1/3
Again, my predictions about Ubisoft were correct. Assassins Creed Unity will not be coming to the Wii U, although a statement from Ubisoft might suggest that the game could be coming in the future. After announcing that Watch Dogs Wii U would be coming in November, Ubisoft said that games slated for Wii U release will not be completely finished unless sales of Nintendo's struggling console improve. Perhaps with increased sales, Ubisoft might find it profitable to release Unity on Wii U (although I doubt it). 2/4
I didn't waste my chance to be above 50% on this section. My prediction that Nintendo would announce a New IP were correct. The Two that excite me the most are Splatoon – not developed by Nintendo – and Captain Toad. Captain Toad, despite being playable in Super Mario 3D Land, is a new IP that shows a lot of promise. It might not be for everyone though, at least not for GamesReviews Mat Growcott! 3/5
What We Won't See
No Paper Mario. I felt strongly that since we got a Paper Mario title on 3DS last year, it would be a bit before our paper friend makes his way to the Wii U. I said no Paper Mario, but the truth is, I was hoping it would be there. Mario RPG games have always been some of my favorite Mario Games. I can remain hopeful for E3 2015 though! 1/1
One successful prediction does not make me the greatest Nintendo writer ever, and my next prediction has humbled me even further. I said no Mario Party, Nintendo said yes to Mario Party. I'm wrong, but I'm glad to be wrong. I'm slightly disappointing that this does not appear to be a return to the early games, but I will enjoy playing this with my family none the less. 1/2
Finally, many on the Internet believe – or perhaps just hoped – that there would be a gamepad-less Wii U available for purchase. As I stated in my predictions article, a gamepad-less Wii U is just a Wii with better graphics and no extra innovation. There is no way Nintendo abandons the gamepad. In fact, it was great to see them use the gamepad in new, innovative ways! 2/3
The Staffs Thoughts
Mat Growcott
"I was right that Nintendo brought an awful lot to the table this E3, and that they gave both Bayonetta and X (or Xenoblade Chronicles X as we now know it's called) a fairly decent visual showing. Legend of Zelda, too, became more about graphics than content, although there was definitely a hint that things are going to be slightly different in this next outing.
All in all, Nintendo did fairly well, offering a decent look at the year ahead. Was it enough to save the Wii U? Well, it was enough to stop it being ignored completely, and that's the first step on the road to recovery."
George Clement and Tony Chevez
Both of these great GamesReviews writers felt that we would be seeing a little bit of the new Zelda title for Wii U. While some may call it an easy pick, they none-the-less were correct. Tony felt that perhaps a large scale 3D Mario game could also be in the works. It should be noted that outside of Mario Maker, Nintendo barely mentioned their famous Italian plumber.
Rob Heek
Rob did more digging than any other writers, and uncovered that Intelligent Systems, the studio behind the Paper Mario franchise, was working on a new game for Wii U. Unfortunately for Rob who got his prediction wrong, as well as for the mass of fans – myself included – who would love a new Paper Mario, it appears as if we may need to wait until E3 2015!
Conclusion
Despite the lack of specific dates, Nintendo did very well at this years E3. I was skeptical at first, wondering if opting to do a digital event over a press conference was really the best idea. But at the end of the show, many would argue that Nintendo probably had the second best showing at the conference. The games were excellent, they were almost all home runs for me personally, and I was more then happy to watch a digital event which showed extreme polish and quirky humor. All-in-all, it was a great E3 for Nintendo fans!