ROCCAT Kone XP Air Review
I don't know how they do it, but ROCCAT continues to push the envelope when it comes to PC accessories. Over the past few years, they have had a knack for building quality peripherals that hone their features through each iteration. The ROCCAT Kone XP Air is no exception – bringing the best features from the Kone and Kone Pro's while improving their weaknesses. Let's take a look!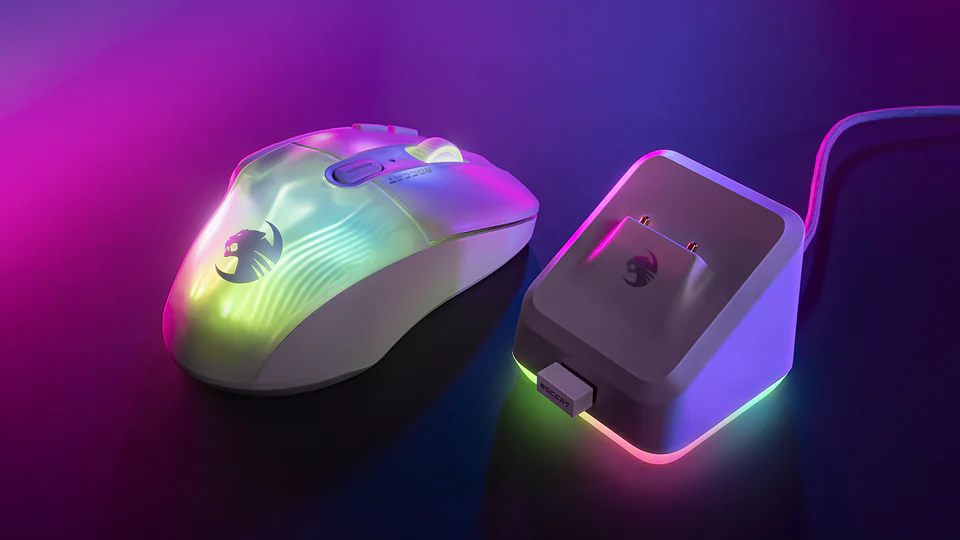 As you may have guessed, the ROCCAT Kone XP Air is the wireless version of the Kone XP model, which sports a nice array of features that improve on previous generations of ROCCAT gaming mice. Namely, the addition of the wing for your thumb to rest on, some additional buttons and an overall slightly more ergonomic shape and feel to it.
Those of us who live and die by wireless mice (myself included) are always interested when a new wired mouse comes out, but really what we are waiting for is the wireless version to arrive. And boy, the ROCCAT Kone XP Air arrived in style! This mouse sacrifices nothing to go wireless, as the weight is virtually identical and the response times do not suffer one iota.
More impressive than the similarities it has with its wired version are, of course, the differences. This mouse may have the single highest level of connectivity options I have ever experienced, and I would say you would be hard-pressed to even imagine any practical connectivity option that is not already on display with this shining example of flexibility and compatibility.
First, the Kone XP Air can operate as a wired mouse. The USB-C cable that is provided with the mouse can be plugged in directly to the front of the mouse to allow it to function indefinitely as a typical wired Kone XP mouse. Then, there is a standard wireless dongle that can be added to any one of your USB ports to enable wireless functionality.
This leaves you with the requirement for a charging cable, using yet another USB port. For many, this is not an issue, but those on laptops or already heavily-accessorized PCs may run short of USB ports. Don't worry – ROCCAT has you covered, too! To utilize only one USB port, you can plug both your wireless dongle and your charging cable into the provided RGB charging station, which your mouse can simply slide onto to charge, and it is stable and sturdy enough to be placed anywhere in your gaming setup for convenient charging when you call it a night.
The fact that this entire system is modular just impresses me so much. If you desired, you could leave the wireless dongle direct in your PC and still use the charging station solely for your battery, or you could leave the dongle in the charging station and remove the USB-C cable from it to charge your mouse as a wired gaming mouse, if your battery gives in mid-game (although with 100 hours of battery life, that is unlikely). Finally, as if that was not enough variety, the ROCCAT Kone XP Air also supports Bluetooth connectivity to your device. Truly, I cannot imagine a more compatible mouse than this.
Overall, the ROCCAT Kone XP Air offers the lightweight, ergonomic feel of its wired model without sacrificing any quality or functionality. In addition, it supports a wide array of connectivity options and utilizes a slick charging station to do so. The only caveat is the price tag of this mouse is considerably higher than its wired compatriot, leaving it in a slightly niche area for those who MUST have a wireless option. If you are okay with a wired mouse, I would suggest sticking with the Kone XP instead.