Last Day of June Review
About a week head of launch, 505 games sent out a press swag bag to promote the launch of Last Day of June. Knowing this was the same team that published Portal Knights – a game I really loved – I jumped at the opportunity to get a hold of their next published game. When the care package arrived at the door, it included three items: a short note written on a card from 505 Games, a pair of glasses that matched the ones Carl wears in the game, and a box of tissues. The second I saw the tissues,  I knew that, in their eyes at least, 505 Games saw Last Day of June as an emotional title.
We have a North American copy of Last Day of June to giveaway on the PS4! Head to twitter and find out how to win!
[NA] CODE #GIVEAWAY for @LDoJ_game #lastdayofjune! RT, Follow and Like! Must follow @505_Games and @ovosonico as well! #PS4 https://t.co/cxygXb1o7v

— Adam Roffel (@AdamRoffel) August 31, 2017

Well, after putting in a number of hours and seeing the ending – which you may or may not see coming, depending on how you do with these types of stories – I have to tip my hat to developer Ovosonico, who did an excellent job telling a story that players would care about. Last Day of June isn't the longest game you'll ever play, but for the price and the excellent, 10/10 story, it's a price that I actually find 'cheap' for the product you will get.
This review is a difficult one to write, because so much of the experience is through the story itself, and frankly, I don't want to spoil a single moment of it. Here, at least, are the basics. You'll play as Carl for much of your adventure, trying to change the past through the paintings his wife June has created. The paintings in the art studio come to live at the touch of Carl's hands, allowing him to alter moments of the past, and change the outcome of a horrific event.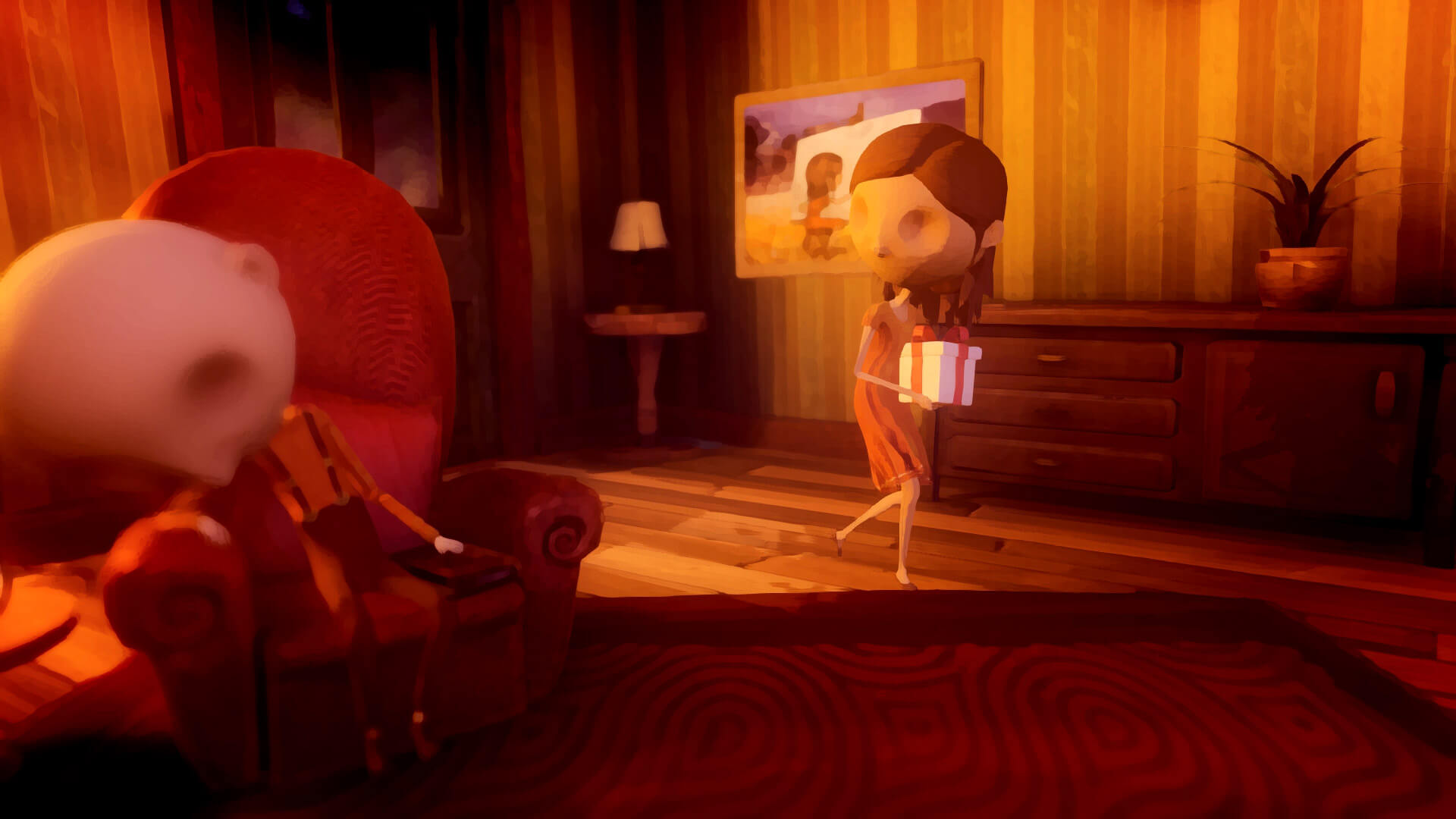 Here is where Last Day of June can drag, regardless of the heart wrenching stories. Should you fail to change the outcome of events by changing the routines of the varies characters you will meet in town, you will have to watch that tragic loss that propels the story in the first place, over and over again. Online, I saw some people say they say the same story 15-20 times, and while it was desperately crushing at first, it had lost its affect on the human emotions by the end.
There is a quite a  bit of repetition here, as you attempt to do the write things, to change the games in the right away. It's a puzzle for sure, but one that you've never tried completing before, and therefore, lack a strategy for. So yes, despite the fantastic art and solid game play, there is a moment were the game drags. For those unprepared, it could be the point of quitting the adventure all together. Trust me, no matter how boring or repetitive some of the middle content can be, sticking it out for the ending is well worth it.

How you take in Last Day of June, and how you react to the story that unfolds is likely to depend on your own life experiences. The story of Last Day of June will hit people in different areas, evoking sincere and past personal memories which could result in the player needing a box of tissues, or a player may walk away with the simple notion that they played a pretty good game. Either way, Last Day of June is a real treat to play through, and small issues aside, it really works.
I strongly recommend picking up a copy of Last Day of June. It's a game that could be beat in a day, or over a weekend, so the time commitment is not huge. The story is, however, and the fantastic art and outstanding score from Steven Wilson is not something you will want to miss out on!