Astro A10 Headset Review
When you first hear the word Astro Gaming in the video game marketplace, you probably are thinking about a headset that is more than likely way outside your price range. For the longest time, this statement would have been, for the most part, very true. However, Astro has taken a stab at the entry level gaming headset with the launch of the Astro A10 headset; thanks to Astro Gaming, we were able to review the PS4 version over the last month! See what we though below!

Here is just a bit about the headset from the Astro Gaming website:
Gear up to push into enemy territory and show them no mercy. Take your gear to the next level with the… …A10 Headset. Durable construction and extended comfort to combat fatigue means you can game longer, play better, and show the enemy what you're made of. "Tuned for Gaming" with ASTRO Audio gives you 40mm drivers so you can hear your game and your teammates with clarity and precision. Game:Voice Balancing, uni-directional mic, in-line volume control, and flip-to-mute functionality delivers total control of your gaming audio experience. Welcome to the ASTRO Family, soldier.
Check out the main features of the A10 Headset from Astro Gaming: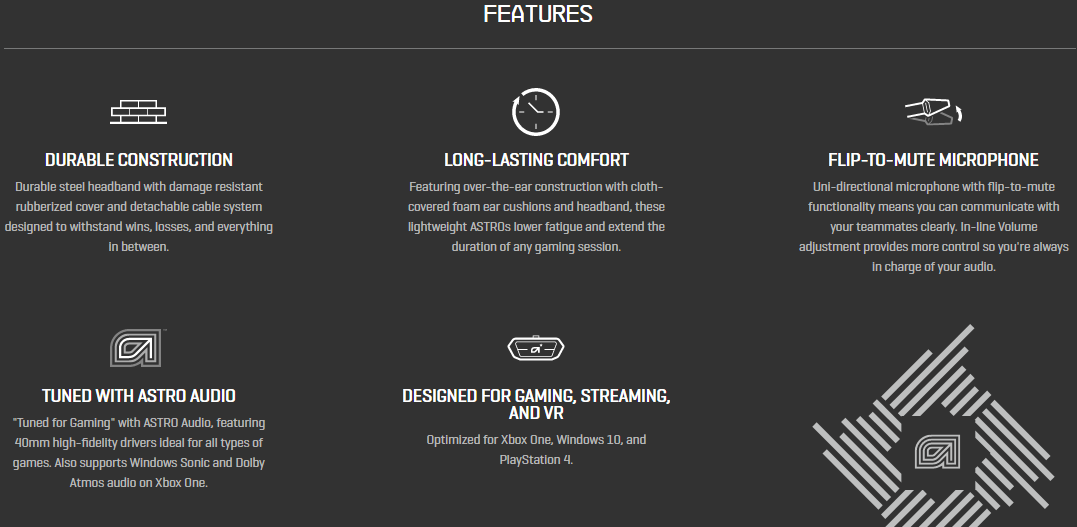 For their first foray into the budget gaming headset marketplace, Astro Gaming couldn't have released a better product. Well, perhaps a bit more comfort for those long gaming sessions, but apart from that, Astro Gaming brings some of the best features and sound of their higher end models, removes the sometimes unnecessary frills and extras, and releases one of the better headsets in the sub $100 price bracket.
In this marketplace, Astro Gaming is competing with a lot of other companies, including Turtle Beach, Performance Design Products, and numerous others. Yet, despite these other companies having spent most of their time and resources on this market, Astro Gaming just jumps in like they've been here the entire time, and doesn't miss a beat when trying to match the demands of an entry level headset while keeping the price point down.
Gaming with the A10s
When playing games with the Astro A10 headset on my Ps4, it wasn't long before I forgot about the value of what I was wearing on my head. As is often the case with cheaper headsets, when you plop them on your head let alone use them for numerous hours at a time, you begin to realize why they were cheap to begin with. For the most part, this thought never really crossed my mind while using the Astro A10. While I definitely would have enjoyed a bit more comfort over long hours – as the headset can fit a big snuggly if you have a wide head – the rest of the performance was top notch, from the sounds of enemies moving around me in First Person Shooters, to the soothing sounds and audio ques present in games like Knack 2 and Uncharted: The Lost Legacy.


From a technical position, the A10's perform admirably, and does a great job of pushing all those obvious – and less obvious – audio bits directly into your ears. One of the better features of the A10 – aside from the incredibly durable construction – is the flip-to-mute microphone, not something common on headsets in this price range.
With most headsets under $100, players are either required to reach down and use a dongle to mute their microphones, or required to fumble alongside one of the earcups attempting to hit that often elusive mute buttons. With the Astro A10, a simple flick of the microphone upwards will instantly mute you, allowing you to converse with whomever while not interrupting the game you are playing. Further to this, the microphone itself is top notch, and while playing online with friends, know one ever made a comment regarding the clarity of my voice.
For Other Audio Purposes
Budget gaming headsets are designed for gaming, so don't expect a solid audio experience for listening to music or watching movies. Especially when listening to music, I found the highs very muddled, and without a crisp sound, many songs with fluctuating tones sounded a lot worse than they really should have. TO be fair, Astro has created the A10 headset for gaming, and when used for that purpose, the experience is flawless.
Conclusion
For the price, there aren't many better headsets available on the market right now. The Astro name is likely to draw a number of potential consumers in based on reputation alone, but even without the popular name backing the product, the A10 is a fantastic headset. It might not be for everyone – as there are people who to prefer the dongle mute button – and I definitely cannot recommend it for those with larger heads. But for the average gaming consumer, this headset will definitely fit their current gaming needs, while providing features not available on all entry level units.