Child of Light Review
Child of Light Review – Introduction
When playing Child of Light, I felt a bit melancholic. Ubisoft Montreal's own unique take on the RPG genre elicits a sense of somberness throughout its, roughly, 10-hour adventure. Though it doesn't sport a complex or even original story, the way it is told is Child of Light's best strength. By using the UbiArt engine that was created for Rayman Origins several years ago, Ubisoft Montreal is able to perfectly concoct a classic fairy tale experience. It's a visual feast unlike any other that contains a fun, Secret of Mana-style combat system. But the studio's clever writing, world building, and character development breathes great, and satisfying complexity into what could've been an otherwise familiar journey.
A Princess in Need
The way Child of Light can feel a bit recognizable is in its main conflict. Main character Princess Aurora, without spoiling much of the plot, disappears into a mythical world called Lemuria. She soon finds out her father, a king, has fallen ill and must figure out how to return home all the while meeting a handful of eccentric individuals, and dark enemies greeting her every move. In the first hour or so of playing, I already figured who was behind Aurora's disappearance, and the reasoning behind it. Though I initially felt a bit disappointed, I quickly recovered after realizing that Child of Light is all about the journey itself, not its conclusion.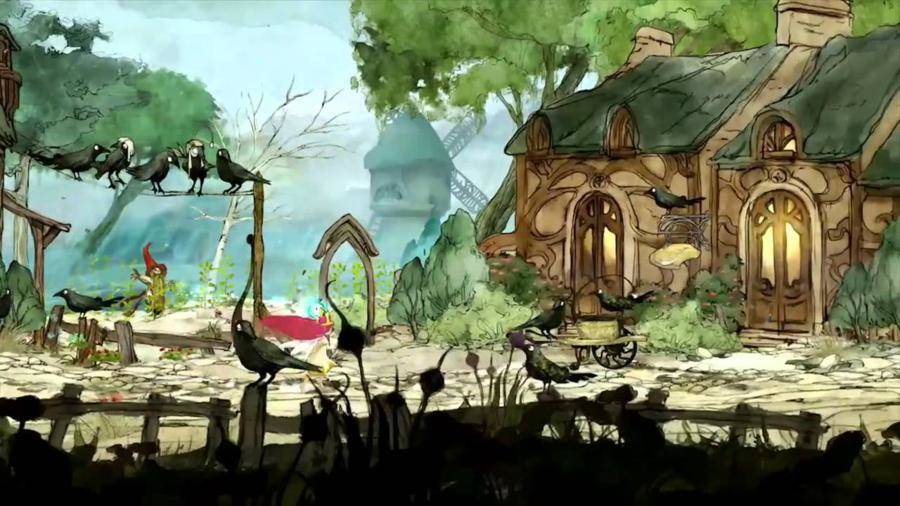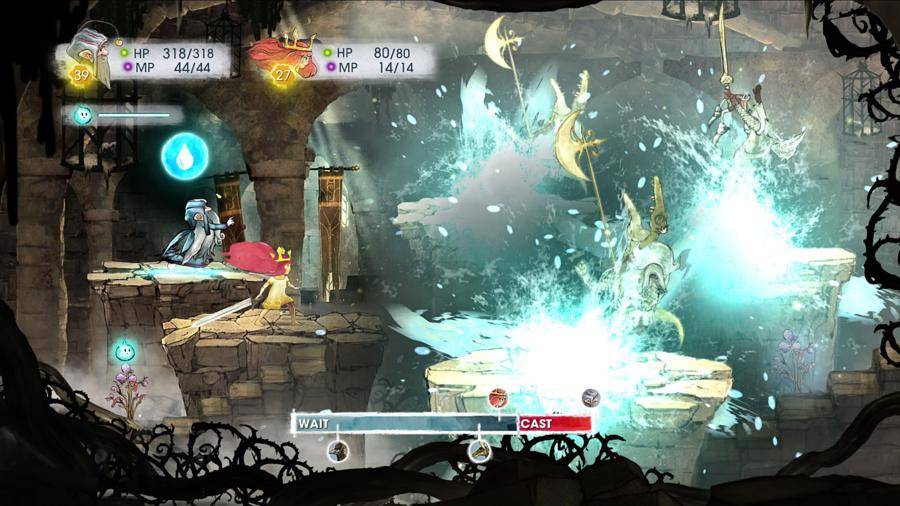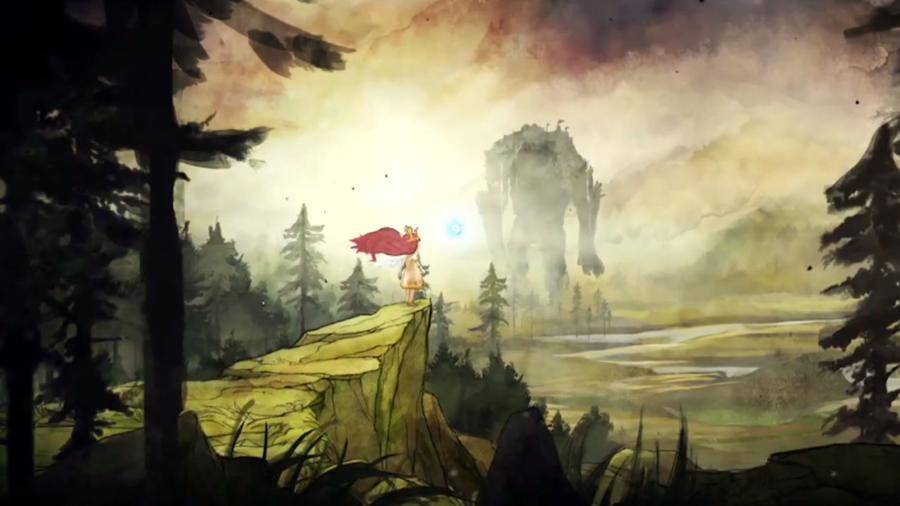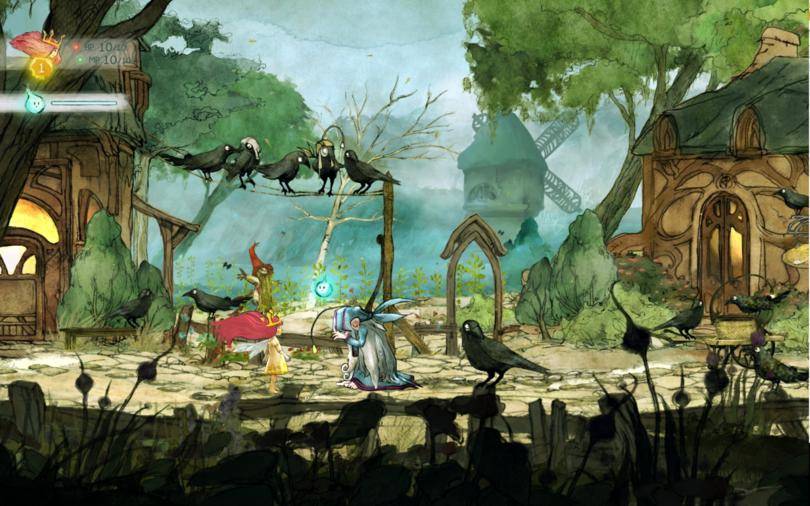 Lemuria makes it even easier to abide by this philosophy, as it is a breathtaking and interesting setting. It's filled with mythical creatures, visually pleasing settings, and multilayered characters. When I did play through both of the recent Rayman games, Origins and Legends, I felt that the UbiArt engine was fully utilized and exploited to its fullest potential, but Child of Light proved me dead wrong. The gorgeous art style that the game so confidently carries is nothing I've witnessed before in games. There's an impressive sense of depth, with monstrous mountains, giants, ancient temples, trees, etc. always in the foreground or background of your screen. Child of Light is a side-scrolling game, so this sense of depth felt like a vital visual instrument that Montreal confidently pulled off. I had to stop plenty of times during my playthrough just to admire the studio's creativity and hard work. It also uses the engine to further elaborate on Lemuria's darker areas. Destroyed landscapes, broken statues, and windows are just some of the visual techniques the studio uses to establish that Lemuria can be a lonely, somber, joyous and colorful world all at once. 
At times Child of Light feels like a Brothers Grimm tale, especially when it deals with all of the side characters. Before Aurora can recruit a specific individual into her party, she has to complete a request. Some of these missions explore the mature side of fairy tale lore, and said story threads felt a lot more powerful than what the game was trying to tell in its main narrative. These characters that Aurora recruits are all, and I really mean all, beautifully complex and intriguing. They're at times painfully broken and hopeless, optimistic and funny, resembling Lemuria itself. The only problem I found were the forced rhymes that all of the characters in the game constantly spewed out. I didn't mind it most of the time because it did work for the most part, but I can see many people not enjoying the experience due to this approach. 
Elegance in Combat
Where Child of Light truly shines is in its elegant, and particular combat system. While the game isn't a JRPG in the literal sense, since it's developed by a studio based in Canada, it is influenced by some of the very best in the genre. As I mentioned earlier, Square Enix's Secret of Mana makes its presence felt the most. While you do go to a separate battle screen when you encounter enemies, the usual in JRPGs, the combat is entirely based on time. There's a small rectangular-shaped time bar at the bottom of the screen that visually displays when, and how fast a character is to reaching his/her turn. Two-thirds of the bar is blue while the last third is all red, when said character, or enemy reaches that final third, they can act. While this system does seem basic at first, the stronger enemies in the game utilize this time limit effectively, thus pushing you to do the same. Everything from casting spells, using potions, attacking, defending, etc. all use up different time limits. For example, if a player wants to simply defend they can do so almost instantly when they reach the end of the time bar. But, if they were to use a strong spell, it'll take much longer to do so. 
This also adds a sense of tension as you are forced to think through your every move. The enemy variation also adds to the tension because they base their moves around this time limit differently. The only problem is that Child of Light might feel a bit too easy for some, especially for the more hardcore RPG experts. Since the game is only around 10 hours long, which is a sizable length for a $15 downloadable title, each party member levels up almost every other battle. Obsidian's South Park: The Stick of Truth had the same issue, as it never felt really challenging. But Child of Light does give you the option to play on hard, which is basically normal for more experienced players. 
Other than its elegant battle system and dark, and interesting side missions, you'll be doing a lot of exploring. Once Aurora acquires wings, in the beginning of the game, you'll freely explore every area of Lemuria that is on offer. The world is littered with hidden chests containing powerful potions and Oculi, gems that can be mixed together to create more powerful gems that can be equipped to your weapons or armor, adding certain elemental damage bonuses and protection. Child of Light also has hidden areas that you can enter, similar to both recent Rayman games, which contain fun platform puzzles that, once completed, give you access to stat bonus items. When you add up everything you'll be doing, Child of Light will feel like an underpriced, bang for your buck experience. 
Child of Light Review – Conclusion
Child of Light is the brainchild of Far Cry 3's creative director, Patrick Plourde, and he has another success on his hands. The game embraces loneliness and somberness, explores darker territories of fairy tale lore, and offers up an alluring combat system. It's a visceral feast that safely establishes Ubisosft's fairly new UbiArt engine as a mainstay for many years to come. Despite the forced rhymes and its forgiving difficulty, Child of Light is still a special game that both RPG lovers and newcomers to the genre need to experience.
Positives
Gorgeous art style
Engaging combat
Eccentric characters
Lemuria
Negatives
Forced rhymes
A bit too easy
Trailer