Fantasy Life Coming Westward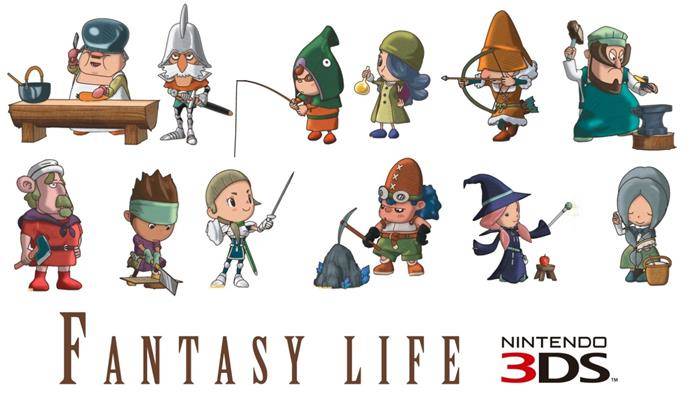 Fantasy life is an upcoming 3DS title from Level 5 studios that combines a unique blend of Animal Crossing, Final Fantasy, and Zelda elements. The game was released in Japan back in 2012 and now is set to release in EU on Sep 26th and in NA on Oct. 24th 2014. The cartoonish world of Fantasy Life is based completely on choice. From character creation, to the roles that your character will have, the life you lead in this fantasy will change with every play through. You can also switch lives at anytime so you're not stuck being someone you don't want to be.
Beating the game is not an end goal. Living in the world and interacting with everything is the main purpose of the game, very much echoing an MMO.  Many classes are available to choose from and more are sure to be unlocked after completing quests. The Angler classes are used to fish, Woodcutters chop wood, and Miners are able to harvest ore that you can create swords and stronger weapons from. Each class has its own set of side quests that you can complete for additional weapons and materials to further that classes level. As I mentioned before, the best thing about this is that you can change classes at any time. So essentially you can have a woodcutting paladin that uses black magic. And that's just awesome. 
Nobuo Uematsu is the composer of the soundtrack for Fantasy Life, better known for his work on the Final Fantasy series; this gives the game that distinct RPG feel to it. Fantasy Life uses an action RPG battle system and the hack n' slash components work well on the portable system. The top screen of the 3DS shows the main game play and the bottom displays menus and maps. Another feature of Fantasy Life is the Local and online multiplayer options which are very interesting ways to change up the game play. You can invite your friends or other players from around the world into your game to help with stronger bosses or difficult quests.  The entire game is open to the multiplayer experience and not just a simple map or location. It's a lot like having real life party members on your team. Actually, it's exactly like that. For more news on this impressive game coming to the Nintendo handheld make sure to check back on GameReviews.com closer to launch.