Battlefield Hardline is More Than Just a Gimmick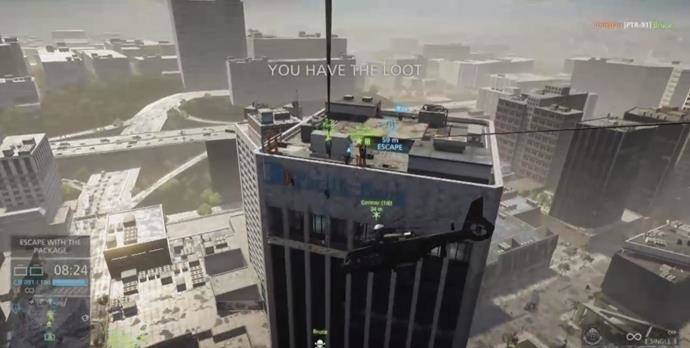 At the end of EA's conference, we were given a detailed look at the previously leaked Battlefield Hardline. It looked a lot like the Battlefield we're familiar with but with a simple twist: cops and robbers. While this small change might just seem like a big company trying to differentiate itself from the competition, we think it's more than just a gimmick.
To recap, Hardline is a new twist on the franchise pitting cops against criminals in a variety of gameplay modes. The gameplay demo showcased the Heist mode in which criminals attempt to secure loot and deliver it to a specific location while the cops simply try to stop them at all costs. The demo reminded me of Payday 2 at first, but then I got to see what really made this game a Battlefield game. It is an all out 16 on 16 battle that took place over a large map that included car chases, zip lines, collapsing buildings, and the chaos that Battlefield is known for.
Like the title proposes, Hardline is more than just Battlefield 4 painted over with cops and criminals instead of military. Even before getting my hands the game, it already feels different. High speed car and motorcycle chases through city streets instead of army trucks and slow tanks, different weapons and gadgets like tasers and grappling hooks, and cop roadblocks being blown apart by a criminal driving an oil truck into it are just some of the ways Hardline feels like a fresh experience. All of this with the amazing Battlefield gameplay that everyone expects.
I'm very excited to learn more about Hardline and I hope to see some creative skill trees that will compliment the new setting. Maybe even separate skills for cops and criminals. Hopefully they will also deliver on what they promise to be a dramatic storyline in the style of a TV drama. It already looks like it's going to be a great game, and we haven't even seen the half of it. I'm keeping my eye on this one until it releases later this year on October 21st.
Check the prices for Battlefield Hardline.