Google Pixel 2 Review
When reviewing cellphones, you quickly realize that companies are all trying to cater to a specific audience, marketing phones to those people, and not worrying about the larger market. In a world dominated by Apple and Samsung, other companies – such as BlackBerry, Google, and more – are left trying to make sure their product pops, and is more attractive than something else. For BlackBerry, it was all about creating a business-like device, high on security, and long lasting. For Google, and the Pixel 2, I think the goal is entertainment. We've spent a good 2 – 3 weeks with the Google Pixel 2, and although we don't like everything about it, it's a pretty good entertainment device at the end of the day.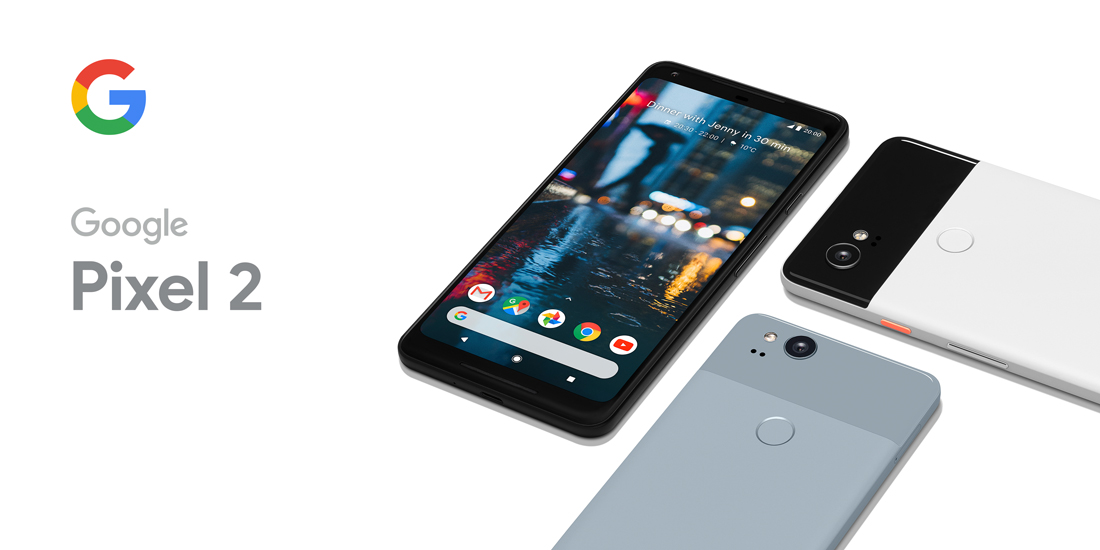 Design
There isn't anything inherently flashy about the Google Pixel 2, and as a laid back kind of guy, I appreciate that in a cell phone. In terms of smart phones, I'd consider the Pixel 2 your average, run-of-the-mill cellular device you might expect Hollywood companies to use as props in movies. It's fairly light weight, and slides nicely in and out of my various pockets with ease. Unlike larger and bulkier phones – and this could ultimately also apply to the Google Pixel 2 XL – the Google Pixel 2 is the prefect size, shape, and weight for constant, daily use.
Unlike many current smart phones, the finger print sensor for the Google Pixel 2 is on the rear side of the phone, almost in the middle, exactly where you finger would land should you be holding your phone to scroll with your thumb. Setting up the finger print scanner wasn't as easy as with other devices, but it was a much more convenient option for unlocking my phone. Also on the rear side of the device is a camera with embedded flash. On the front of the device, two premium speakers are lodged on either side of the screen – top and bottom – allowing for the BEST audio and visual experience I've ever had on any smart phone to date.
The 5 inch screen is bright and vibrant, and perfect for browsing the web, playing games, or watching video.
Battery
Under heavy use, the Google Pixel 2 – like almost every other smart phone on the market – is a one day use device, requiring a charge each and every night. With the included charging accessories – USB C – plugging into the wall each night really shouldn't be an issue for anyone. If this phone had less than days worth of battery life, that would have been a problem; but unless you plan to spend 10-12 hours watching Netflix on your phone, you aren't likely to have an issue.
Like many current USB-C devices, the Google Pixel 2 deos have the fast charge option, although determining where your phone is at in the charge cycle is impossible as there seems to be a lack of a battery life meter. Like most phones, Google has implemented a number of battery saving measures that can be quickly toggled on and off to extend the life of your phone. While I've found other phones talk up this feature, but under deliver, I feel that Google's methods actually work, giving me that extra necessary juice to get from my commute to home.
Camera – The Shinning Jewel of the Google Pixel 2
Over the last number of years, my family has taken numerous trips to Disney World in Florida, and on Disney Cruise Line, and we've always wanted to get those high quality, family shots with Mickey, Minnie, and the entire Disney gang. Unfortunately, those pictures come with a cost: having to tote around a large Canon camera and always be worrying about whether or not someone might take it from our stroller. While we have used a range of smart phones over the last number of years, we've yet to find something that consistently gives us a quality picture, negating – for the most part – the need for the larger, bulkier device.
While we won't have the opportunity to take the Google Pixel 2 with us this May, we have been using it around town to snap photos during sporting events, at festive events, and much more. The consistent quality of these photos quickly made us opt for the Google Pixel 2 when on day trips, rather than the smart phones we have been using for years. The 12.2 megapixel camera delivers consistent photos, regardless of the environment we find ourselves in.
The downside to the Camera: the included application. Although it lacks many features you'd find in other standard camera applications, the option to download another is always there, and probably would be encouraged!
Long Term Use
Ultimately, we won't be able to speak to the long term use of the Google Pixel 2. Graphically, the phone looks great and runs the best games out of the box, but once you start getting lots of apps going, I'm not sure that would still be the case six months from now. What we do know, however, is that the Google Pixel 2 will deliver a fantastic entertainment experience every time you pick it up. For the month that I had it, it was my go-to for Netflix, streaming the Maple Leafs on TSN and Sportsnet, and listening to music at my desk. It was a great experience, and one I'll likely pursue again sometime in the near future!