Behind The Scenes Look At South Park: The Stick of Truth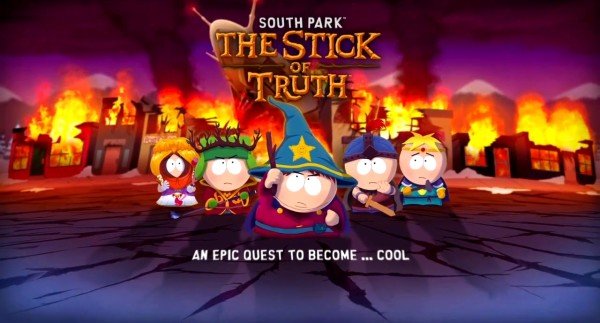 The behind-the-scenes video for South Park: The Stick of Truth that was originally shown at Comic Con last year is now available to watch on YouTube. It's primarily an interview with Matt Stone and Trey Parker as they discuss the video game development process, but there's some good in-game footage for this much anticipated title. The game has been in the works for what seems like forever, but it will finally be released come March for the Playstation 3, Xbox 360 and PC. It's an RPG that tries to capture the essence of the show, which means plenty of dong and fart jokes, and a visual style that looks as "crappy" (their words) as the hit cartoon.  
This isn't the first time South Park has been turned into a video game. The first outing was in the form of a first-person shooter back in 1998, which was released for the Playstation, Nintendo 64 and PC. Then came Chef's Luv Shack, a party trivia game done gameshow style on the Dreamcast, Nintendo 64, Playstation and PC. Neither of these games were that great, but they provided some cheap laughs and entertainment. It wasn't until South Park Let's Go Tower Defense Play! was released on Xbox Live Arcade in 2009 that finally a game worthy of the show was released. Again, nothing amazing here, but it's definitely an underrated gem. The Stick of Truth will more than likely surpass all of these prior titles if what's seen in the video is any indication.