More Playmobil 1.2.3 Featuring Winnie-the-Pooh!
A few years ago, we received some of Playmobil's 1.2.3 lineup of toys. These toys were aimed at children ages 1 – 3, and our son had a blast using the small water park we received. The 1.2.3 sets tend to be a big chunkier than standard Playmobil, and include characters with less articulation and accessories.

As they are toys aimed at young children, these are by no means negatives about the toys! In fact, the 1.2.3 lineup from Playmobil is one of my favourites, because it brings a popular toy and makes it accessible for all ages!
In this article we will look at one Disney set based on Winnie-the-Pooh! In a future article, we will look at a few sets featuring Mickey and Minnie Mouse!
1.2.3 & Disney: Winnie's & Piglet's Tree House​
"There is a lot to discover in Winnie's & Piglet's Tree House: Different items can be sorted into the treetop by shape and colour to develop fine motor skills and three-dimensional thinking. A hidden slide lets the objects reappear at the bottom of the tree – providing lots of fun.
There are also many other details to explore: For example, turn the small group of leaves to make noises or take the second group of leaves and convert it into a spinning top toy. The adorable Disney characters encourage children to tell their own stories during their first role play."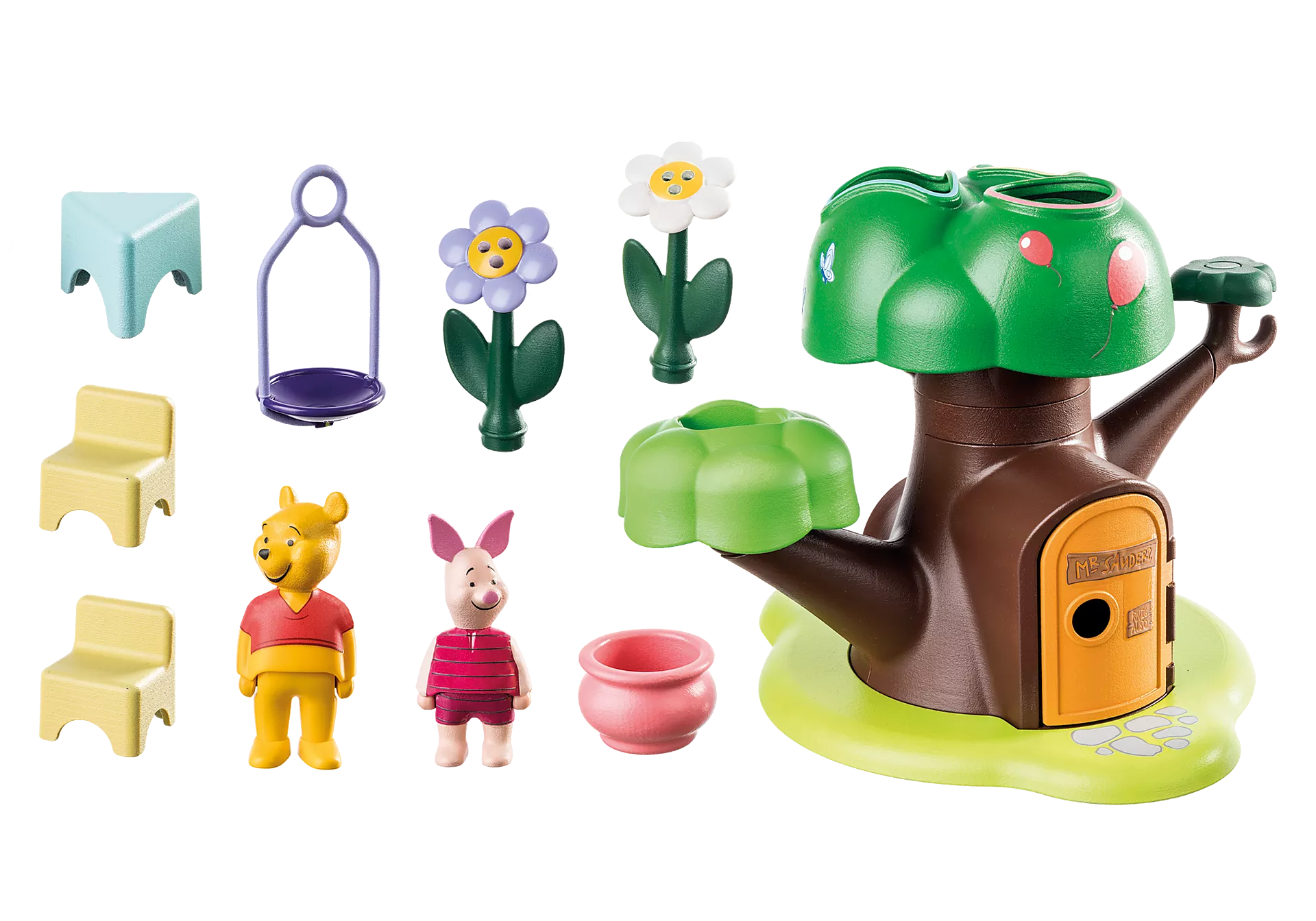 As a playset, the Winnie's & Piglet's Tree House is a phenomenal play piece. The pieces are nice and chunky for smaller hands, but there is a lot of detail in the set that even older fans might enjoy. These are definitely not fans that older Winnie-the-Pooh fans would purchase for themselves, but as a parent who absolutely loves Winnie-the-Pooh, seeing my son and niece play with these toys brings me so much joy.
But Playmobil isn't just about fun with these sets – they aim to be educational as well, and again I think they hit that mark. The aim for Playmobil here is to fine-tune fine motor skills, help kids learn about colours and shapes, and even more impressively, "Recognise and understand cause-and-effect relationships: What happens when you sort objects into the tree top? How does a swing work?"
From an educational standpoint, they nailed it. When you read the description on the Playmobil Canada website, you might scoff a bit about all the claims they were making. Shoot, I did, so why wouldn't you! But watching these toys being used put me in my place really quickly. The kids really were doing all the things Playmobil was hoping they would.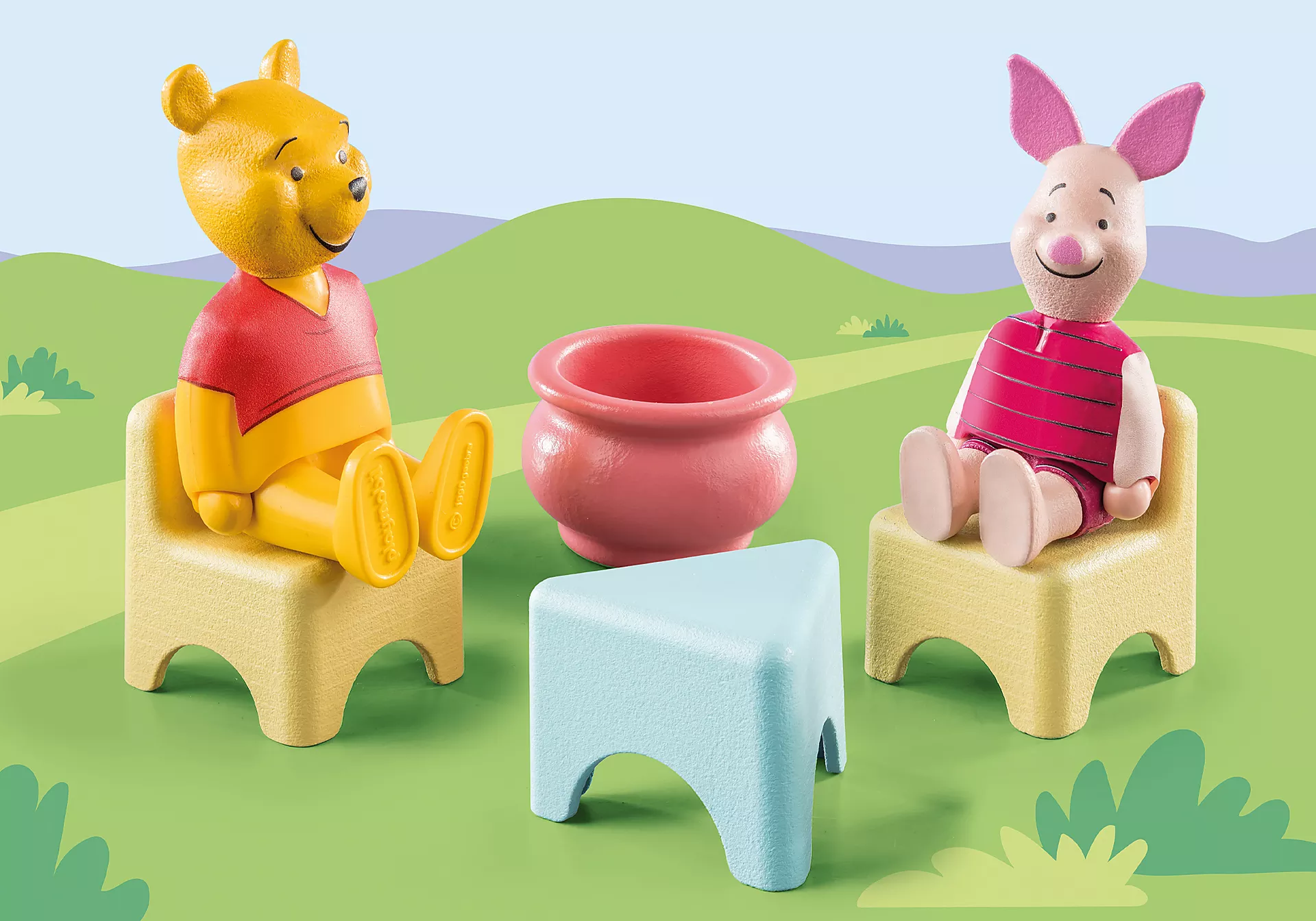 Another thing we love to discuss when chatting about Playmobil sets is how shareable the sets are. So often with other toy brands, the base sets – which still cost upwards of $75 in some cases – they only included one vehicle, or one character to use. With a Winnie-the-Pooh and Piglet characters, two kids can easily play together, as long as they don't fight over Pooh!
Overall, I am VERY impressed with this set. I think if you are looking to get something fun and educational for your kids, the 1.2.3 sets from PLaymobil are great options. We have a few more sets coming up soon, so stay tuned for those reviews!