Pokemon Presents: ALOT OF STUFF
Today The Pokemon company did another Pokemon Presents (aka Pokemon Direct) today to discuss all of the different things they currently have in development as well as some other announcements. The full playback is available on their youtube. But if you don't want to watch, here is everything that was mentioned.
Pokémon UNITE

Mamoswine and Sylveon have also been announced as playable characters, and cross-play between mobile and Nintendo Switch has been confirmed. Anyone who logs in to the Nintendo Switch version before August 31, 2021 will unlock a Unite License for Zeraora, which can be transferred to a mobile account by linking them..
Pokémon Café Remix
The game will release in Fall of 2021.
Pokémon Masters EX
Three legendary events will return, with players being able to team up with Xerneas, Kyurem, and Palkia. On August 29, N from Pokémon Black and White will return with Reshiram in a new Anniversary outfit. Two other anniversary Sync Pairs will also be available soon, so look out!
Starting on September 15, a new villain event will run, featuring villains like Giovanni from Team Rocket. There's also a log-in bonus of 3,000 gems for anyone who opens the game after the presentation.
Pokémon GO
Pokémon Brilliant Diamond and Shining Pearl

More footage of the game was revealed, including the returning feature of Pokémon who follow you in the overworld, returning from Pokémon Let's Go Pikachu and Eevee. There will be an all-new Style Shop for player customization, as well as the return of Pokémon Contests. Players can decorate Capsules with stickers as well.
In the Underground, players can unearth rare items found in the walls and catch exclusive Pokémon in secret underground areas called Pokémon Hideaways, it seems. Statues can be placed around the underground, which affects the Pokémon that appear in Hideaways. More multiplayer features include the Union Room, where players can come together to trade Pokémon and battle each other.
Team Galactic is also making a return, causing trouble by upsetting the flow of time and space itself. The games are still set to release on November 19, 2021. Pre-orders will be available starting today. Ranked battles will not be available in this game.
Nintendo Switch Lite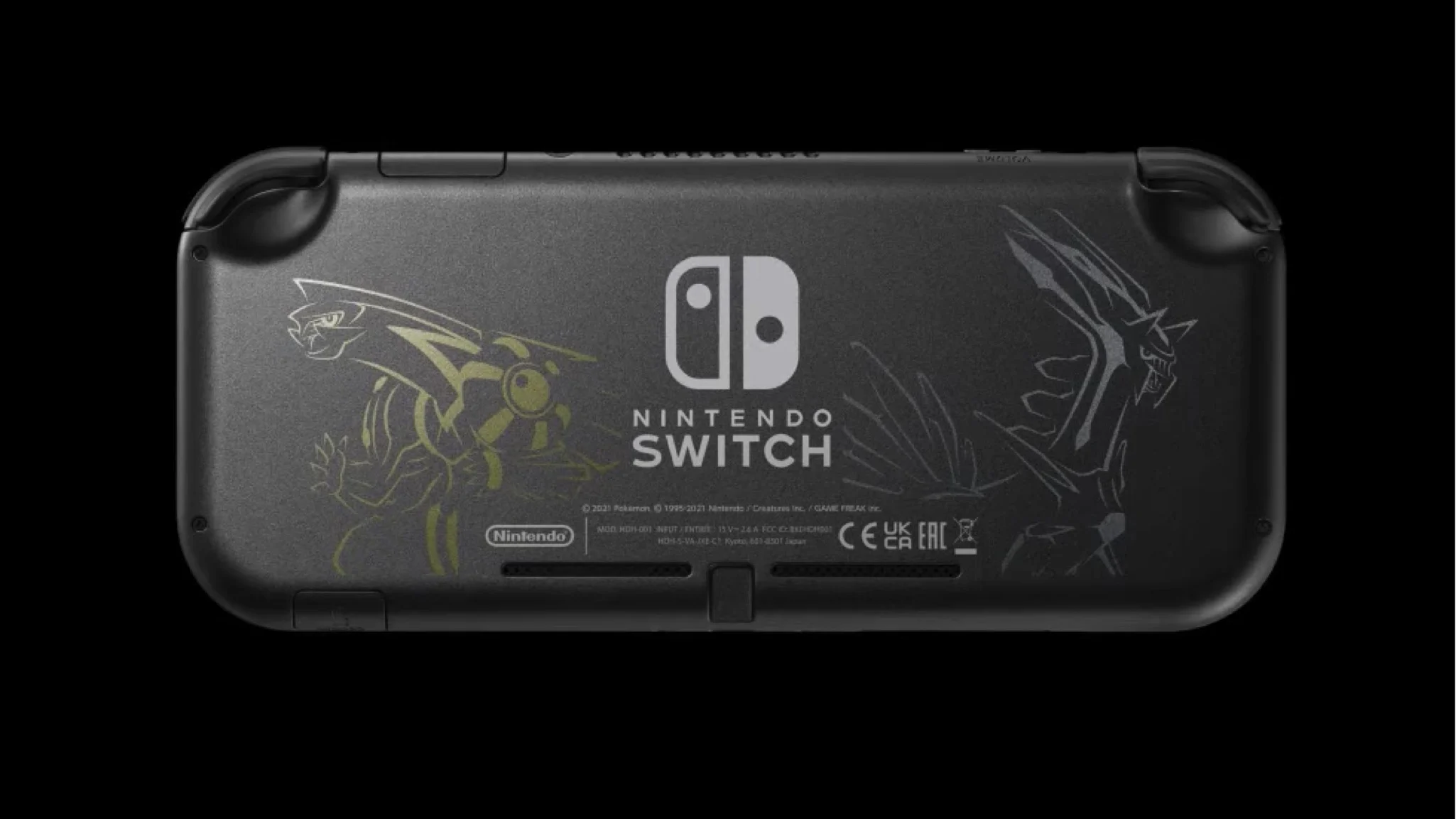 A new Nintendo Switch Lite: Dialga and Palkia Edition has been announced. The handheld-only console is a dark grey, featuring Palkia and Dialga on the back in gold and silver colors, reminiscent of the limited edition Nintendo DS Lite console.
Pokémon Legends Arceus
A new trailer for Pokémon Legends Arceus was shown, in the Hisui region, which is the precursor of the Sinnoh region. Society is divided into three corps: the Medical, Security, and Survey Corps, whose mission is to research Pokémon. Research is done by starting at a base camp where players prepare before doing surveys. Players seek to find new information about Pokémon, such as what species exist and which Pokémon can evolve, before reporting back to Professor Rowan or someone in Jubilife Village. This can be done by observation or catching, which takes strategy to do correctly. Should you need to battle a Pokémon to weaken it, you can have your own Pokémon use their moves in either "Strong Style" or "Agile Style".
The trailer features what seem like regional variants of several Pokémon. Braviary was shown ferrying the player around, hinting at a new method of traveling.
The following regional variants were announced:
Wyrdeer is an evolution of Stantler, first sighted in Johto.
Basculegion is an evolution of Basculin, originally found in Unova.
Hisuian Braviary is a regional variant of Braviary, found in Unova.
Hisuian Growlithe is a regional variant of the popular Kantonian dog.
The trailer also showed some red-eyed Pokemon, who are perhaps corrupted or mind-controlled in some sort of manner. I'm sure more to come on this in future updates.
The game releases on January 28, 2022, with pre-orders being available today. Ranked battles will not be available in this game.