How to Earn Steam Gift Cards with GCLoot
Steam is an online gaming platform that offers its users a variety of games to play. It also offers its users the ability to purchase games and other items within the Steam store using their own money or by using a Steam gift card.

A Steam gift card is a prepaid card that can be used to purchase games, software, and other items from the Steam store. They are available in different denominations and can be purchased from retail stores or online.
Steam gift cards are a great way to show your friends and family that you care. With thousands of games to choose from, there is something for everyone on steam. Whether you are a fan of action, adventure, puzzle, or strategy games, Steam has something for you.
In this article, we will be going over the various ways you can score free Steam gift cards on none other than GCLoot. So without further ado, let's get started.
How GCLoot works
GCLoot is a reward site made for gamers. It allows users to earn points by playing games, watching videos, and completing other tasks. Points can be redeemed for rewards such as gift cards, rare skins, premium in-game items, virtual currencies, and many more. GCLoot also has a referral program that pays users for referring friends.
It is a great way for gamers to get rewarded for their time and efforts, and it's also an excellent way to discover new games and get access to exclusive content.
How to Earn Points on GCLoot
There are different ways to earn points on GCLoot. Let's take a look at some of them.
Watching Videos
Do you like watching videos? If so, did you know that you can watch videos on GCLoot and earn points? That's right! By watching videos on this site, you can earn points that you can use to redeem a bunch of cool rewards.
To start earning points, all you need to do is sign up for a free account on the site. Once you have registered, you can start watching videos right away.
Answering Paid Surveys
When it comes to making a little extra cash, many people turn to paid surveys. And for good reason – they can be an easy way to make a few bucks without having to put in too much effort.
You can sign up for free and start taking surveys right away. The surveys typically take between 10-15 minutes to complete and offer rewards ranging from $0.50-$5.00 per survey.
Playing Mobile Games
Playing mobile games on GCLoot can be a fun and rewarding experience. Not only do you get to play your favourite games, but you can also earn points that can be redeemed for rewards. Aside from a Steam gift card, some of the rewards available include gift cards, cash prizes, and other merchandise.
There are many different games to choose from, so you're sure to find one that you enjoy. Plus, you can compete with friends and family members to see who can earn the most rewards.
Inviting Friends
If you're looking for a way to rack up points on GCLoot, there's no easier way than referring your friends. Just have your friend sign up using your unique referral code.
You can passively earn points and pad your own point total since you get a portion of the points each time your referral earns.
How to Redeem Free Steam Gift Card and Other Rewards
Now, there's no need to spend any money on video games again! Once you've accrued the required amount of points, simply head over to the GCLoot reward store and redeem your free Steam gift card and other digital rewards available. It's that easy!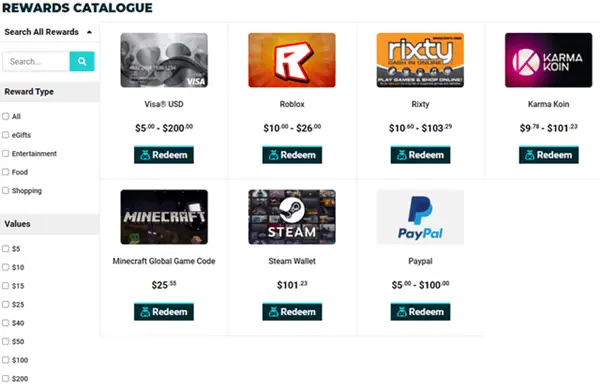 The process is simple and takes just a few minutes. The reward is then emailed to you within 48 hours.
The Bottom Line
GCLoot is a great site to use to minimize the high costs of gaming and even to make some extra money. The tasks are simple and easy to complete, and you can get paid quickly. So, what are you waiting for? Sign up now!