Project Ironwood Dan Blacklock Interview
A brand new Kickstarter board game table is launching soon, and we had the chance to speak with the man behind the project, Dan Blacklock. While most tables cost around 1999, Dan is releasing a table that costs only 399.99.
Is it possible? How is it possible? You can check out the pre-launch page now . Let's dive into a Q & A with Dan!

1. When does the Kickstarter begin? Why have you chosen to go this route (we will highlight that you have used the platform before)?
We're aiming to go live on August 2nd. We have a great (and patient!) community on Kickstarter that we've built up over our previous campaigns, BoxThrone, Token Sesame, and LAX RAX. We chose Kickstarter as opposed to Gamefound because we believe our $399 price point will be attractive to a more casual audience as well as core gamers. Getting a lot of orders all at once helps us lower manufacturing and freight costs as well so Kickstarter is the perfect avenue for these kinds of projects (especially when you're trying to hit a $399 price point!).
2. The cost of most tables being sold on Kickstarter are in the $1000s. In fact, for the price of your table, I can barely get a Coffee Table version from other companies. How are you able to make these so affordable?
There's 2 reasons: 1 –  most other tables are manufactured in Europe or the US and have labour as most of the cost of production. As you may or may not know, we've manufactured monthly waves of BoxThrones to customers across the world since 2017. We will be using the same factory in Shenzhen that made BoxThrone to make Project Ironwood, and we have very efficiently designed Project Ironwood for manufacturing, including reducing the number of welds. Which brings me to the second reason – Project Ironwood is made of coated steel, not wood. Steel is actually more expensive than wood but because it's stronger, we don't need to use as much steel as you would wood in a regular board game table. The whole table also packs into 3, compact boxes. We are offering wood toppers separately for $399 as well, which transform the table into a more modern, sleek-looking dining table.
3. What sort of add-ons are you planning to put into the campaign (dice trays, drink holders, etc.) ?
Many! A lot of other campaigns will just nail you on add-ons, but we're also doing them cost effectively, with a combination of plastic and metal. We'll have extra wide cup holders, "deck and discard" holders (multi-deck card holder with a removeable divider so you can store things like tarot cards or your phone on it), a hook and tote bag set for storing RPG books, double sided play mats designed by Alexandr Elichev (the artist of Gloomhaven/Frosthaven), bit holders that are compatible with Token Sesame art plates, and transparent write/erase overlay mats. A 2 foot expansion kit is also available so you can take the total play area from 3×5′ to 3×7′. And that's play area, not total size.
The basic table has a 3×5′ play area – you're basically getting an almost-large size table for a just $399. Many other "medium" tables have a 3×5′ total size.
One of the innovations we're proud of for this one is the fact that the wood toppers can be converted into side tables and storage benches, giving you a place to put your game during setup. They also can be used as a raised gaming platform, giving you some extra room for keeping monster manuals, rulebooks, character sheets, pieces etc. on the table.
We'll be offering the hanging play mat holder from LAX RAX as an add-on as well – probably the best way to store play mats that I've come across.
4. I see you are out of Calgary – are there any other things you have to think about when running a Kickstarter out of Canada?
Yes, Kickstarter doesn't allow you to run a campaign in USD outside of the US, so every campaign has us partnering with someone in the US to facilitate that. Kind of a huge pain and I hope it's something they fix one day. We have a network of warehouses across the world so in terms of fulfilment everything ships directly to the warehouses from the factory. We've shipped heavy furniture (BoxThrone) for over 4 years now so we know the importance of having warehouses as close to the end customer/backers as possible.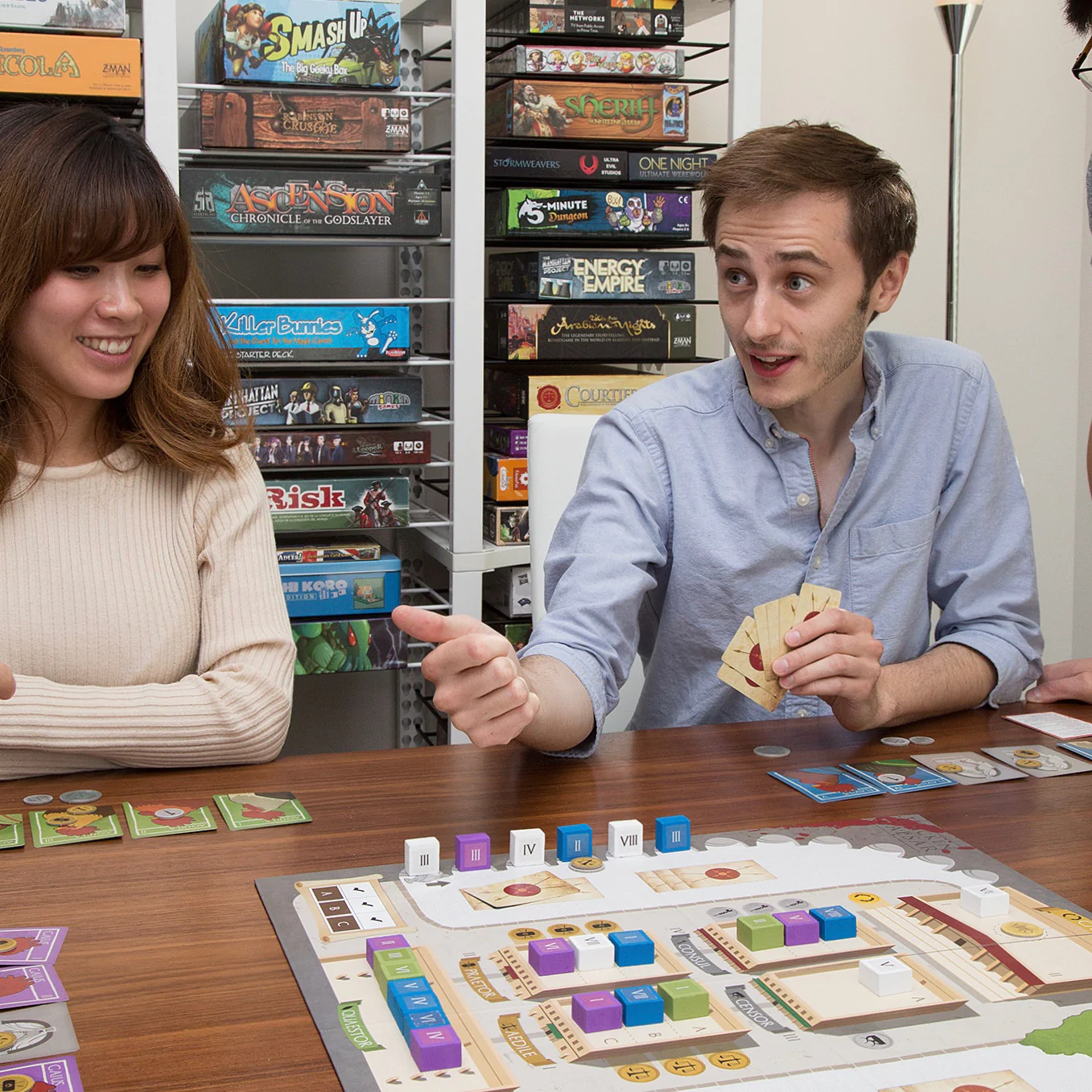 5. Are you partnering with any companies to bring these tables to retail after the Kickstarter is complete?
Not yet, we will have a Convention/Cafe pledge level with a discount for backers who order multiple tables so it might work out naturally. We won't be selling through retailers but are always open to retail affiliate programs like we did with BoxThrone. We'll likely be selling through cloudpunchergames.com at some point in the future.
6. Anything else you want to add?
We should note that the original idea behind creating Project Ironwood wasn't to make a cheaper game table – it was to make something that fits in to modern apartment decor. We wanted to create something that looked sleek and minimalistic, while still having all the functionality expected of a game table.