Box Monster is Mysterious Fun for Kids
Finding games that I actually want to play with my kids can be pretty hard as most games geared towards younger ages are pretty boring, lackluster, or I've played them way to much.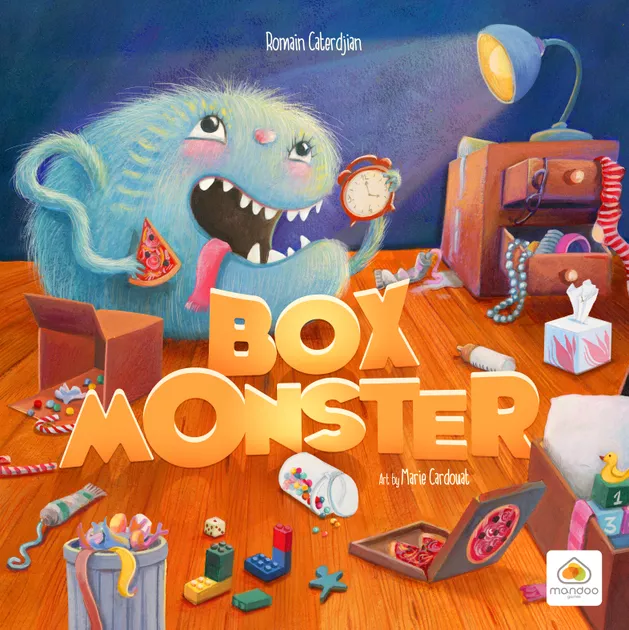 Every once in a while a new game will come around that offers a lot of promise, and generally delivers a fun experience for all involved. While Box Monster didn't quite hit that high for me, it is still an excellent game my kids have enjoyed over a dozen times in the past 2 weeks, and one they are likely to play for some time yet to come!
Box Monster is a play on those hidden box videos you are seeing all over the internet. You know the ones – where you stick your hand inside the box to see what might be in there. I think the most popular – and potentially trademarked? – version is "What's in the Box?"
In this game, the box is filled with a number of pairs of items. There are two candy bars, two stars, two fish, etc. While I'm not sure the actually number of pairs, I would assume it to be around 20! Once all the pieces are in the box, players sit on the 4 sides and decide which cards they want to do. Each game consists of three rounds, and each round you will be reaching into the box trying to find the specific items. If you are wrong, a pill piece is throw into the box, and if you are wrong two more times, the game is over.
There are a number of variations to these rules – one where you cannot talk while playing, one where you must pull the matching items out at the exact same time, etc. – this is the basic formula. And while it sounds easy, differentiating between the cell phone and the candy bar was a lot more difficult than I would have imagined.
Even when I played with the kids, it was pretty tough. The game, however, is not built for adult hands. 4 players can reach there hands through the monster mouth opening on the 4 sides of the box, and fish their hands around inside. I found more often than not, when playing with all three of my kids, my larger hand just got in the way of what everyone else was trying to do. We found the kids actually performed better without me playing, which generally doesn't happen.
A timer is included to keep the game moving, and while I always used it with the older kids, my 4 year old and I would play without the timer. Although there are no official rules in the box to tell you how to do that, it worked really well and helped us enjoy the game. Again, there is some difficulty here that you might not expect. For such a simple idea and concept, the execution is great. While I question the integrity of the box after we've played 50-75 games, the pieces themselves are top notch quality. and will hold up well to frequent touching and holding.
While Box Monster won't be for everyone, it is definitely a game my kids are really enjoying. While it won't be coming to the table on my regular Thursday
board game
night, the kids will continue to pull this one out throughout the weeks and months ahead!