Star Wars: Shatterpoint Launch Day + Rulebook Update
Today is finally the day – although we've had Shatterpoint for almost a month now, the game is finally releasing in stores across Canada and the United States. It won't be long before the internet is flooded with fantastic – and likely not so fantastic – paint jobs, and I cannot wait.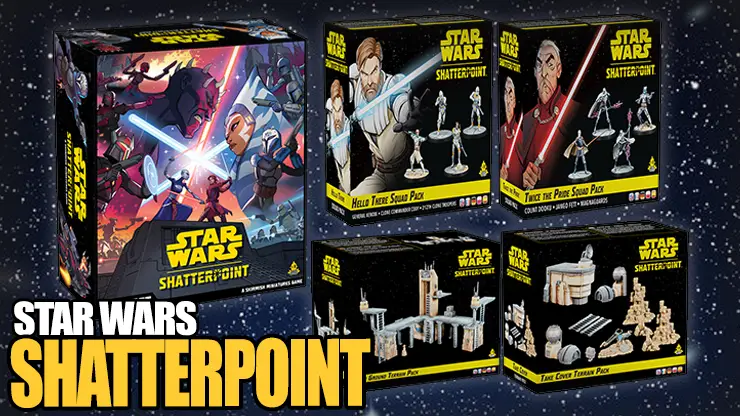 Over the past few weeks, we've been taking Shatterpoint for a spin, and have really been enjoying it . The systems work really well, and I love how focused the gameplay is. It's as much about unit preservation as it is about going in for objectives or trying to knock out an opponent's character. The easy to learn gameplay and the simple ruleset make it a great gateway tabletop game. And being linked to Star Wars doesn't hurt either!
The Core Box is launching alongside some great additional content, all of which we've been able to look at. Count Dooku and his crew are fantastic additions, bringing the games first real support characters (Magna Guards) into the fray. The guards are great for protecting primary and secondary units when engaged, so figuring out how to move primary and secondary characters with their bodyguards is key to success. Equally as impressive is the defensive Obi-Wan Kenobi. While not a great fighter – no ranged attack after all – Obi-Wan is a defensive tank, using his lightsaber to deflect attacks left, right, and centre. We've found Obi-Wan is a fantastic unit for holding or contesting objective tokens, but you need to use him wisely!
The additional terrain packs – High Terrain and Low Terrain – provide the opportunity for a lot of diversity on the ground. A 3×3 play area can fill up really fast, but having lots of different terrain options with great details can really bring each game of Shatterpoint to life. We've got them all painted up, and enjoy the verticality offered in the high terrain pack. With all the added cover opportunities with the low terrain, you can set up your games to be as wide open, or as compact, as you want!
The game has also received a rules update for the games launch. The biggest rule change comes to the cover mechanic, which now requires characters to be hunkered if they want to benefit from cover. That means on a defensive role, a player will get 1 extra die for being hunkered PLUS 1 extra die for being in cover. If there is no hunker token on the character, there is no cover either.
We cannot wait for Star Wars and tabletop gaming fans around the world to explore and enjoy Shatterpoint as much as we have. We have half a dozen articles about the game up on the channel, such as why Anakin isn't as powerful as you might think, such as why Anakin isn't as powerful as you might think, so check them out and grab your copy of Shatterpoint today!