Popular Board Games That Have Been Turned Into Slot Machine Games
Most popular slot makers draw inspiration for their slot games from themes that excite players, with major industry names, like NetEnt and Microgaming, usually designing their slots with graphics and symbols adapted from major blockbusters, legends and myths, sports, famous TV shows and what not. But sometimes, amidst all the fantasy-themed and Hollywood-inspired slots, comes a slot game that draws inspiration from classic boards games from an era where the digital gaming experience and online play was years away.
Even though this may seem strange to some, it's actually a smart move that combines the nostalgic passion of playing board games and the excitement of casinos to produce a slot machine where slot players feel at home, maybe even years back into a time where fun meant spending hours slouched in front of a board. And with the convenience of modern technology, you can even play them while you're in between meetings, or riding in your bus, as there are many casinos with mobile apps that you can find.
If you want to have some fun playing slots that give you the thrill of your favorite board games, take a look at these Board-inspired slots:
Chess
The popularity of chess seems to be surviving strong into modern times, and now there are even several slots that use the chess theme. One popular choice is Queen of Thrones by Leander Games – a 30 payline, 5 reel slot game, that uses chess figures as its main symbols. The game has no progressive jackpot but only a base one of 2500x, but you can win free spins and bonuses. The graphics are really chess-based and they are very nicely made, the reels are set on a chess board and the bonus features follow chess rules like moving your pieces during free spins, just like you would on a real chess board. All in all, a fun slot choice for chess lovers.
Monopoly
If you had to think of a board game, one of the images that comes to your mind is probably Monopoly. Well, it seems that IGT (see list of IGT casinos here) relied on that same idea when they decided to turn Monopoly into a slot franchise. Monopoly Plus is one of IGT's monopoly-themed slots, and probably the most popular board-game-based slot. It has 5 reels, 30 pay-lines, no progressive and a base jackpot of 1500x. The game is full of monopoly symbols, of course, but that's not where the similarity ends.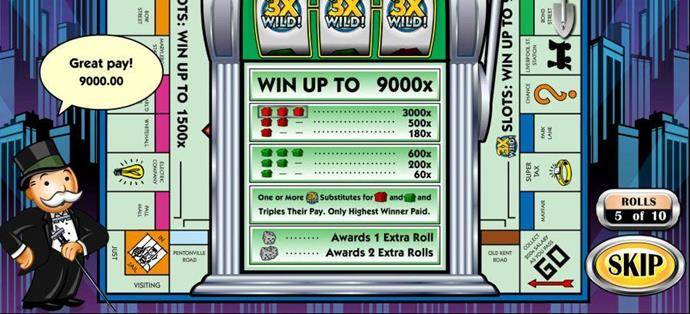 There is a bonus feature that lets you win a couple of dice rolls, choose a monopoly piece and go to the board to win monopoly money. You can win extra money when landing on a property, win a 200x line bet if you pass the "Go" square, or win extra cash when landing on a "Utility" square. The Monopoly Plus is, hands down, one of the best slots for both board game and slot lovers, as it is a perfect example of what an exciting game should be. And if you take the low house edge in mind (3.3), it's definitely a slot you'll be coming back to.
Cluedo
Continuing their idea of bringing the most loved licenses into the slot world, IGT have created another slot that drew its visuals from one of the most popular board games – Cluedo. Cluedo – Who won it? is a 5 reel, 15 payline slot featuring all the famous characters from the original board game, with the same mystery lurking in the game's background and music. The game offers no progressive jackpot and free spins, but there is a wild, a bonus feature, and a maximum jackpot of 25000x. The bonus level is deeply rooted in the board game, as it takes you into a screen where a suspect, a weapon and room can be found, each giving a different prize. Your choice will be randomly determined by the magnifying glass and you can choose whether to give it another go or collect your prize. However, unlike their monopoly-themed slots, IGT's Cluedo – Who won it?isn't much fun to play.
Dungeons and Dragons
Another board game turned slot by IGT, Dungeons and Dragons – Fortress of Fortune is a 5 reel, 20 payline slot game, set against the backdrop of the fictional world of D&D. There's no progressive but there are bonus levels, wilds, free spins and a jackpot of 12500x. What is interesting about the game is its visuals and homage to the board game. When you start playing it, you'll need to choose a hero to play with.

The bonus feature is triggered by getting 3 or more Polyhedral Dices, and in it you will have to find your way around the different levels where prizes lurk by choosing a direction. If you find monsters, you will have to throw the dice to beat the difference in strength, and if you survive through all levels you'll reach the Dragon Cave where you can fight for the highest bonus. The game is definitely fun, but it might be a bit tricky to win big.
Battleship
Everybody loves battleship, right? Inspired by its adaptation to video game platforms, IGT have brought Battleship to the slot realm with their Battleship – Search and Destroy slot game. The slot has 5 reels, 25 paylines, free spins, wilds, and a jackpot of 25000x. As the name suggests, the slot is full of navy symbols and pays an homage to the original board game by giving you a Battleship bonus level. You can choose between two bonus levels "Winning Encounters" and "Sink the Fleet". The latter takes you to a screen where you'll get to play the classic board game and win prizes by destroying the ships on your grid. The graphics are nicely made, just as you would expect from IGT, and it's a real fun game to play for people who enjoyed the original board game.