Gaming Mini Fridges
Renewing your energy while playing your video games could translate to continuous victories on your game, but leaving your game at any moment to satisfy your needs might stand in your way of achieving victory especially on multiplayer games. Who knows? Maybe that ten minutes you spent looking for a drink could have lead you to victory on that game!
This is why most gaming rooms, production offices, and battle stations have chosen to adopt a gaming mini-fridge for a complete gaming environment.

A gaming mini fridge for your water, snacks, soda, booze or energy drinks next to you will save the stress of having to leave your game and also keep you energized since snacks and drinks are easily at your disposal whenever you need a quick one.
What is a Gaming Mini Fridge?
A gaming mini fridge is a mini version of a large-scale refrigerator, and it is suddenly becoming a trend now in gaming setups. This is due to its irresistible price, low energy consumption, versatility and aesthetic value.
Another reason why gaming mini fridges are trending is because of the marketing strategy used to promote them. Gaming mini fridges now feature on most live streams, and of course, they must have left gamers with some curiosity regarding the need for a mini fridge in their man-caves!
Features of a gaming mini fridge
Before you choose your mini fridge for your gaming room, you should consider these features:
Lightning
This is an important feature for a gaming mini fridge. It adds some aesthetic value to the appearance and functioning of the fridge.
Gaming mini-fridges with transparent doors have LED lights. The soft interior lighting illuminates the drinks, giving the mini-fridge an appealing appearance from the outside.
The LED light also makes your gaming room look cool and calm. A popular example is the Bossin Beverage Refrigerator and Cooler which has a soft, blue LED light, adding the perfect illumination to your gaming room.
LED lights help to reduce your electricity expenses. LED lights save energy by using lesser current from the power source. This is one of the reasons why mini fridges are considered low power-consumption fridges.

Gaming Mini Fridges without transparent doors have brightly colored interiors, so they still give your room the perfect lighting effect.
Size and Capacity
Most mini fridges are designed to be compact, enabling them to fit into your tight gaming room without stress. Typically, their sizes range from 1.7 cubic feet to 4.5 cubic feet.
This makes them portable and stylish. You may need to keep a lot of drinks and food items in your mini fridge at once. A typical gaming mini-fridge should have a capacity to fit in as many as 100 cans or more. No gamer wants to share too much of his gaming time stocking a mini-fridge! We've got games to win!
Some mini fridges have shelves to keep items, so you can position different items in different positions.
Noise
Every gamer will choose a quiet mini fridge over a noisy one. Why did we (myself and my fellow gamers) confine ourselves to this ''man cave" in the first place if not to shun external distraction? We won't tolerate any unwanted sounds, not even from our mini fridges!
Gaming mini-fridges should have compressors that make less or no noise to avoid distractions when gaming.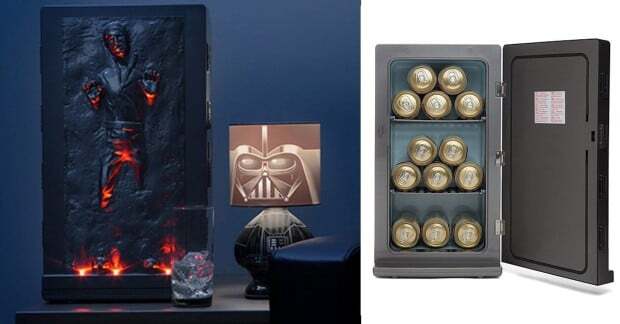 A popular mini-fridge with an excellent sound effect is the NewAir Built-In Beverage Cooler and Refrigerator. Despite having three fans and a front venting compressor, this mini-fridge makes no noticeable noise.
Some gaming mini fridges have both warm and cool modes. You can choose any of both. Gaming mini fridges usually have reversible doors which is why they are referred to as versatile.
I'd recommend you get a gaming mini-fridge with a reversible door feature as it makes it easy for you to use your mini-fridge even in tight spaces.
Setting-up and installing your gaming mini fridge
Gaming mini fridges are easy to set up and install. Follow the steps in your manual. They'll provide you with the guidance you need to set up your mini-fridge.
It is important you know that most gaming mini fridges are designed for freestanding use. This means you shouldn't put them in confined spaces.
You should place your gaming mini fridge in positions away from direct sunshine or any heat source. You shouldn't place your gaming mini-fridge in spaces between them and walls.
Also, you shouldn't place anything on your gaming mini-fridge. You should unplug your mini-fridge when not in use for a long period of time.
In Conclusion
Gaming mini fridges have been quite helpful to gamers like me. You can play games all day long without having to stand up (and search) for a beverage since you have your gaming mini-fridge already by your side, stocked!