The Quest Kids – An Interview With an 8 Year Old
Over the past few weeks, we have been playing the outstanding kids game, The Quest Kids . This game is aimed at kids, but is fun for adults to play as well. We've played nearly half a dozen games of it so far, and I decided it would be unique to interview my son about the game, and see what he had to say. None of his thoughts are edited, these are purely his opinions! Let's get into it!
What do you like the most about The Quest Kids?
It's fun. I like getting items and finding stuff in the dungeon. It's cool to flip the tiles and move my character. Sometimes I feel like this is actually a dungeon. I also like that you have health so that if you fight a monster and lose, you are not just out of the game. My favourite thing is finishing quests using the cards I collected. That is fun. And finding the quests.
Is there anything you didn't like about The Quest Kids?
I don't like helping my brother win. I know that I get cards with bonuses for doing it, but sometimes I help him and then he beats me. Maybe if I didn't help him he wouldn't win. But the things you get for helping can be really good, although sometimes I didn't like what I got.
Do you have a strategy for playing The Quest Kids?
I like to get as many cards as possible before I go to fight things. Once I just went right for the red cards and obviously I didn't do very good. So now I know I need to collect cards from the other dungeon tiles first. If you are playing this game you should not go for the red cards until you have lots of cards in your hand. You probably won't win.
We got upgraded components with our review copy of The Quest Kids, but you played with just the standard components as well. Do people NEED the improved items?
I think the improved items are pretty cool. The mousepads (his words, not mine) that you get instead of the main board and the character boards are really nice. I don't like that they are not as colourful as the main boards. I also liked the thicker cardboard dungeon tiles instead of the card tiles.
Ok, but when you used the standard components (standees, game board, card tiles) did you feel the game was worse?
No, the game is exactly the same, and I think if you can only get the game without the matts and cardboard tiles, you should. It is lots of fun and I think that most kids would love it. You just need to be careful that you don't ruin the cards. But I say that about any game with cards, right? Sometimes I like to put cards in sleeves but I don't think you can get sleeves for cards that are square.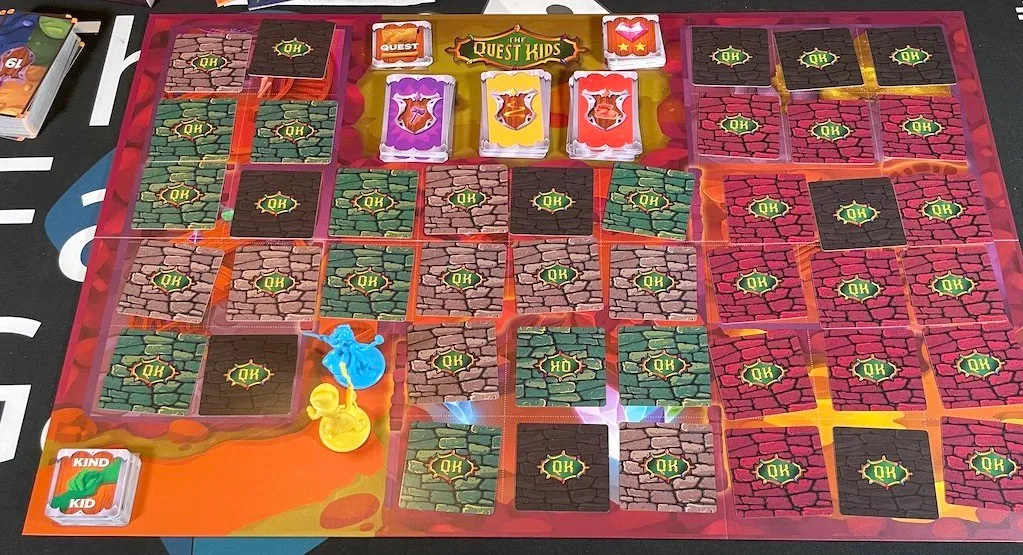 Did you find the game hard to understand?
I think there are lots of pieces in the box, so it might seem really confusing. Plus the rulebook is long, but it has lots of colourful pictures that could help teach the game. Now that I know how to play, I don't need the rulebook. It is easy to understand and teach. I can even play without having you and mom help me. I could play with my friends after school and I think I could teach them how to play. Sometimes it might be hard to explain how you earn stars, but I think that I could at least tell people most of the ways you can earn stars. But all you need to know is that stars help you win, so you need to collect them.
Any final thoughts about The Quest Kids?
There are only a few kids games we own that I really like to play. So many games for kids are too kiddy, so it is fun to have this one about beating monsters and collecting treasure in a dungeon. I think if you are a kid that likes to have adventures and want to use your imagination, you should play The Quest Kids.