Disney Dreamlight Valley Reveals Early 2023 Content Roadmap
Disney Dreamlight Valley, the simulation game with Disney characters, will have even more free updates in 2023. A roadmap for early 2023 content has been revealed. You can check it out below and get our thoughts on what it all means!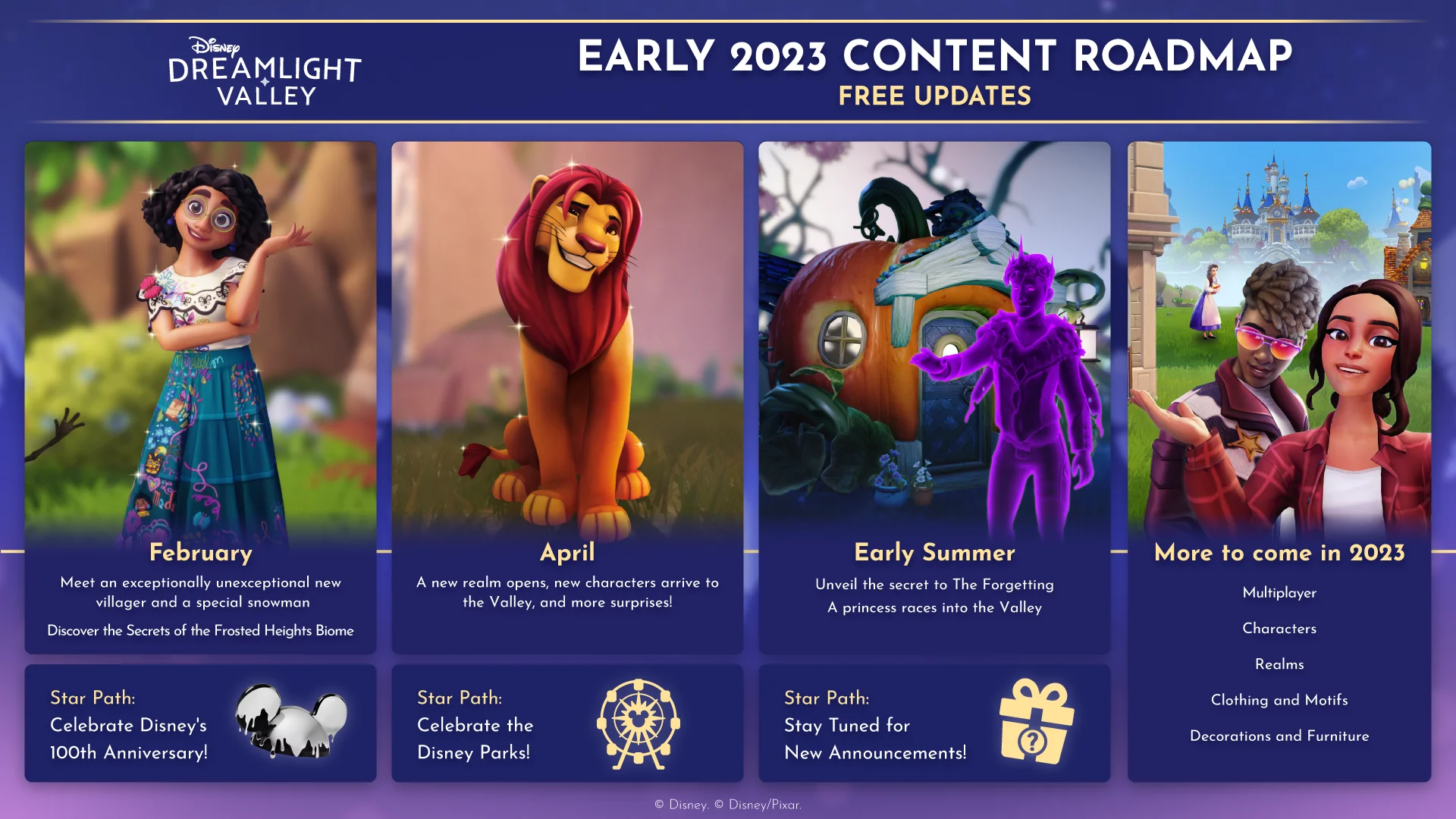 Disney Dreamlight Valley's early 2023 content looks fantastic!
Let's unpack the roadmap above:
February: Mirabel Madrigal, the main character of Encanto, will be coming to Disney Dreamlight Valley in February. Thats not all though. They said two characters will be coming in Feb and they said the other is: "a special snowman." You know what that means…
OLAF is coming to Disney Dreamlight Valley.
Okay, Okay. Yes I'm excited that Mirabel is coming but…c'mon. Olaf!! OLAF is awesome. I'm so very excited. This is going to be great. Want to build a snowman?!
Also coming in February is a new Star Path celebrating Disney's 100th anniversary. I'm sure there will be even more things too.
April: In April…we'll be getting…Simba! The grown up Simba. Also they said a new realm opens. That has to be the Lion King realm right?! They also said character(s). So we should be getting more than just Simba, but who else? More surprises were mentioned too. The new Star Path for this month will be about the Disney Parks!
Early Summer: The secret to the Forgetting will be unveiled and a new princess will race into the valley. We might finally find out who lives in that mysterious Pumpkin in the Forgotten Lands too. Its shown there on the road map for summer. We have no idea whats coming as far as the Star Path for summer.
And more: We'll also be getting MULTIPLAYER, more characters and realms, new clothes and furniture, and more this year.
I am so happy with this road map. The amount of content coming to Disney Dreamlight Valley this year is AMAZING.
There is no mention of it, but Disney Dreamlight Valley is supposed to go free-to-play this year too. I hope it does. I really want to grab Disney Dreamlight Valley for my Nintendo Switch too. I only have it on my Xbox Series S right now thanks to gamepass.
Are you as excited for the upcoming Disney Dreamlight Valley content as I am? Whats your favorite announcement here?
Personally, I'm most excited for OLAF. In case you had no idea. Stay tuned to GamesReviews.com for all the latest news on Disney Dreamlight Valley!