LEGO The Incredibles Review: All about Cooperation
The LEGO formula hasn't changed a lot in recent memory and while in writing that sounds like a bad thing, in reality it's been working just fine for a number of years. Sure, small enhancements have been made in combat – changed in LEGO Ninjago Movie Game and kept for this adventure – but overall, the brick busting, stud collecting, puzzle solving characters are back, with more options than ever before. And the open world feel of The Incredibles gives me the same feelings I had when playing LEGO City Undercover, which is a huge achievement. But does it all work well together? Let's dive in LEGO The Incredibles and find out!
Story
The game opens up on the scenes of the second Incredibles movie, which is an odd place to start, but where the developers and Pixar decided none the less. After stopping the Underminer, the team is apprehended by police because of a "No Supers" policy that still exists. In the follow up cutscene, the family meets Winston Deavor and his sister Evelyn Deavor, who are looking to bring 'Supers" back! After receiving a home from the Deavor family to live in, your adventure begins, setting you loose in the city.
Open World Shenanigans versus Levels
After the opening level, the game never forces you one way or the other. You can begin tackling the various side missions within the city – crime waves are particularly fun to deal with, which will have you stopping a certain number of criminals within one of the cities many districts. The freedom is what makes LEGO The Incredibles so enjoyable, and a better experience than other LEGO titles in recent memory. And there is tons to do as well, so you never feel bored, or really the need to start a mission for a lack of things to do within the city.
And that's where LEGO The Incredibles really shines. While I enjoy the levels LEGO has created game-in and game-out, but the formula for those levels is still much the same: destroy bricks to find studs, located hidden mini build pieces, solve environmental puzzles, and finishing of a few enemies. Rinse and repeat. Should you tackle all of the games 12 levels back-to-back-to-back, fatigue is likely to settle in, which has often been the case with past LEGO titles for myself, personally.
But having the ability to jump out of levels and into the games open world breaks up that formula into enjoyable bite sized chunks, allowing for more exploration in between. And finishing all the various side quests within LEGO The Incredibles is rewarding in a multitude of ways, which we will touch on later.
One of the other great added features to this title is the family builds, and engaging -although not overly engaging – mini game where you need to tap A to get all the meters to the top, in order to construct a landmark within the city, or an important level structure. Doing this in cooperative play is much more engaging, but either way, it's a nice addition to the title that, once again, fits into the theme of family and cooperation.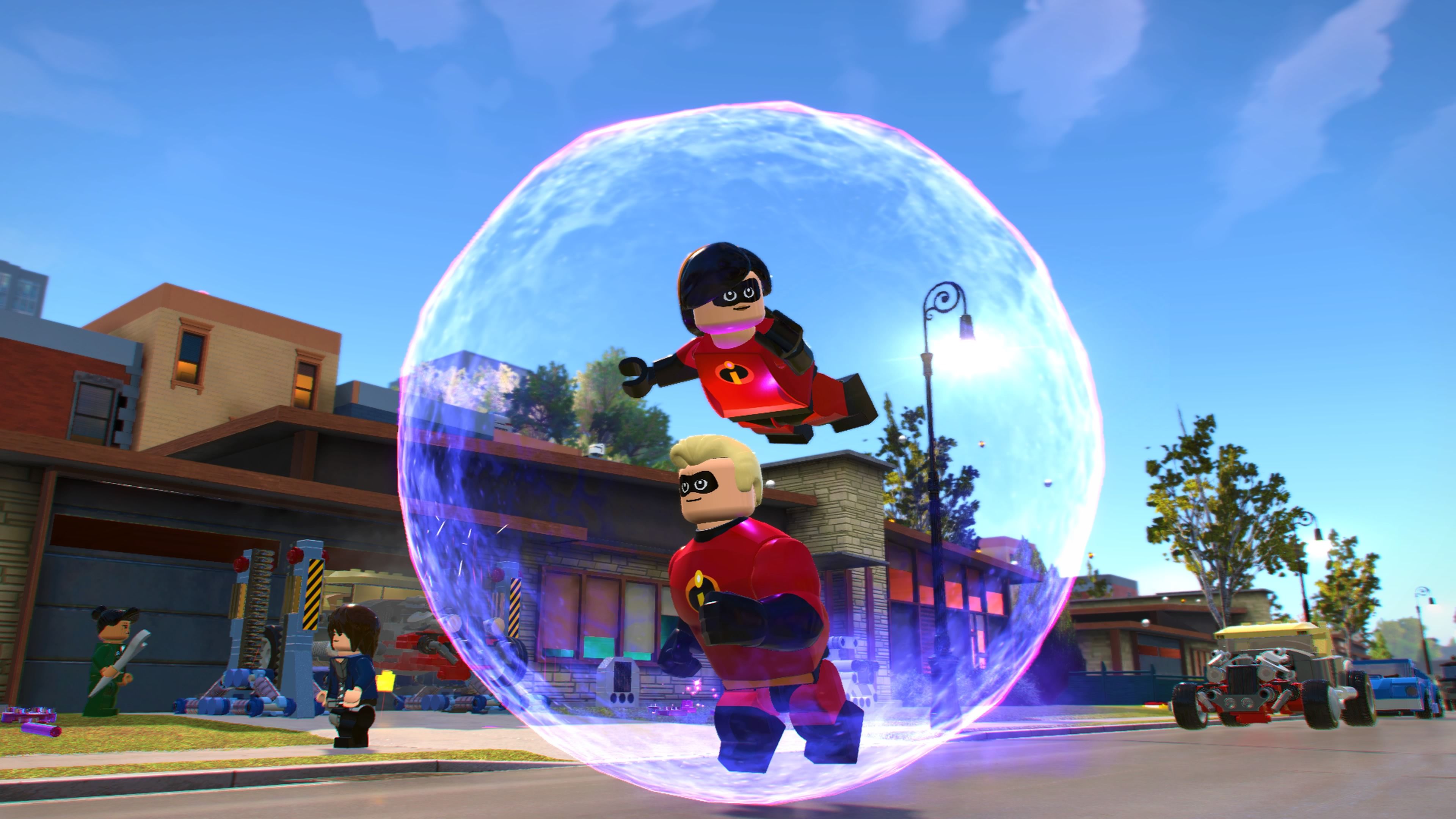 Levels
The levels themselves are not breaking ground when it comes to the traditional LEGO formula. Everything you've done in previous games is on display here, although the characters unique abilities do make a few subtle but welcomed changes. Elastigirl, for example, can stretch herself out and enter small openings, continuing on to open doors, unlock items, and much more. Alternatively, combining Violet's force shield with Dash's run ability can allow players to get across gaps and areas that would otherwise be impossible to bypass without the characters working together. And ultimately, it really feels like this is the theme the developers were attempting to work with: cooperation, between family members in the game, and cooperative partners playing the game.
Playing through LEGO The Inredibles – whether the levels or the open world environments – is much more enjoyable with two players. For the majority of my play through, my eight year old son was along for the ride, and reliving these two movies was fantastic, and not just for him, but myself as well.
Open World Exploration
The open world in LEGO The Incerdibles is fun to explore, all though disappointing at times when comparing it to the best open world LEGO title of all time, LEGO City Undercover. Where the latter excelled in detail and full environments, LEGO The Incredibles can often feel empty or lacking, especially in terms of 'city life.'
It would have been a much more enjoyable experience with more people on the sidewalks, more people on the streets, and more interesting things to look at. While there is plenty to do, there doesn't seem to be a whole lot between those tasks, making for a fairly uninteresting travel time between side quest A and side quest B. Don't get me wrong, there isn't anything terrible about the open world, but it doesn't live up to past open world LEGO experiences in terms of environmental immersion.
Unlockables
One of the bigger draws for the LEGO games is the ability to unlock a host of characters to use, and LEGO The Incredibles doesn't just stick to Incredibles themed characters. As this is the first title LEGO and Pixar have worked on together, the developers decided to have a bit of fun with characters, and included Pixar favourites like Dory, Flick, and Merida! Instead of buying specific characters once you've encountered them in the world, the game utilizes as 'blind bag' purchasing mechanic. As you play, you will unlock bronze, silver, and gold character blind bags, which can then be purchased for a set price. With a flick of the control stick to the right, you can open the bag and dump out the character. The thrill of not knowing what you would get was exciting for my son, and I'll admit the anticipation was pretty great for myself as well.
Conclusion
If you've played a LEGO game in the past, then most of what you get here is nothing new. While characters ultimately do a few unique things never before seen in a LEGO game, there isn't anything gameplay mechanic wise that is going to blow your mind. The combat is simple but it works, and level progression is always fairly straight forward. That being said, however, the experience is still one that I won't forget soon, and the time spent with my eight year old son is invaluable.
Free To Play Games:
Like what we are doing? Support our writers and website.Thanks!