PDP Afterglow Universal Wireless Headset Review
When we were reviewing Super Smash Bros for Wii U, PDP Gaming sent us two of their Fight Pads to use while we reviewed the game. In the Fight Pad review, I stated how much I hated third party accessories; those Fight Pads – while they had their few minor issues – were outstanding to use. I recieved an email from Groupon letting me know that PDP's Afterglow Universal Wireless Headsets were on sale for 39.99, and I bit. Not only did I want a new gaming headset, but I also liked what I had already seen from PDP.
Afterglow Universal Wireless Headset –  Quick Facts
The Universal Headset was one of PDP's first attempts at a gaming headset. This specific set was released in 2012 at a suggested retail price of 89.99 USD. The current price on these is still 89.99, although if you are patient you can probably find a good deal like I did on Groupon. Even at full price, however, you will not be dissapointed. Here are the quick facts from the box:
Compatability: PS3, Xbox 360, Wii, Wii U, PC; I got these working on my Xbox One using the Microsoft Wireless Adapter. They will also work on mobile devices, Vita, and 3DS.
Speaker Size: 50MM
Range: 100′ (Whole House)
Tested Battery Life: 10 Hours (I would argue that's a conservative estimate!)
Design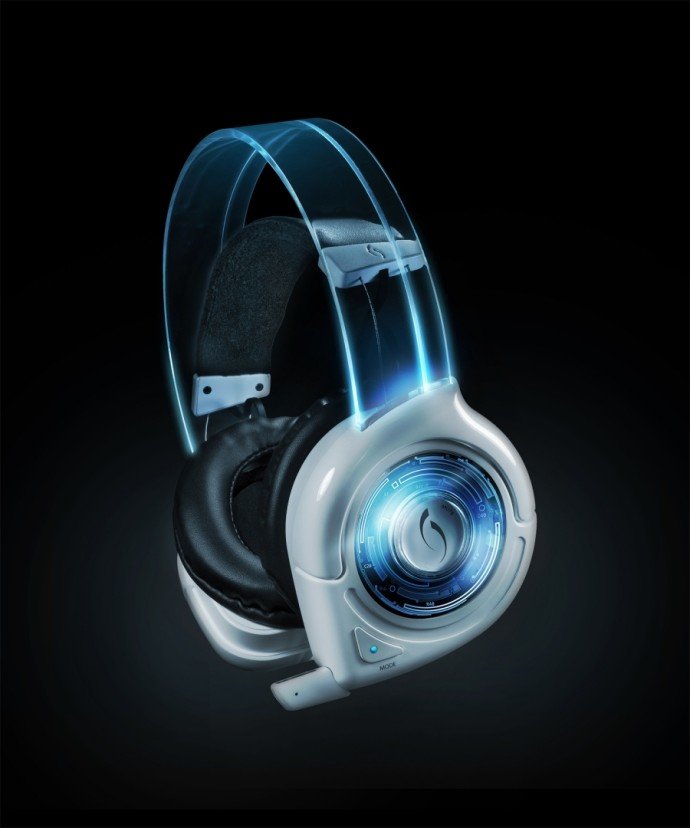 If PDP is going to lose a sale it won't be because of the audio. It will be because of the design of the product. Personally, I love it and have no issues. Other, however, may be turned off by a number of the design choices made with this product.
The cups are large and comfortable, sitting perfectly over your ears and adding tons of padding. The headset comes with two bands. The first band sits tightly on your head because of its elastic form – more slack on this band would have been preferred – while the second band is made of bendable plastic, used to keep the headsets form. The top, plastic band glows blue when being used, as do the outsides of the cups. This could prove annoying for some people, especially if they feel it's there at the expensive of battery life!
One of the better features of all of PDP's headsets are the retractable microphones. If you are using the headset purely for audio, and not for chat, not having that mic swinging near your face is a definite bonus! All of the controls for the headset are on the left side of the headset. A large mute button can be found on the center of the outside of the cup. On the underside of the cup is the charging port, line in auxiliary jack, and the special Xbox port, as well as dials to adjust the sound and the chat versus game audio.
The headset is definitely flashy. If you don't like flashy, you won't like this particular headset, or the brand for that matter!
Sound
Despite being two years old, the Afterglow Universal Wireless Headset rivals that of most on the market, and comes in price wise (impressively) under 100.00! The 50mm drivers do the work and do it well. I never heard any audio distortion, and the noise canceling microphone seemed to do exactly as it advertised. I played a significant amount of Far Cry 4, Halo, and Sunset Overdrive, and the headset gave me pure, consistent audio. Chatting with friends was also clean, with no static or audio feedback. No one ever complained about my chat quality; using other headsets I have often received complaints! If you have a 100 to spend, this is a headset you should consider picking up. Whether playing Xbox, listening to music,  or chatting online, this headset delivers quality sound.
The headset has three separate modes which are toggled using a mode button just above the microphone. You can choose between pure audio, immersive audio, or base booster audio. The color of the microphone represents which mode you are using (see image). My personal recommendation is immersive.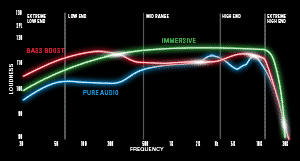 Recommendation: Purchase
By their own statement, PDP informed me that this would be considered their 'budget' headset. However, there is nothing budget about this. These were more comfortable and produced equal (in some cases even better) audio then other, more expensive headsets I have owned in the past. If you are in the market for a gaming headset and want something that is a bit more universal – PDP makes an improved version of this headset specifically for PS4 or Xbox One – you will not go wrong buying the Afterglow Universal Wireless Headset from PDP!