Andar Bahar Desi Indian Card Game by Artoon Games
Andar Bahar is a traditional Indian betting game which is highly popular in India. It is also known as Katti in some places and is one of the games which is closely embedded with the Indian tradition. What makes Andar Bahar different from other card games is it's simplicity.

Andar Bahar – Desi Indian Card Game is the first Andar Bahar app launched on Google Play. The distinctive UI and colorful design with modern animation makes it quite different. The game has got some great following through both online and offline gamblers in India. The game uses limited storage space up to 18 MB and makes way for some incredible casino gaming experience.
Andar Bahar is a forthright 50/50 game of chance that is played using a single deck of cards. The dealer will have one deck of cards facing upwards to the Andar and downwards to the Bahar sections. The game will finish when the middle card matches the value of any card that belongs to both sections. The players have to bet a value on either Andar or Bahar.
This version of the Andar Bahar game is created exclusively by Artoon Games which works under Artoon Solutions Pvt. Ltd. Artoon Games are experts in providing high quality content and have a great mobile and web game development services.
Artoon Games is among India's largest gaming companies which focuses on multiple aspects to ensure maximum gaming quality. They outskill themselves under every area and are widely accepted in the gaming world. They provide games across all platforms and this is the first ever online Andar Bahar game that has ever been released.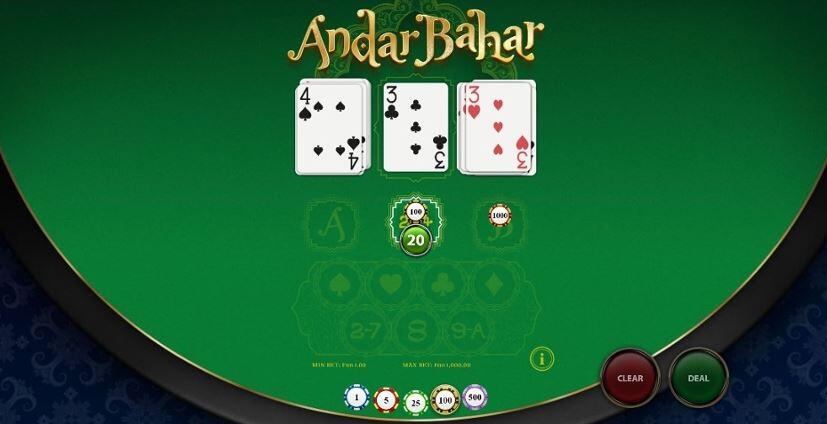 Andar Bahar is never really a tough game and this traditional card game requires no real strategy other than chance of luck. It is a game of luck and it provides a great opportunity for novice gamblers to try themselves before getting into the bigger arena.
This version of the Andar Bahar game by Artoon Games involves very few risk elements because there is no actual usage of money. It is a free to play game that gives the vibe of a real casino game without spending real money. If you prefer to play andar bahar with cash you could play this game online with multiple casino game providers but not on play store.
Play store has strict policies in place for real money gaming and does not let such games be uploaded to play store. The game is available on Google Play Store and can be downloaded directly from there.