PDP Gift Guide – Accessories, Storage, and more!
Yesterday, a large box of goodies was waiting at my door from Performance Design Products; generally, I'll get the odd package from them with a headset or peripheral inside, but this time was different. PDP sent over a ton of items that they have released throughout the year – more so in the second half of 2016 – and we are here to briefly break them down so you can make wise purchasing choices this holiday. Welcome to our PDP Gift Guide for 2016!
PDP products can be found at numerous retailers, both in store and online. You should see links for Amazon down below, but these products can also be found at Walmart, GameStop / EB Games, and other local stores! When applicable, we will link to reviews we have done of these products so you can get a more in depth look at what you are buying. In other circumstances, our reviews of the product are forthcoming.
In this PDP Gift Guide we will be looking at many of the accessories available from Performance Design Products.
Toys and Accessories from PDP
amiibo Stands – 9.99-29.99
If you own any of the Nintendo family of systems, there is probably a great chance that you have some amiibo. While collecting these toys can be fun and addictive, displaying them for some people has often been a chore. Mine, for example, quickly found their way into a storage bucket. PDP has created a number of unique stands to dispay all, or even just some, of your favorite amiibo. They range from single themed stands – we were sent one for Bowser, Mario and Link – to huge stands that will accommodate numerous amiibo. If you like to put your amiibo on display, these are great items to purchase, and at a very reasonable price. You can read our more in depth thoughts on these items here.
Cases and System Protection – 7.99 – 29.99
When PDP lays claim to being the #1 maker of video game peripherals, they are definitely telling the truth. This is very evident in their line of storage options for both 3DS and WiiU. A few months back, along with the amiibo stands, PDP sent over a number of protection products, including: an amiibo storage tote, protective guards for the New 3DS XL with included game storage, a 3DS storage portfolio travel case, a yellow question block for storing 3DS titles, and much more.
All of these items were quality products, and still are used by my family today. They look great, and they are extremely useful. The 3DS XL guards are definitely worth the price as they have saved my 3DS from many potential issues.
Talon Media Remote – 19.99
I have owned numerous universal remotes in the past, and while all of them have worked phenomenally with my television, I cannot say the same for my Xbox One. I've always wanted a quality Xbox One remote that would be universal with my television, and finally I have one.
Although I've only played around with it for one evening, I'm already loving the Talon Media Remote . I actually prefer this over my Harmony remote which has been the best remote I've used to date. When it comes to watching TV and playing Xbox, I would say over 70% of my time is on the Xbox One, so having a remote that is tailored first for that purpose makes navigating the menus so much easier. There are a lot of Xbox One commands I cannot utilize when using the Harmony remote, but now I can. This is a great little product from PDP for a great price. If it ends of working with my surround sound system – which I have not tried yet – then I'll really be impressed.
Pixel Pals
I love to collect things, and I have an addictive personality when it comes to this type of stuff. However, I often find that new collectible collections that come out just don't turn my crank. Either the designs are weird and unappealing, or the sheer size of the collection becomes a major turn off. I cannot say that is the case with the new line of collectibles from PDP, called Pixel Pals.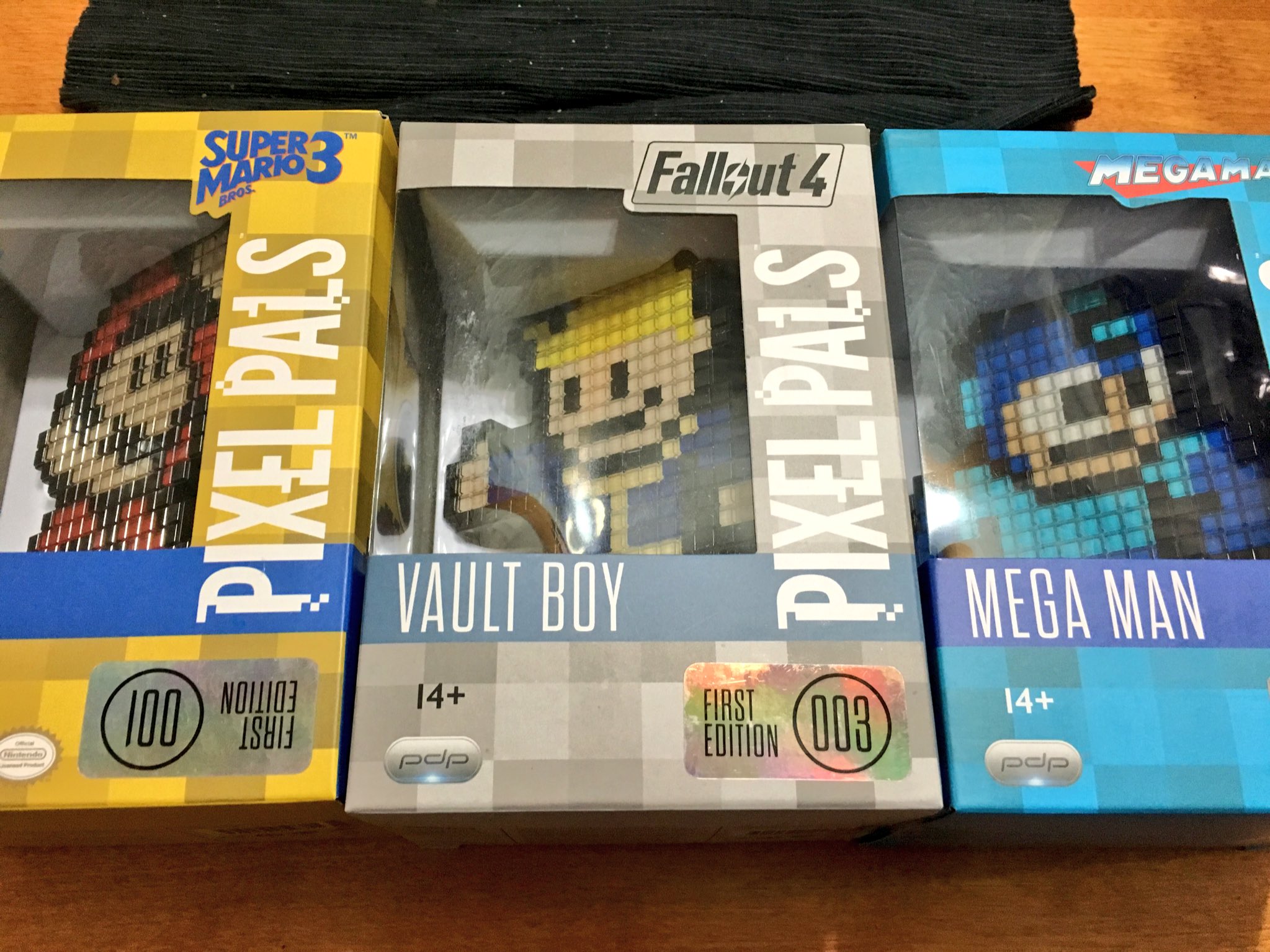 I have had my Pixel Pals for just over a week, and you can get yours soon as well when they hit exclusively at GameStop / EB Games on November 25th. These great, 4 inch tall figures can also light up thanks to two AAA batteries. The soft glow from the figures is a great backdrop when playing games in the dark. Currently, there are three figures in the series: Super Mario (Officially licenced by Nintendo), Mega Man (Officially licenced by Capcom) and Pip Boy (Officially licenced by Bethesda). I provided my thoughts on these already, so head here and check out more details!
More to come…
We will have a few other items to include in this Toys and Accessories gift guide, so stay tuned. Tonight I'll be looking at the Energizer PS4 charging station, and will add that and some initial thoughts tomorrow! Keep looking back as we will be bringing our PDP Controllers Gift Guide to life on Monday of next week. Come back for controllers, and a little bit of Titanfall 2, Battlefield 1, and the NFL!
Free To Play Games:
Like what we are doing? Support our writers and website.Thanks!